FCP X: Working With Proxy Media
[ This article was first published in the July, 2011, issue of
Larry's Final Cut Pro Newsletter. Click here to subscribe. ]
Fiver Löcker asks:
How do I work with proxy media?
Larry replies: This is tricky, because the Help files don't detail this process. But it is actually very simple.
Proxies are transcoded (converted) copies of your master files. They use ProRes 422 Proxy and are at 1/4 the size of the original. For instance, here the original ProRes 422 file for this Youth Culture clip is 238.3 MB in size.
When it gets transcoded to a Proxy, the size plummets to 19 MB. The quality is not as good, but this can save a lot of space while you are doing the rough cut.

Here's the overview of working with proxies:
Create Proxy media either during import or by transcoding later.
Change a preference setting to use Proxy media.
When you want to switch back to high-quality media, change the preference setting again.
Here are the details.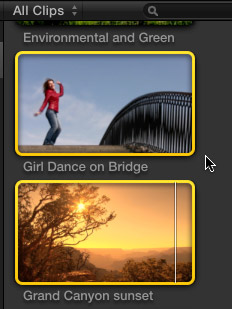 1. Assuming you did not create Proxy media when you first imported your clips, select the clip(s) for which you want to create proxies.

2. Select File > Transcode media. Then, in the resulting dialog window, check Proxy media.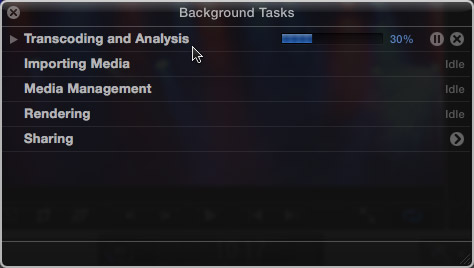 3. Depending upon the number and length of the media you selected, this can take some time, use the Background Task window (Cmd+9) to monitor progress.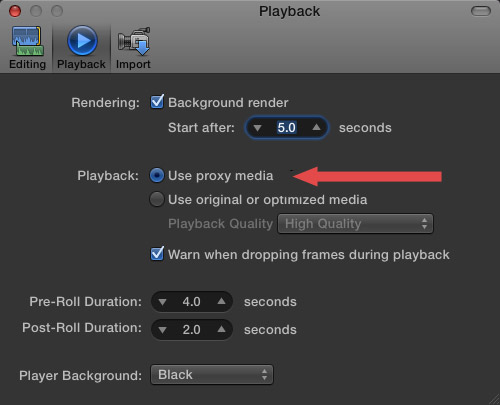 4. Once proxies are created, go to Final Cut Pro > Preferences > Playback (Cmd+,) and change the playback option to "Use Proxy Media."
All media that has proxies, will automatically switch and be displayed (top image). Any media that doesn't have proxies will display the missing media icon (bottom image).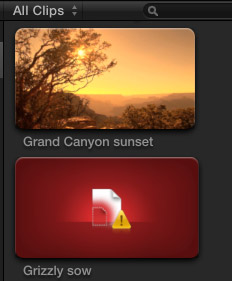 5. To switch back to high-quality images, return to Preferences and change the playback setting to "Use original or optimized media."
Proxy files are stored in their own folder inside Final Cut Events > [ Event name ] > Transcoded Media > Proxy Media.
---
Bookmark the
permalink
.