FCP X: Dual-channel Mono Audio
Final Cut Pro X defaults to displaying audio as a single waveform. For stereo audio, this isn't a problem. But for dual-channel mono clips, or single track mono clips, it is.
Here's the solution.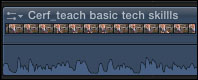 Normally, when a clip is edited to the Timeline, we see only one waveform, regardless of how many channels it has. In this example, my clip has two audio channels, but only one waveform is displayed.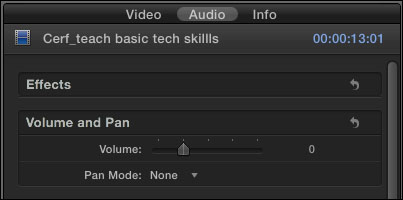 To see the channels, select the clip, go to the Inspector (press Command+4), and click the Audio tab at the top.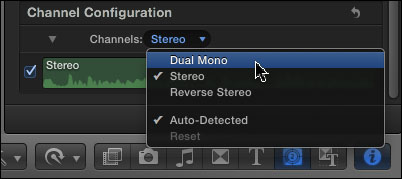 Scroll down to reveal the Channel Configuration option, and click Channels. The default setting in the popup menu is Stereo. Change this to Dual Mono.

If you only want to hear one channel – just the guest, for example, and not the interviewer – uncheck the channel you don't want to hear. In this example, I unchecked channel 2. Unchecking a channel completely mutes it in the Timeline, without removing it from the clip.
Adjust the audio level – the black horizontal line at the bottom of the clip – so it sounds the way you want.
However, if you need to adjust levels separately for each channel, or if you want to avoid hearing both channels at the same time, then you have a couple more steps.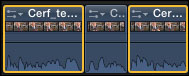 Set the audio level the way you want for the current audio channel. Then, using the razor blade (or typing Command+B), cut the clip where you want to switch between channels.

Select all the sections of the clip where you want to hear the opposite channel. Go to the Inspector and check the channel you want to hear and uncheck the one you don't. (In this example, I am muting the first channel so I can hear the second.)
Now, as you play through the clip, each channel will play for a section. Since the levels for one channel were correct before you started cutting the clip, all you need to do is adjust the levels for the new sections, which won't affect the levels of the other speaker.
Done.
---
Bookmark the
permalink
.