Don't Lose Access to Older Media in macOS Catalina [u]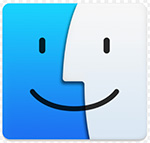 [ Updates:
12/11 with corrections for how I define codecs and media
12/13 with a statement from Bill Roberts of Adobe
12/16 with more information on support for Linear PCM
12/19 with a response from Blackmagic Design
12/21 with a more detailed response from Avid
12/22 with a more detailed response from Adobe
12/23 with a note on stock footage problems and disabling auto-updates
6/10/19 with the name of the next macOS: Catalina (v. 10.15) and links to related articles. ]
With the release of macOS Mojave (10.14), Apple is continuing its conversion to 64-bit applications that it first began many years ago. In the next major macOS update to Catalina, announced at the 2019 WWDC, this conversion will affect media which relies on older 32-bit codecs. We are all used to applications which may not be compatible with an operating system upgrade, but with an upcoming release of Catalina, some of our older media won't be compatible either.
CODEC: A mathematical algorithm that converts light and sound into binary ones and zeros to allow us to store media in a computer and play it back. Media is recorded and played back using encoders and decoders which are based upon these codecs. There are codecs for stills, audio and video, each optimized for different tasks.
What this change means is that if you try to play media which uses one of these older codecs in Catalina, the next version of the macOS AFTER Mojave, your media WILL NOT PLAY!
NOTE: To be very clear, Apple confirmed that "macOS Mojave — including all dot releases of this operating system — will be the last major version of macOS to support the legacy 32-bit codecs identified in this article."
This is because these encoders are like mini-applications that require support from the operating system in order to convert the binary data of our media files into sound and light. Older codecs which use 32-bit encoders and decoders won't have the support they need to play, which means you lose access to any media stored in one of these older formats.
The media is not 32-bit, but the encoders/decoders, which are required to play or record the media, are. These older codecs, which are built upon the QuickTime 7 framework, include:
Avid DNxHD / DNxHR
Avid DV / DV100 / JFIF / Motion JPEG
CineForm
Flash Video
Motion JPEG A
Motion JPEG B
And many others.
You may have seen the ominous warning in Final Cut about legacy media. Apple released an update to their KnowledgeBase website which includes MUCH more detail on what codecs are affected and which ones are not.
Here's the link: https://support.apple.com/en-us/HT209000
WHAT THIS MEANS
The short answer is that, depending upon the codec, we may need to convert any older media using soon-to-be-dead codecs into a codec that is more future-proof.  These supported codecs include:
Apple ProRes
AVCHD
AVC-Ultra
DV (in all its flavors)
REDCODE RAW
XAVC
And many others – see Apple's link for the complete list
This gets complex because codecs which are created outside of the QuickTime framework will work. Codecs that are built on the QuickTime framework, will not.
[Update 12/13] CLARIFICATION ON LINEAR PCM AUDIO
After reading this, Philip contacted me asking about ongoing support for Linear PCM audio, because it wasn't on the list. I reached out to Apple for a clarification and learned:
The reason Linear PCM was not included is because it isn't a file format or codec in the traditional sense, but rather a way to digitally represent audio signals as computer-accessible data.
AIFF and WAV are both file formats that typically contain uncompressed PCM audio data. At the system-level, Apple will continue to support PCM-encoded audio data — including PCM data within the formats listed above.
NEXT STEPS
For all future projects, take a look at the currently supported codec list and make sure you are shooting in a format that will be supported in the future. (Apple's webpage lists these – and there are a lot of them.)
For past projects that are stored using an expiring codec, you need to think about converting your media files into something that will last for the longer-term. (This continues to reinforce our past conversations that archives need to be actively managed, they can't just sit on the shelf.)
Apple has announced a new, up-coming version of Final Cut Pro X (shipping in the first-half of 2019) that will help identify these legacy codecs, then convert them into ProRes. As well, Apple Compressor can convert legacy formats into ProRes (or other formats) for both individual clips or batches.
NOTE: Apple also suggests using QuickTime Player X for conversion, however, not all transcodes using this method convert to ProRes, my recommendation is to avoid using it.
I'm also expecting third-party developers to announce tools to help find and convert these legacy media files, but nothing is announced yet.
ffMPEG is also a potential solution but, as Jon Chappell points out below, while ffMPEG works technically, there are a number of legal issues that make using it problematic.
ADOBE, AVID AND BLACKMAGIC DESIGN COMMENTS
This announcement also potentially impacts projects created over the last twenty years using Adobe, Avid and Blackmagic Design software.
Adobe announced this morning that their media apps now support exporting ProRes on Windows – something that has been lacking until today.
Here's Adobe's blog post: https://theblog.adobe.com/adobe-pro-video-apps-now-support-prores-export-on-windows/
[Update 12/13] Bill Roberts, Senior Director of Product Management for Audio and Video Products at Adobe Systems, sent me the following email when I asked him about their blog:
"Adding support for ProRes on Windows is part of Adobe's longstanding commitment to broad format support and connected workflows. ProRes export on Windows has been requested by many of our users and we're delighted to be able to offer this now in collaboration with Apple.
"Adobe has already made the transition to 64-bit QuickTime. For more details, please go here. As operating systems evolve, we will continue to offer robust native QuickTime support across platforms in our video and audio tools."
[Update 12/19] Apple this morning added: "We are working with developers to enable official ProRes encoding on Windows. This will ensure that ProRes works great in mixed Mac and PC environment and is the best choice for converting legacy media that is reliant on 32-bit codecs. As you know, Adobe was the first developer to release versions of their apps with this functionality. "
[ Update 12/22 ] Adobe's Bill Roberts supplied a more detailed response to how their software will be affected by this change. Read it here.
Avid issued an initial press statement. Read it here.
[Update 12/21] As I did with Adobe, I also contacted Avid to learn how Avid Media Composer editors will be affected by Apple's decision. Building on their initial press release,  Avid provided a MUCH more detailed explanation of how this affects Media Composer, as well as a full list of supported media codecs. Read it here.
In answer to an email, Philip Hodgetts commented: "As you see in the [initial] Avid [press release], their apps will not be bothered by Apple's end of life of 32-bit QuickTime because Avid's apps use 64-bit decoders and encoders. Similarly Adobe has moved away from using any third party codecs, mostly developing or licensing their own implementation (as we see today with ProRes)."
[Update 12/19] I also contacted Blackmagic Design to determine what the impact will be on DaVinci Resolve. Here's the brief response I received from Blackmagic Design. (As a note, I told BMD that I felt their response was a bit scanty and asked them for more details.)
[ Update 12/22 ] As you'll see from reading both Adobe's and Avid's responses there is a confusion in terminology. Apple says it won't support DNxHD in the future, while Avid says it is here for the long-term. Apple says it won't support Cineform in the future, while Adobe says it is an excellent codec to use for future-proofing media. The codecs use the same words, but the meanings are directly opposite.
I think the difference is that Apple's codecs are based on QuickTime 7, while Avid and Adobe's versions are based on re-writing the codecs to be native, in other words, supporting a 64-bit operating system. However, there's no easy way to determine, today, which version of the codec your media is using.
[Update 12/23] A NOTE ON STOCK FOOTAGE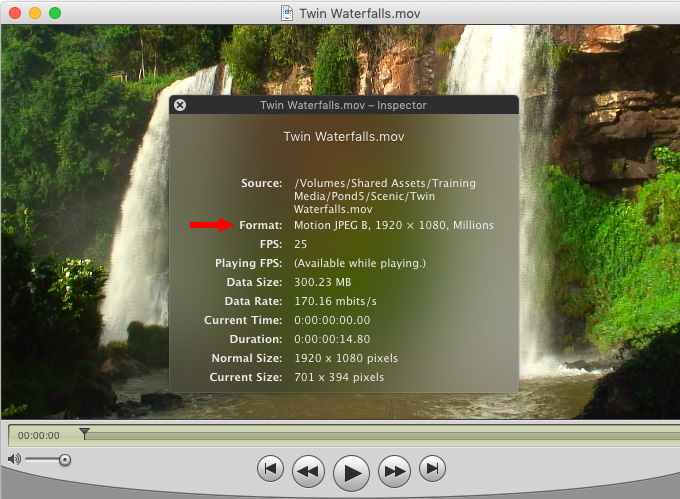 (Stock footage clip from Pond5 – note it uses the Motion JPEG B codec, which is deprecated.)
A good place to look first for problems are stock footage clips. Clip libraries have been accumulating clips for many years, using a variety of different codecs. Here, for example, this clip from Pond5 uses the soon-to-be-outdated Motion JPEG B codec.
NOTE: Here's an article on how to determine what codecs your media uses.
WHEN WILL THIS HAPPEN?
Apple announced macOS Catalina at the 2019 WWDC, in June. I'm expecting its release in the fall, which is the time that 32-bit applications and media will no longer be supported. Apple is being very careful to let us know about this upcoming change to codec support well in advance.
So we have several months to get ready.
WHAT YOU SHOULD DO NOW
[Update 12/23] First, prevent surprises. Make sure auto-updating is turned off for the macOS. Here's an article that explains how.
Second, make sure you are shooting, editing and finishing all projects in a "future-proof" media format. I don't think Apple has figured out the entire solution, yet, but this additional information is MUCH better than what we were working with originally.
Third, don't panic. Developers, including Apple, have either created or are creating tools that will help find and convert affected legacy formats into 64-bit media.
Fourth, take a look at your archives and start thinking today about what you want to save and what you want to let go. This is also time to start budgeting for hardware that can speed media transcoding.
Fifth, if you use these older codecs, plan on keeping at least one high-performance system running a current or older version of macOS and NEVER upgrading it, so it can  serve as a media conversion system. It took us 20 years to digitize most of our 2″ video tape – I expect it to take about that long to convert older digital assets as well.
You'll also need to think about where to store these new files, as they will most likely be bigger than the files you are storing now, who's going to handle the conversion and how you are going to pay for it.
With the next version of macOS announced, it IS time to start reviewing your archives and planning for the future.
EXTRA CREDIT
Jon Chappell, CEO of Digital Rebellion, is a developer I have great respect for. He provides additional insight on the implication of this conversion in this blog.
Here's an article on how to determine which codecs your media uses.
Here's an article on how to determine which applications are 32-bit.
Here's an article on how to convert older media using Apple Compressor
Here's an article on how to create a dual-boot system disk
Here's an article on how to disable automatic updating of the macOS
---