Where Does Final Cut Pro X Store Media?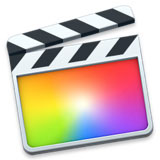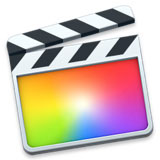 One of our most popular webinars this year covered Media Management in Final Cut Pro X. Download a copy of the webinar here, or become a member of our Video Training Library. This article grew out of that webinar.
Dan sent me an email: "I'm looking at this blue cube icon in the Finder and still can't figure out where Final Cut Pro X stores media?"
The answer is both simple and complex, so let me explain. There are two types of media in Final Cut Pro X:
Managed media. This is media stored inside the library itself; that is, stored inside that "blue cube" icon in the Finder.
External media. This is media stored outside the library, generally in other folders, that the library references ("points to") but doesn't contain.
These two options are not a case of good vs bad, rather each option provides unique benefits. Which option you should pick depends upon your project and how you intend to use media.
My general recommendation is that if you are new to FCP X, always use managed media. If you expect to share the same media between multiple editors or multiple jobs, use external media.
MANAGED MEDIA
Managed media libraries are easier to move, copy and backup.
Managed media is much less likely to become unlinked as you move files and libraries around between drives.
Managed media libraries tend to be very large because they contain copies of all the media in a project; this is in addition to the original folders the media was stored it.
A managed media library is all stored in a single location.
Managed media libraries require more storage space than external media libraries because FCP X makes copies, it doesn't move media.
EXTERNAL MEDIA
Linking to external media creates much smaller library files because links, unlike media, are tiny.
External media is easier to share between libraries and other editors.
External media libraries tend to be very small because they only point to media files, rather than contain it.
External media libraries are more susceptible to losing media links because the media is not stored in the same location as the library.
External media can be stored in multiple folders spread across multiple drives. However all drives need to be on and connected to your computer in order to edit the media they contain.
A SIMPLE WAY TO START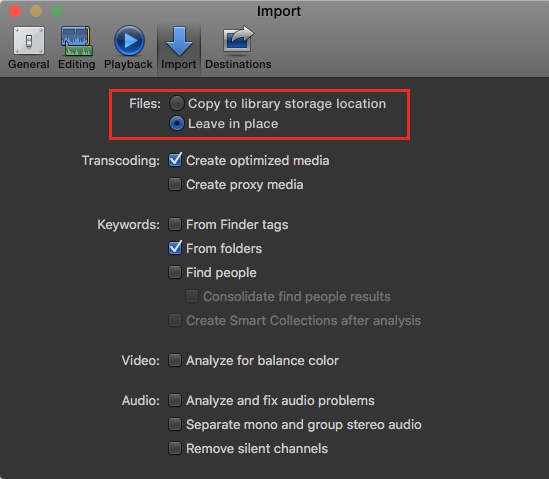 In all cases, you determine which of these two options you want to use for your media during import. So, here's a simple way to choose.
Before importing any media, start Final Cut and choose Final Cut Pro > Preferences > Import. This displays all the import settings in FCP X – see the screen shot above.
The top two are the ones that determine where media will be stored.
Copy to library storage location. This copies the media from wherever it is into your currently active library. This creates managed media. Because media is copied, rather than linked, this option requires more hard disk storage space.
Leave files in place. This creates links inside the library (called "symlinks") that point to where the media files are stored on your system. Because these links are tiny, compared to media, external media requires far less space than managed media.
It would seem that leaving files in place would be the "best" option. Maybe, but not always….
HOWEVER!
There is a big down-side to external media. You, not Final Cut, need to remember where your media files are stored.
If you move a library containing external media to a different drive, you've moved the library but you haven't moved the media. Why? Because the media is only linked to the library, not contained within it. Links are pointers that "point" to where the media files are actually stored on your system.
Because you moved files using the Finder when FCP X wasn't running, Final Cut was not able to update any of the media links to reflect their new location. This means that if you were to open that now-moved library, all your media would come up unlinked (red.). If the original drive containing media were not connected, you wouldn't be able to edit anything.
So, the trade-off is that external media is more flexible, but requires more work from you to keep track of where all your media files are stored.
NOTE: FCP X tracks media files perfectly during an edit, regardless of whether the media is managed or external. Problems occur only when you start moving files using the Finder, when FCP X is not running. Where possible, move media and libraries using Final Cut. My Media Management webinar shows how to do this.
GETTING MORE COMPLEX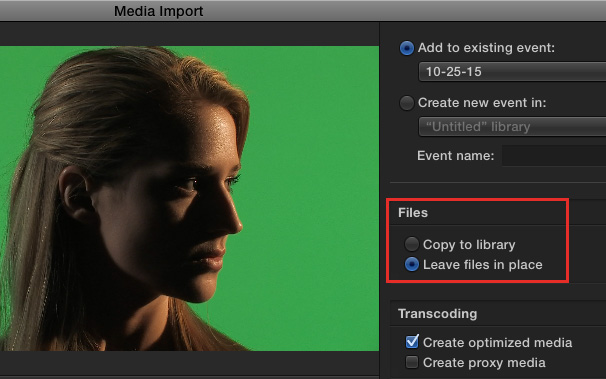 The ideal (or maybe I should say "simplest") way to set import preferences is to use the preference settings we just looked at. However, EVERY TIME you import media, you have the option of changing your mind and storing media somewhere else.
Here's the Media Import window. Notice the two radio buttons under Files. These are the same two settings that we first saw in preferences.
Here's the trick: If you change these settings here, Final Cut ALSO changes the preference setting so that the settings you last used in Media Import become the default settings the next time you open the Media Import window.
So… every time you import media you have a new opportunity to decide where you want your media to be stored.
The choice is always up to you.
EXTRA CREDIT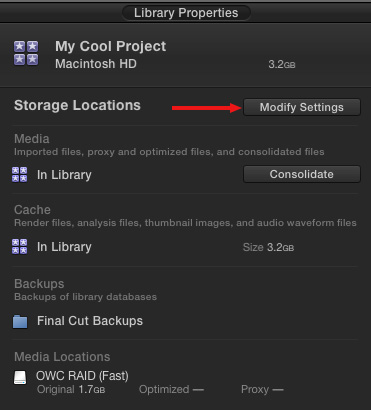 You can change media storage locations for a library using File > Library Properties. This video explains how in more detail.
I've written a lot about media management in Final Cut Pro X. Here's a collection of eighteen articles that explain this in much more detail.
SUMMARY
Media management in FCP X boils down to a choice: media is either stored in the library or it isn't. And every time you import media, you get to choose where it goes.
---
Bookmark the
permalink
.