Use Keynote for Video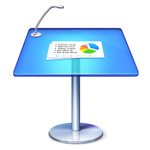 [ I first wrote about using Keynote for video in 2008, and have written about it a couple times since; with the most recent article in 2010. I figured it was time to write an update. ]
Keynote provides an easy way to create animated transitions for video projects; provided you create your Keynote presentation properly.
NOTE: This technique works whether you are editing the exported video file using Premiere or Final Cut Pro X. I'll illustrate this using Final Cut, but the process of exporting video from Keynote is the same, regardless of what editing software you are using.
EXECUTIVE SUMMARY
Here is a summary of the steps:
Create a new Keynote project
Size the project to match the size of your video format
Create, modify, and test animated text transitions
Provide a 1-second pause between slides
Export as a video clip, using ProRes 422 for best color fidelity
Import and edit as you would any video clip
Let's see how this works in practice.
CREATE THE PROJECT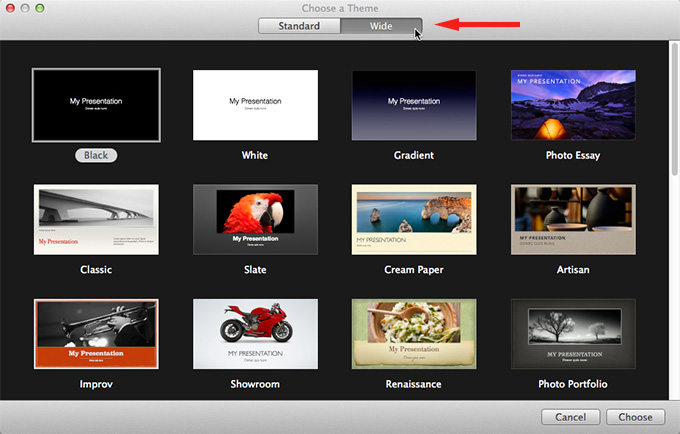 This technique works whether you create a project from scratch or using the Theme Browser. For this article, though, I'll use the Theme Browser. Since all HD video is 16:9, when looking at Themes, be sure to click the Wide button at the top. This sets the aspect ratio of the Keynote presentation to match HD at 16:9.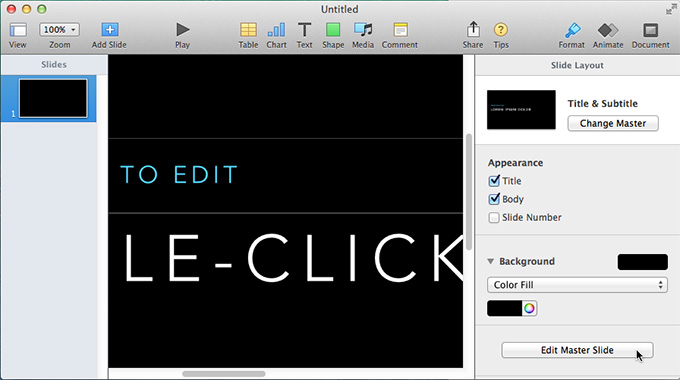 Here, I selected the Photo Essay template, which immediately displayed Format options on the right. Click Edit Master Slide.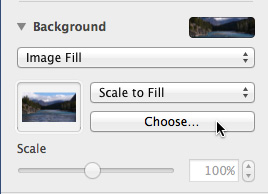 In the Background category, I changed "Color Fill" to "Image Fill," changed "Tile" to "Scale to Fill," and clicked the Choose button to choose my background image.
NOTE: These three settings are not required for video, but they explain how I got my photo of the Canadian Rockies to appear as the background image.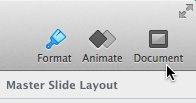 This next step, though, is crucial. Click the Document button in the top right…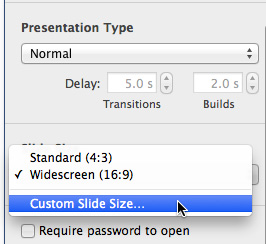 … then, under Slide Size, select Custom.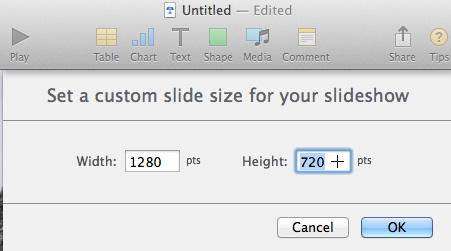 In the size dialog, enter the pixel dimensions of your video. For HD projects, this will either be:
1920 x 1080 (called 1080p or 1080i)
1280 x 720 (called 720p)
It is important for the Keynote presentation to match the size of your video presentation in order for all images and text to be the size you expect.
NOTE: You can override these settings during export. However, you get the highest image and text quality by creating your Keynote presentation at the same size as you plan to export. Text, especially, degrades as you vary the image size during export.

When you are finished sizing your project click Done.
ADD TRANSITIONS AND EFFECTS
Creating a Keynote presentation for video is essentially the same as creating a normal Keynote presentation: add graphics and text until you are happy.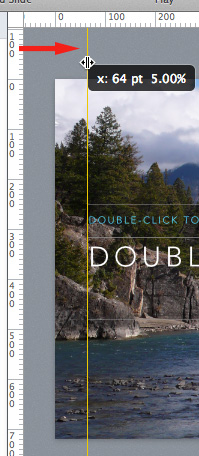 Things to keep in mind:
Keep all text inside Action Safe boundaries; which is 5% in from all edges. (Choose View > Show Rulers and drag out guides to help compose the page.)
Don't put too much text on the page
Use highly readable fonts, sans serif fonts are generally best
Add drop shadows to improve readability
NOTE: Some folks argue that Action Safe and Title Safe are no longer necessary for videos destined for the web. I disagree. We are all used to seeing layouts where text is offset from the edges. Pushing text too close to the edge feels very uncomfortable and has an amateur feel.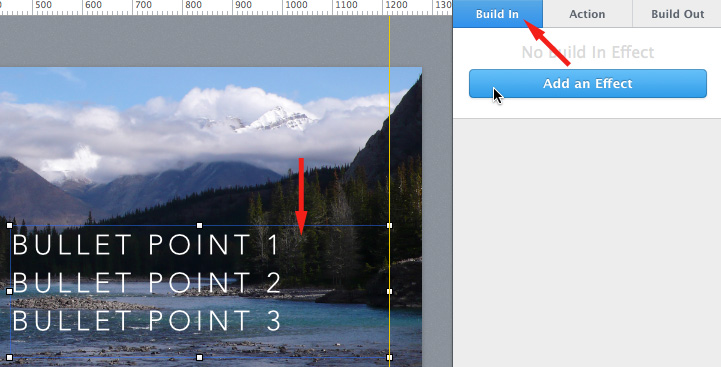 To add an effect, select the text block you want to animate, click the Animate button in the top-right corner of the interface, and click Add Effect under Build In.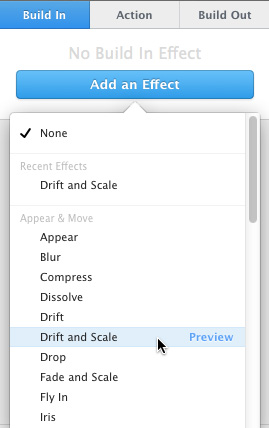 Select the effect you want to apply to the text. (Click the Preview button to view the effect before applying it.)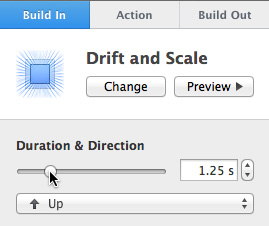 The most important setting, from a video point of view, is to set the Duration. This will be the duration that Keynote exports when you create the video file. The rest of the animation settings can be anything you want.
SET SLIDE DURATION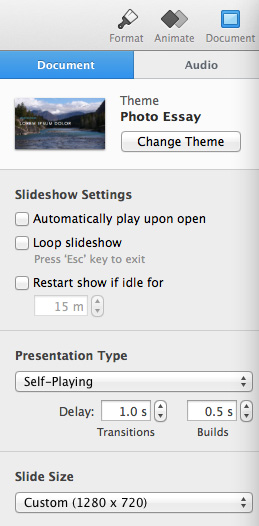 Before exporting the file, there are two more settings we need to set:
Set the presentation to Self-Playing
Set the duration of each slide to 1.0 seconds.
NOTE: Both of these settings can be modified during the export process. I change them here so I can preview exactly what the video will look like, without needing to first export the file.
If a slide duration is not set, Keynote exports a single frame between transitions, which can make finding specific transitions somewhat challenging. However, setting the slide duration too long means Keynote will create REALLY big export files, most of which are simply extended still frames.
My recommendation is to set this to one second, then adjust the exact timing between each transition using still frames in your editing software.
EXPORT A VIDEO FILE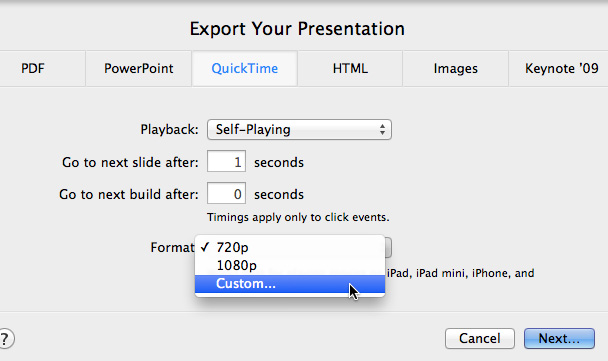 Once everything is built, timed and tested, choose File > Export > QuickTime to export the file.
NOTE: You can export a file as many times as necessary. I ALWAYS discover something I overlooked the first, ah, few times I export a file.
Make sure this screen is set to:
Self-playing
Go to next slide after 1 second
Go to next build after 0 seconds (you can change this to 1 second if you need more time between builds)
Set Format to Custom
Changing the Format setting is really important. By default, Keynote exports the movie as H.264. While H.264 is ideal for playing on iOS devices, it is NOT ideal for video editing.

NOTE: While you could change the video image size here, it is MUCH better to design your presentation at the correct size. This assures that all text and animation match between what you previewed in the presentation and what you export in the video.
When these settings are correct, click Next.
Give the file a name and location and click Save.

Keynote then generates a QuickTime movie.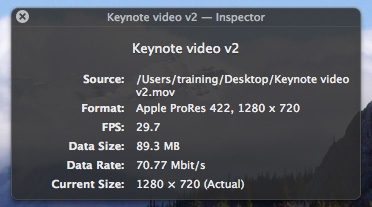 While I would much prefer that Keynote give us the option to export in ProRes 4444, because its color fidelity for computer-generated images is MUCH better, ProRes 422 is significantly better than H.264.
IMPORT AND EDIT
Once the movie is created, you are done using Keynote. Now, import the QuickTime movie into the video editor of your choice. In this example, I'll use Final Cut Pro X.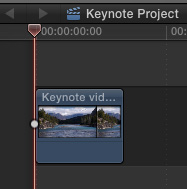 Import the Keynote movie and edit to the Timeline. All slides and animation are contained in a single clip.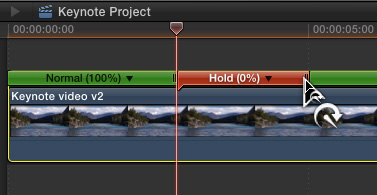 Most of the time, we sync the animation against a narrator or voice track. There are two ways to do this:
Hold frames
Freeze frames
This article describes how to create and modify both types of still frames.
I prefer to use freeze frames, rather than Hold frames. For me, even though freeze frames break the clip into component pieces, I find them easier to work with than Hold frames. On the other hand, I learned how to use freeze frames in Final Cut Pro 5, where Hold frames did not exist.
Whichever option you use, you create a still frame of the slide between the animated transitions and adjust the timing of the still frame to match your narration.
THE ONE BIG LIMITATION
The one big limitation to this technique is that if you need to make changes to your movie – for example, to correct a spelling error – you need to go back into Keynote, make the change, then reexport the movie.
This means that any existing edits that you've made to the older movie need to be redone; including re-creating all still frames. Because of this, be really, REALLY sure that the movie looks the way you want before you start editing. Or, plan to export multiple versions of the same video file.
SUMMARY
Creating animated text and info-graphics in Keynote is far faster than the creating the same tasks inside Final Cut Pro X; or Premiere using After Effects, for that matter. While there is no easy round-trip between Keynote and FCP X or Premiere, the text animation effects Keynote provides makes this technique a worthwhile addition to your editing arsenal.
---
Bookmark the
permalink
.