Thoughts on the Future for Apple's M1 Chip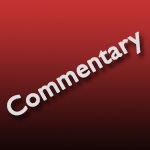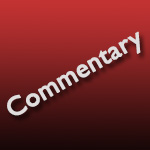 For the fourth time in its history, Apple is making a major shift in processor technology, this time from Intel to the new Apple silicon. In fact, the first three computers using the new Apple M1 chip were released last week.
Which presents media creators with an essential question: What should we do now? Apple has announced and released the first M1 systems. But, Apple is also updating and selling Mac systems with Intel chips. While Apple silicon is still mostly unknown, Intel computers are reliable, high-performance systems and we all know what they can do.  The answer revolves around your schedule.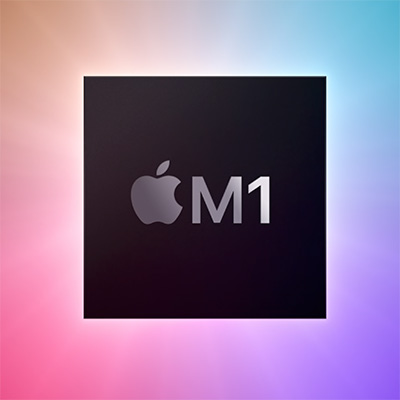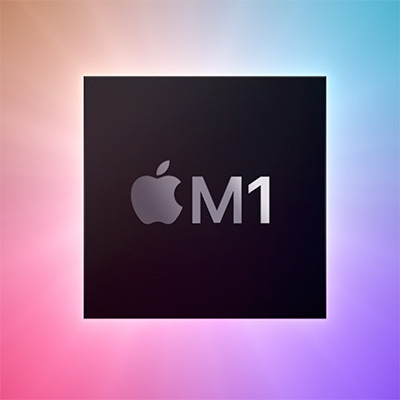 While many refer to the M1 as a CPU, the M1 is much more than a CPU. It's actually an SoC (System on a Chip). As such it integrates CPU, GPU, RAM, and a LOT of other controllers, all in one chip. It is, as its name suggests, an entire system in one chip. I've spent a lot of time thinking about this transition ever since Apple announced the change at the WWDC conference in June, 2020.
Here's my core thought: Apple Mac computers will never again be slower than the current M1 chip – and the M1 is already faster than any other laptop on the market and most desktops.
The potential for this new technology is vast. However, this doesn't mean that media creators need to rush out and buy one of these first three new systems, nor that they should ignore the current Intel systems. But it does mean that we can be very optimistic for the future.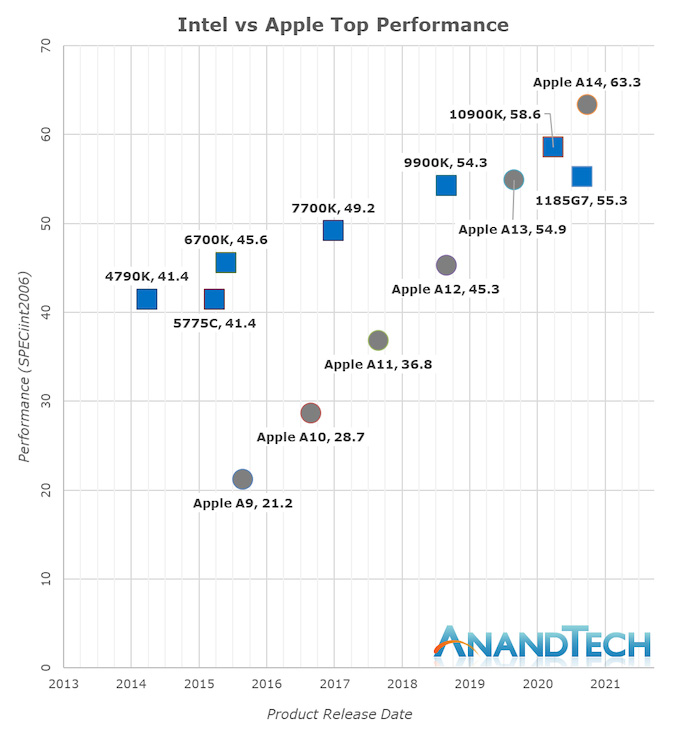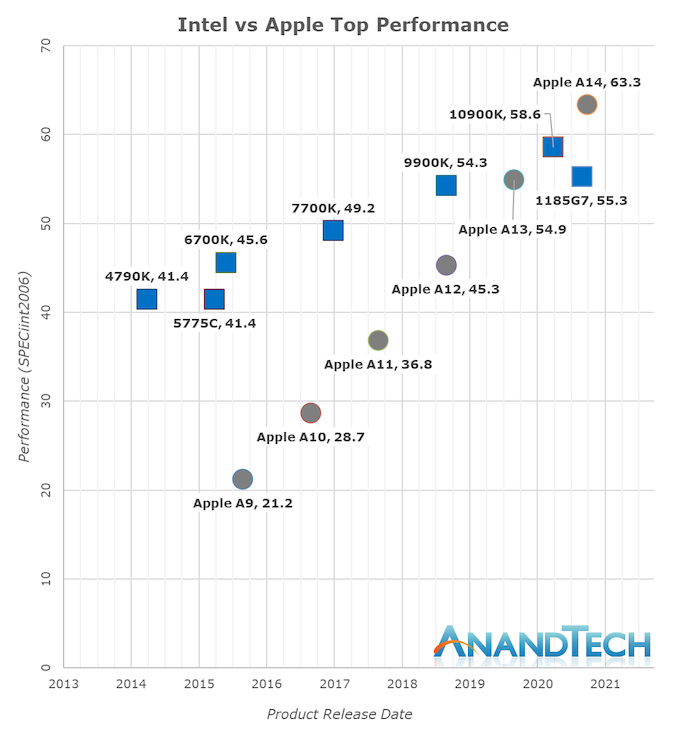 The M1 is based upon the technology Apple developed for its A-series chips for the iPhone. It is instructive looking at how these initial "A" chips improved from one generation to the next. Especially when compared with similar generations of Intel CPUs. The growth in performance of Apple's chips is striking, as illustrated in this chart from AnandTech.com.
An engineer friend told me recently that the "M1 is a 1st-generation, proof-of-concept chip. There's only one Thunderbolt bus, only 8 or 16 GB RAM, only up to 2 TB storage. It's as much a testbed for TSMC's 5nm fabrication process as anything. As that process settles in and yields rise, I fully expect core count, RAM, Thunderbolt busses, and addressable storage to increase."
Think about where Apple released this new silicon first: On its low-end, general purpose laptops. Yes, these are popular, but they are popular with folks who have general computing needs. They need to run a variety of apps on a computer that is easily carried, provides extended battery life, and doesn't break any of the most popular applications.
These are the computers the M1 is optimized for. In fact, Apple prioritized low heat and long battery life over performance. Yet, even when Apple did so, look at the performance these chips can deliver. The new Apple silicon systems are the fastest laptops on the market today, with speeds that equal or exceed most desktop systems.
Imagine what's possible when the equation is reversed. iMacs and Mac Pro's are plugged into power all the time, with large enclosures to provide plenty of cooling. With these larger systems, Apple chips can be optimized for performance. While heat is always a constraint in any computer, these larger computers can dissipate heat more easily than a small phone or tiny laptop.
EXPANDED OPPORTUNITIES
The new Apple silicon also opens the ability for Macs to run iPhone software natively. Like any library, some titles may not be that great on a desktop. Many leverage the portability or technology of the iPhone and, as such, may be of limited value to laptop or desktop users. Still, there remains a wide variety of software that desktop users could benefit from.
Virtualization to support other operating systems, such as Linux, are already available. While the jury is still out on Windows support, rumors abound on ways to bring Windows to the new Macs. Like any transition, every developer needs to figure out what makes sense for their products. Personally, while Windows may not be available short-term, I'm not worried about access to it for the long-term.
And that's an important term: "Long-term." Apple has said it will take two years to accomplish the entire transition. That's because the complexity of what these chips need to do expands as we start to get into higher performance systems.
WHAT ABOUT OUR CURRENT MACS?
As Apple has shown with the release of Big Sur, support for Intel Macs remains strong. Intel Macs provide exceptional power, full support for running Windows on a Mac as well as a variety of other operating systems, and all the software we've come to know and love on our Macs for the last 20 years.
Intel is not going away.  But, it is not the future. If you need a computer now, Intel delivers. But, if you want to protect yourself for the future, and you can afford to wait, the future is with the coming generations of Apple silicon. The M1 is the start, but there is much more to come.
It will take a new generation of chips to support the systems media creators need. iMacs and Mac Pros both need access to much more RAM, far more ports, access to more and faster storage, and support for more powerful GPUs. In addition, Mac Pros need access to more cores, vast amounts of  RAM, multiple GPUs and lots and lots of connections for external devices.
Apple silicon can, from its design, meet all these challenges, but they can't do it using the same chip. The M1 will shortly be followed by the M2 and M3; not that Apple has told me their plans, simply that this is the way Apple has ALWAYS behaved. Each chip improves on the ones that went before.
Apple plans for the long-term using hardware to support a unified software vision to create Apple's view of the technology of the future.
SUMMARY
General computer users, especially those needing portability and long battery life, should seriously consider the new MacBook Air and 13″ MacBook Pro. These are amazing systems.  The Mac mini is also delivering some amazing performance in a very small package.
Which brings us back to our central question: What should performance-driven media creators do? The answer is: Buy Intel if you need new gear now. But, for those that can wait for Apple to bring out the chips designed to meet the requirements of power users, waiting is a much better option. Apple's first chip – the M1 – proves that the transition to Apple silicon works and works extremely well. But this first chip was not designed for us. Our time is coming.
It will take a while longer for the systems that most media professionals need to appear. And, naturally, we all want them RIGHT NOW! But, based on what Apple has released so far, the wait will be more than worth it.
As always, share your thoughts in the comments.
---
Bookmark the
permalink
.