QuickTime 7: Edit Multitrack Audio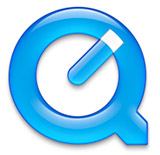 Hidden inside QuickTime Player 7 are several options for manipulating multi-channel audio that I find indispensable. Most of the time, I handle these audio chores in my video editing software; except… every so often, QuickTime Player is better and faster.
When recording interviews, the best technique is to record audio using a "dual channel mono" format. The interviewer is on one mic, which is recorded to channel 1, while the guest is on a second mic, recorded to channel 2.
NOTE: I strongly advise against recording any interviews or dramatic scenes in stereo. Editing and mixing stereo audio interviews are far more difficult than editing mono audio tracks. Remember this phrase: "One mouth – One mic – One channel."
This same technique can be used for dramatic scenes where each actor is recorded to a separate channel. Recording one voice to one channel simplifies editing and cleanup, plus makes mixing and panning much easier.
NOTE: QuickTime Player 7 Pro is a $29.00 upgrade from the free QuickTime Player. Click here to download a copy: http://support.apple.com/downloads/#quicktime You must also upgrade to the Pro version for these features to work. QuickTime Player X does not have these features.
SCNEARIOS
One common interview option is where the interviewer doesn't wear a mic, because you won't use the interviewer's voice. Here, you record the guest on channel 1 and leave channel 2 blank.
Another common interview option is to record the interviewer on channel 1 and the guest on channel 2. This gives you the option to use, or not use, the interviewer's voice; or to at least know the exact question of the interviewer.
There's no reason to waste hard disk space capturing an empty audio channel. One hour of 48/16 mono audio requires about 320 MB. Multiply that by the number of hours of recorded material and that adds up to a lot of space.
QuickTime Player 7 Pro allows us to silence a track, delete a track, or extract a track to a separate file, quickly and easily. Here's how.
FAST AND PAINLESS TRACK SURGERY WITH QUICKTIME PLAYER 7 PRO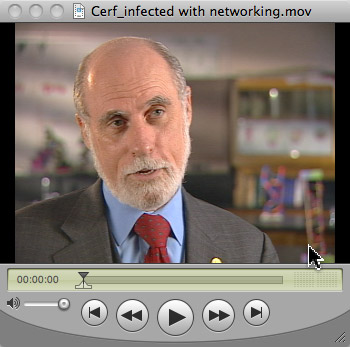 Open your media file in QuickTime Player. (QuickTime Player is versatile, but it won't play all media formats. Also, QuickTime Player 7 is a 32-bit application, so at some point in the future it will not be supported by the Mac OS. However, it works fine up through Mac OS X 10.8.x)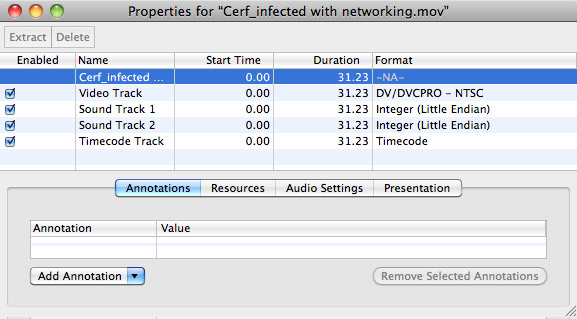 Select Window > Show Movie Properties (type Cmd+J). Every QuickTime movie can contain multiple tracks. Here, for example, there is one video track, two audio tracks, and one timecode track. A single QuickTime movie file can contain one video track, up to 24 audio tracks, up to 3 timecode tracks, plus text metadata.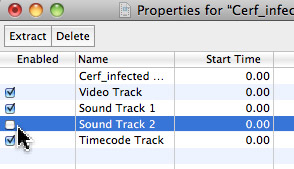 To disable a track, uncheck the blue checkbox. Here, for example, I've disabled the second audio track. This means that the audio is still there, but it is no longer audible. To enable the track again, recheck the checkbox. Changing this checkbox does not affect file size or actual file contents. Saving the file means the audio is still there, but not audible; you can open this file later and turn the audio for that track back on.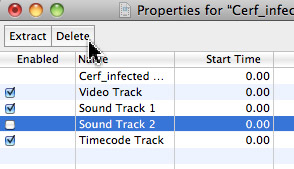 To delete a track, for example to get rid of an empty audio channel, select track and click the Delete button at the top. The track is instantly deleted. You can recover a deleted track using Undo.
However, these changes are not permanent until you save the QuickTime file. Once saved, that track is gone forever and can't be recovered. However, UNTIL you save the file, none of your changes are permanent. And if you close the file without saving, none of your changes take effect.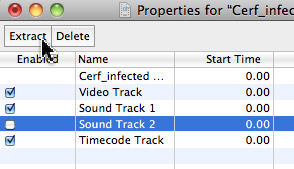 To extract a track into a separate file, select the track and click the Extract button. Almost instantly, a new QuickTime movie appears containing just the track that you extracted, and the track is removed from the original source file.
Again, to make your changes permanent, save the file. To not save changes, close the file without saving changes.
SUMMARY
The ability to manipulate individual tracks inside QuickTime makes it a very powerful application in my toolkit. I don't use it often, but when I need it, there's nothing like it.
---
Bookmark the
permalink
.