New HDR Workflow in Adobe Premiere Pro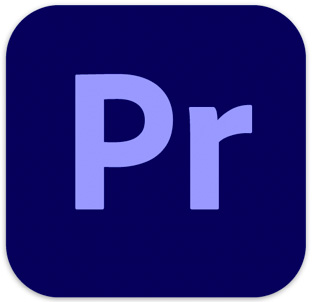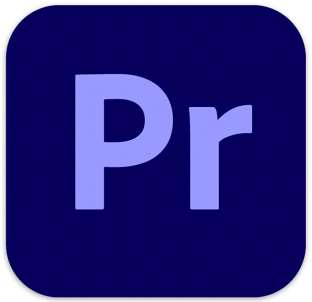 [ Updated Sept.22, 2020, with additional information from Adobe. ]
With the Sept. 2020 update, Premiere Pro can now handle some HDR material natively. While this update is a big improvement over how Premiere handled HDR media before, the entire workflow remains a work-in-progress. Expect continual updates over the next several versions of Premiere.
With this version, Adobe made working with HDR media easier, but it still a long way from easy.
NOTE: Adobe has published two User Guides. This one is the most useful, but doesn't appear on line.  This second User Guide is online, but has less information. I pulled multiple excerpts both of these to supplement this tutorial.
OVERVIEW
"With the September 2020 release of Premiere Pro version 14.4, you can work natively in Rec. 2100 HLG thanks to a new sequence working color space option. Apple ProRes and Sony XAVC Intra are both fully color managed and GPU accelerated throughout the HDR pipeline. With the new native HDR workflow you can import, edit, color grade, and export HLG content in Premiere Pro. The first implementation of this workflow addresses the needs of professional broadcasters and in upcoming releases, we plan to add support for other HDR working spaces, such as Rec. 2100 PQ (ST2084), and additional format support, like H.264, and HEVC.
"Historically, Premiere Pro used the Rec. 709 color space, but by processing color in 32-bit floating point, Premiere Pro was able to preserves data outside of the Rec. 709 range and gamut. HDR workflows were possible with this approach but it had drawbacks. With the new HDR workflow, Premiere Pro can process Rec. 2100 HLG content in its native color space. This opens opportunities for post-production, including interoperability with After Effects and better performance." (Adobe HDR User Guide)
HOW IT WORKS
With this release, you'll get the best results and smoothest workflow shooting and editing Rec. 2100 HLG media. Currently, two video formats that are fully color managed and supported:
Apple ProRes
422 HQ
4444
4444 XQ
Sony XAVC-Intra
Class 100
Class 200
Class 300
Class 400
LUTs can also be applied and used. In addition to creating a specific look, LUTs can be used to:
Upconvert SDR to HDR with gamut mapping and highlight extension
Down-convert HDR to SDR with gamut mapping and highlight compression
Convert from LOG space to Rec. 709 (Vlog, Slog3, Clog, etc.)
Convert from LOG space to HDR (Arri LogC to Rec. 2100 HLG, etc.)
Cross-convert between HDR standards (PQ to HLG / HLG to PQ)
Unlike PQ, the HLG format limits white levels to 100%. (This makes it attractive for broadcasters due to compatibility with existing SDR workflows.) This means that we need to set an "HDR Graphics white point" providing a target luma level for 100% white (excluding speculars). While there are three different settings we can use, the default option is 75%. (For a variety of technical and aesthetic reasons, it is unwise to set this to 100% – the white levels in HDR become far too bright.)
UPDATE: Adobe tells me support for HDR PQ is "coming soon."
PUT THIS INTO PRACTICE
I created a new project, then imported some ProRes 422 HQ HDR footage.


In File > Project Settings > General, set Color Management to 203, which sets the HDR Graphics White to 75%.
In Premiere Pro, HDR Graphics White determines the white point for color space conversions such as SDR to HDR or HDR to SDR. For example, with HDR Graphics White set to 203 (75% of the HLG scale), 100 IRE in Rec709 would get mapped to 75 IRE in the HLG scale.
The first number in the HDR Graphics White setting refers to nits (100, 203, 300) and assumes a peak nit level of 1000 for HLG. HLG as a standard does not follow an absolute nit level and will look brighter or dimmer depending on the capabilities of the actual playback device.
UPDATE: In general, use 203, unless you are specifically told to use a different value.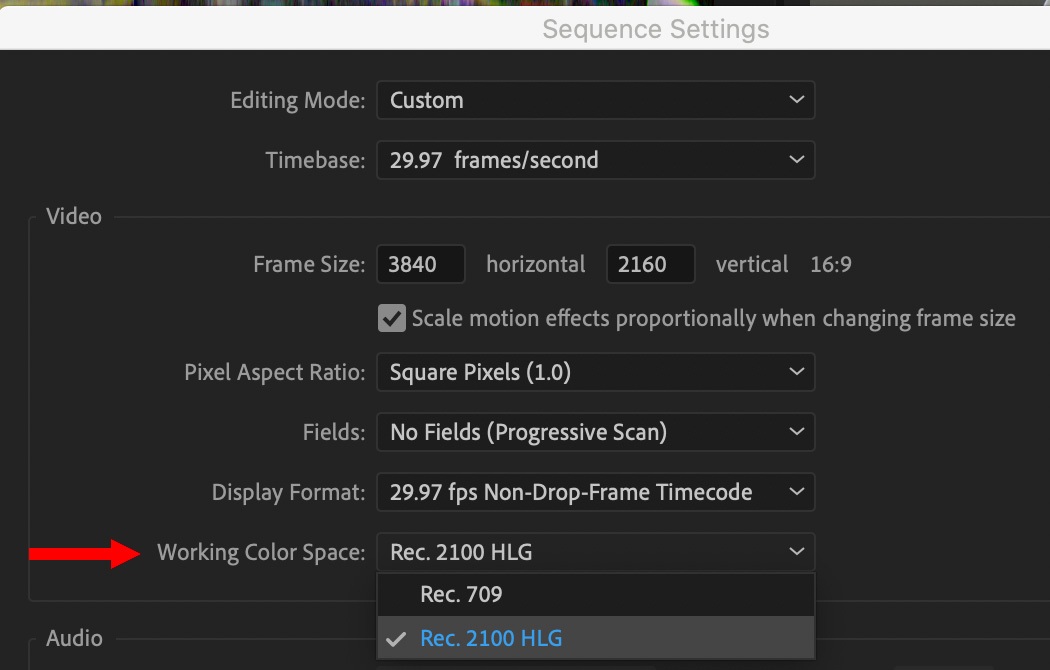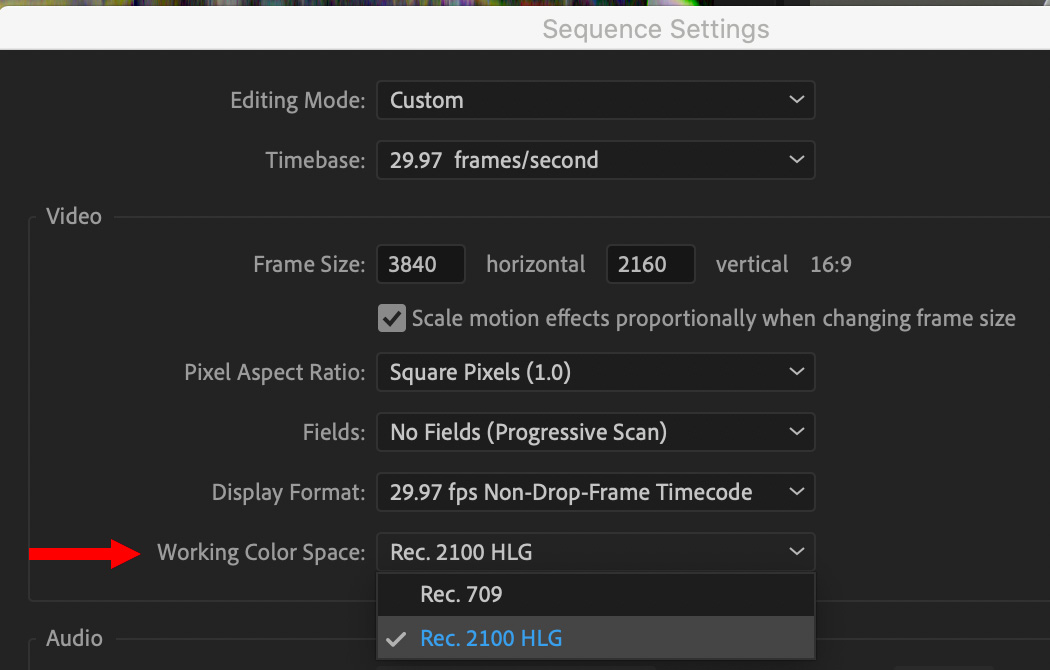 Next, with the sequence selected, choose Sequence > Sequence Settings and set the Working Color Space to Rec. 2100 HLG.
UPDATE: If you create a sequence by dragging an HDR clip onto the New Item icon, these settings will be properly adjusted automatically.
When you choose the Rec. 2100 HLG color space, all color values processed within the timeline will now happen natively using Rec. 2020 color primaries with the Hybrid Log Gamma transfer function. If an HLG file is placed on an HLG timeline, no conversion is required, and the values pass through, which provides a performance benefit. Rec. 709 files placed on the timeline will be converted to HLG using a colorimetric conversion method, using the HDR Graphics White point for range scaling. By default, 100% of the Rec. 709 signal will map to 75% of the HLG signal.
MONITORING & VIDEO SCOPES
Currently, Premiere does NOT support displaying HDR media to a computer display. (I know you WANT to, but you can't.) You must use an external video HDR monitor.
I should note that Final Cut Pro X doesn't support monitoring HDR media on computer monitors either.
NOTE: Both AJA and Blackmagic Design provide video interfaces. Currently, the Apple Pro XDR monitor is not supported. You will need to enable Preferences > Playback > Mercury Transmit to send video to the monitor.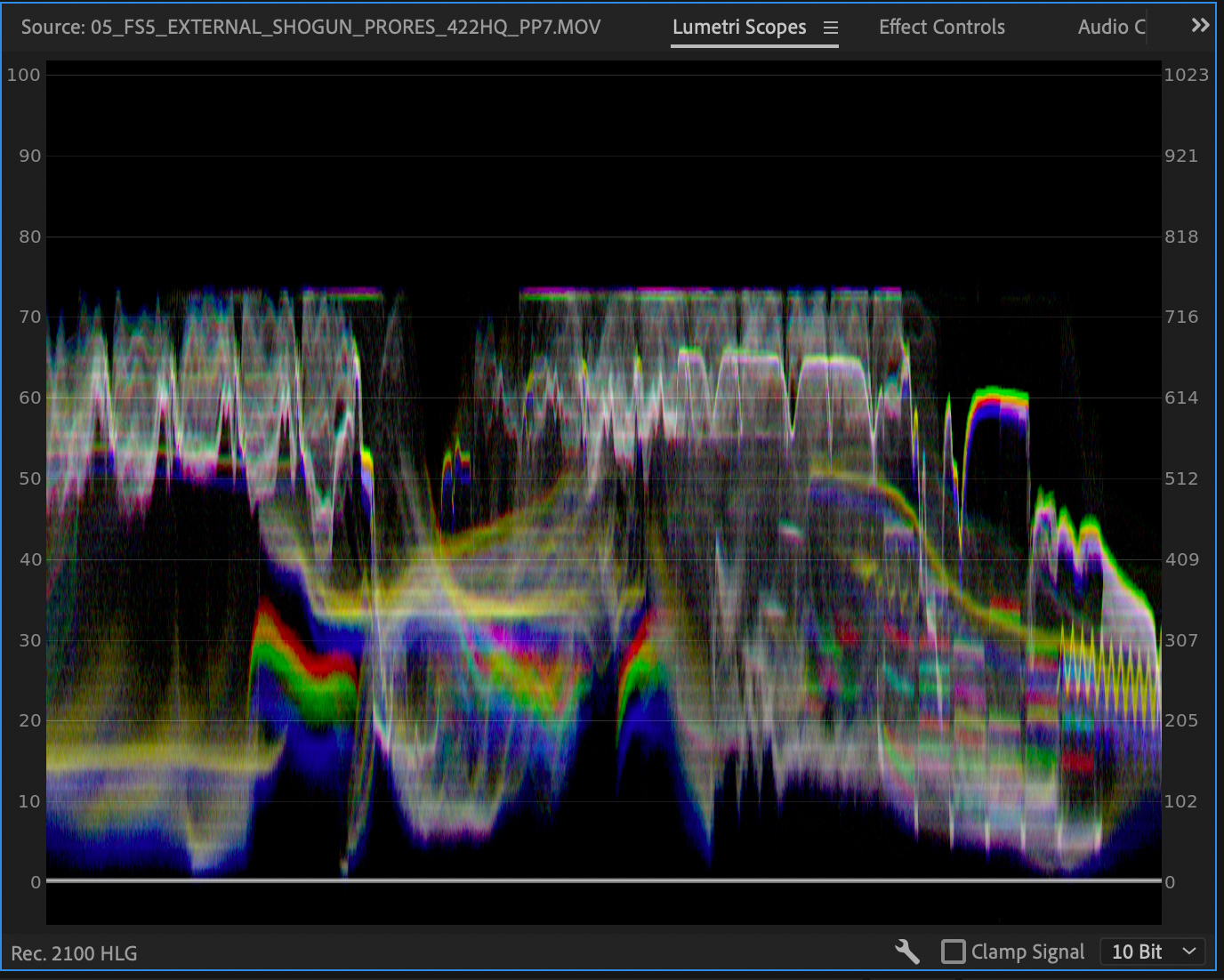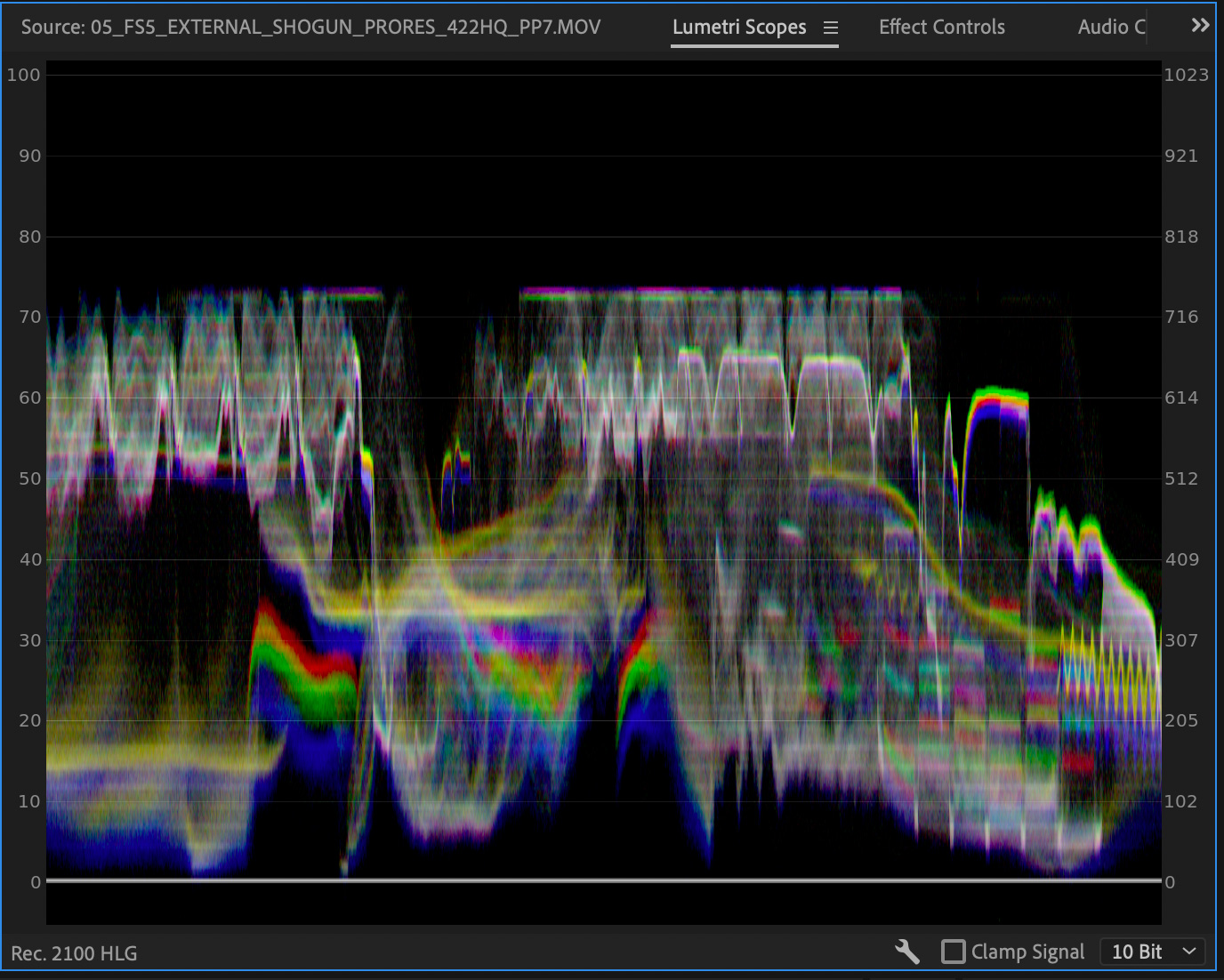 UPDATE: The scopes will automatically configure themselves for the media displayed in the sequence. HLG video maxes out at 100 IRE on the video scopes.
All the standard color grading tools work as you'd expect.
UPDATE: Clamping the scopes removes all display of either super-white or super-black values. This affects the scope only, not the timeline. My suggestion is to turn clamping on for creative work, and off to check video levels technically.
UPDATE: DISPLAY COLOR MANAGEMENT
Turn on Preferences > General > Display Color Management when creating graphics. This allows you to see when they start to exceed 75% in value, which will cause a color shift.
Turn off Display Color Management for normal editing.
EFFECTS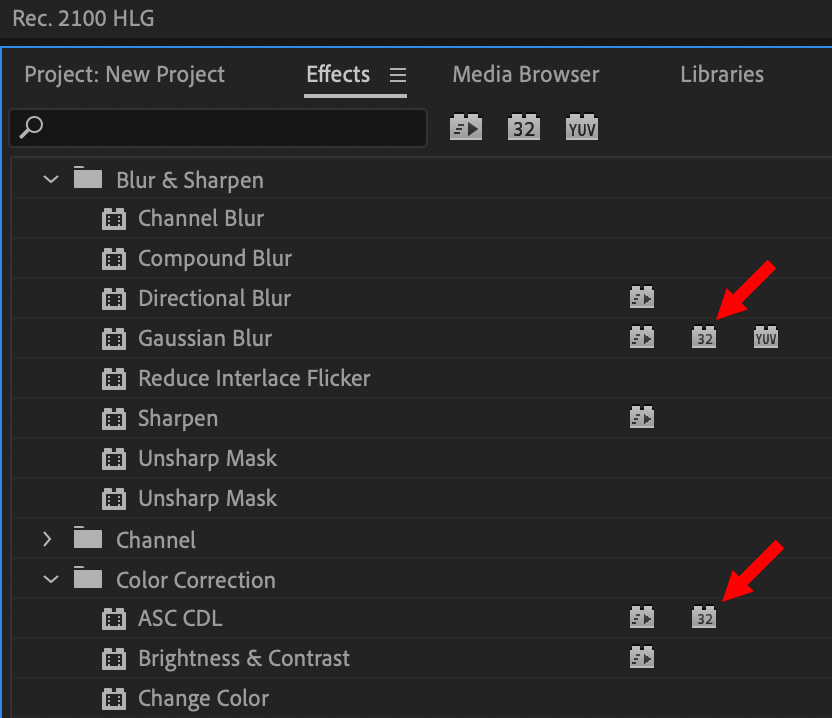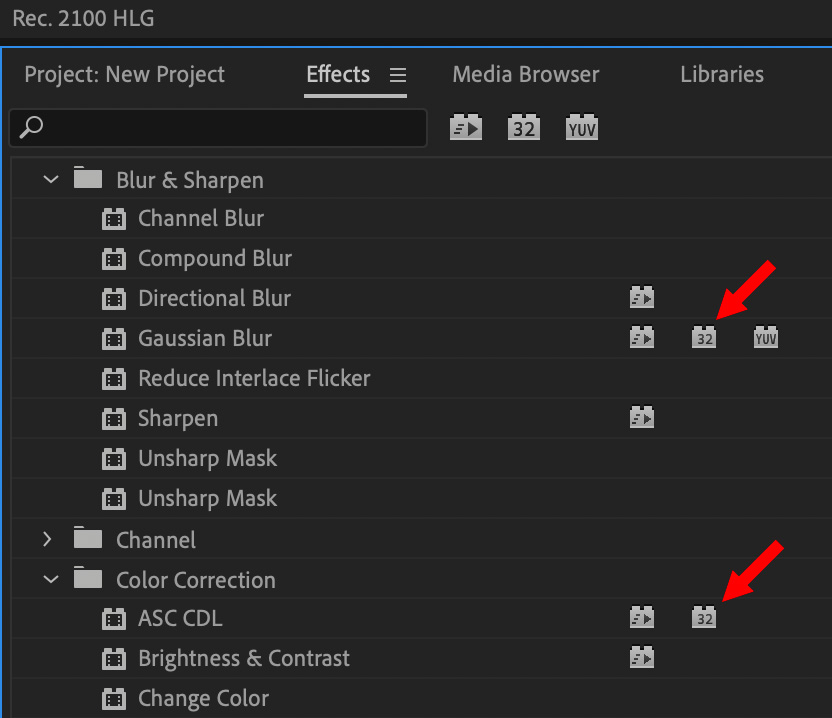 All effects capable of processing in 32-bit color are compatible with HDR. However, only a few effects are 32-bit capable.
To determine which effects you can use, look to the right of the effect name. If the 32-bit flag is displayed, red arrows in the screen shot above, that's an HDR-compatible effect.
Technical and creative LUTs may also be used in HDR production, however, for best results make sure the LUT is designed for HDR material. Rec. 709 LUTs can be used, but may deliver results different from what you expect.
EXPORT
Premiere supports two fully color-managed codecs for HDR output:
Sony XAVC-Intra
ProRes 422 HQ, 4444, or 4444 XQ
To export a file, select the sequence, then choose File > Export > Media. (Shortcut: Cmd+M)
UPDATE: In the Format menu, select either QuickTime or MXF OP1a. For QuickTime, my recommendation is to use either ProRes 422 HQ or ProRes 4444. For MXF, select ONLY XAVC-Intra – either Class 100 or 300. Long-GOP is NOT supported. Pick the appropriate frame rate from the different options.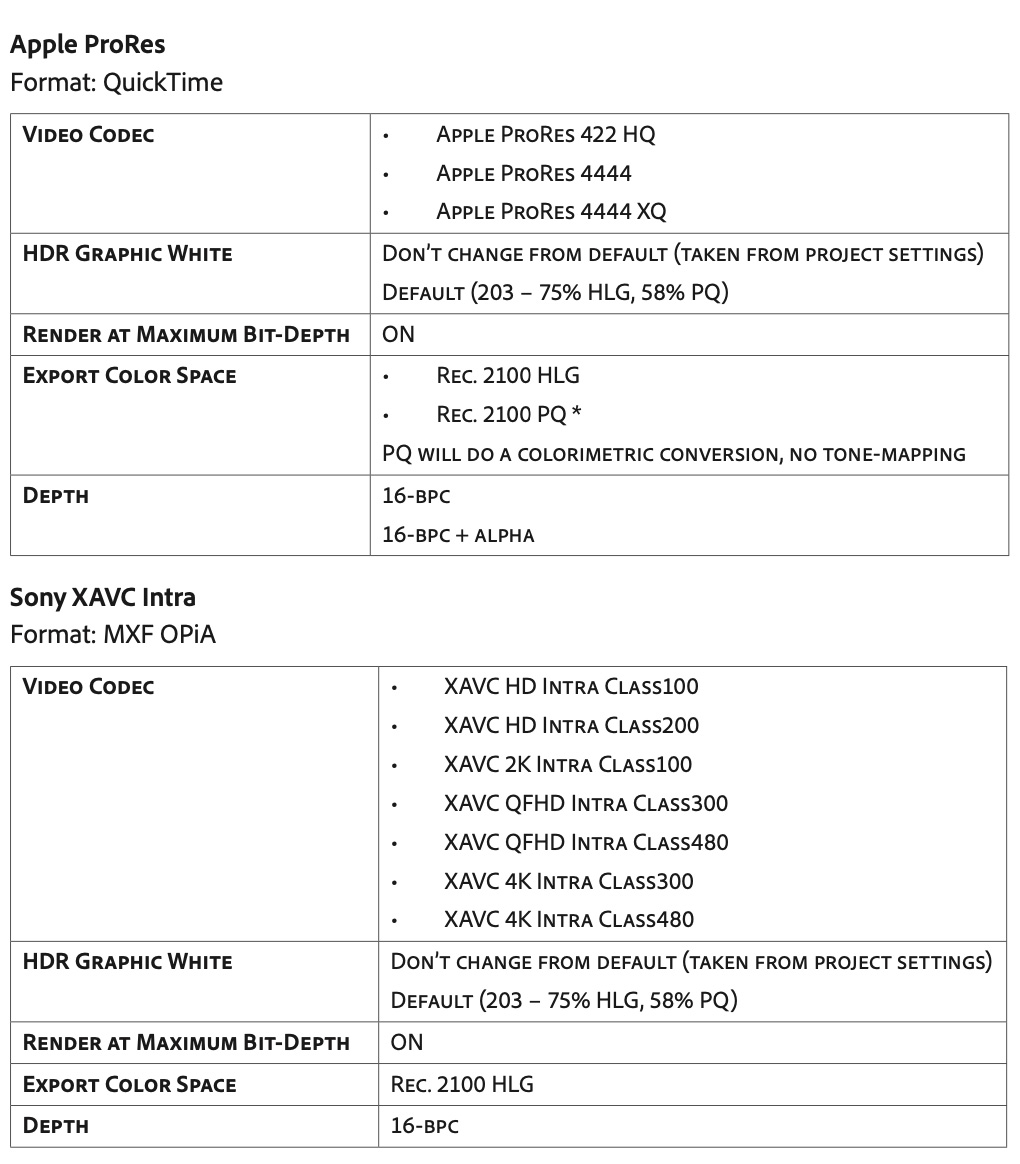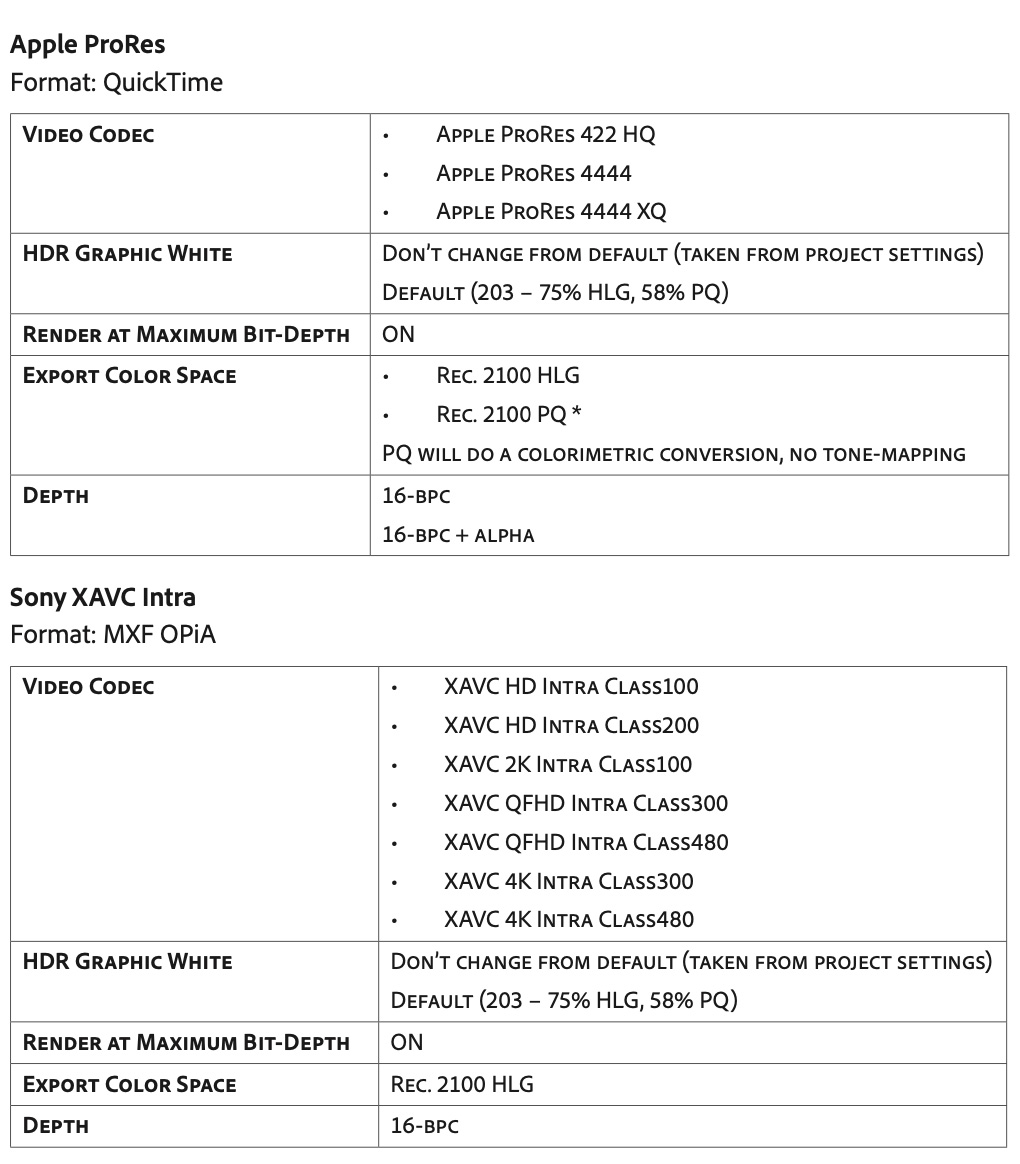 This screen shot is from Adobe's HDR User Guide (linked at the top of this article) highlighting the appropriate settings for HDR export for both QuickTime and MXF media.
SUMMARY
Adobe continues to upgrade Premiere to support HDR. (Rec. 709 was deeply hard-coded throughout the app, so this conversion process will take several versions to complete.) However, working with HDR is not painless. Not all HDR formats are supported and there are many settings that need to be properly configured. And the problem of  monitoring HDR media is still a work in process.
If HDR is part of your plan, this latest version of Premiere moves it from the realm of "nearly impossible" to "doable." However, take time to read Adobe's HDR Workflow (here's the link) before tackling an HDR project. And, as with all new things, test your entire workflow before starting an HDR project.
Practice, and properly configuring your settings, will significantly decrease your stress.
---
Bookmark the
permalink
.