How To Tell Which Mac Apps are 32-bit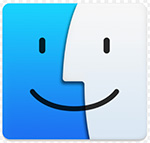 [ Updated June 16, 2019, with mac OS Catalina and a link to an article explaining which media won't work in the next OS. ]
Apple has made no secret that it is moving away from 32-bit applications to the new world of 64-bit; starting with macOS Catalina. But, how can you tell which applications are in jeopardy?
It's easy and here's how.
NOTE: Here's an article that describes which 32-bit media codecs are also in jeopardy with the new version of OS.

From the Apple logo, choose About This Mac.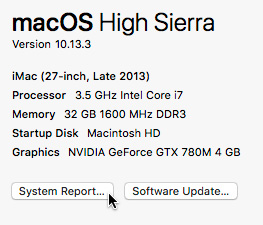 Click the System Report button.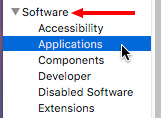 In the sidebar on the left, scroll down until you see the Software category, then click Applications.
After several seconds, a list will appear on the right of all the applications installed on your system. There will be a LOT and many of them you may not have heard of because the software you use relies on a variety of helper applications which are not normally visible.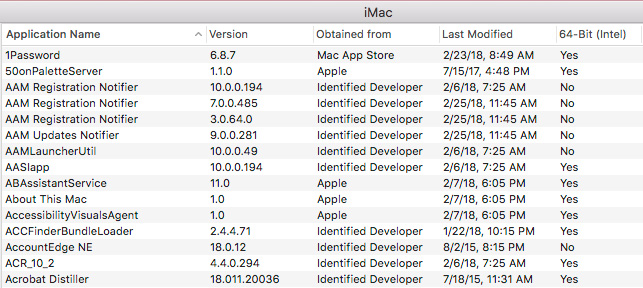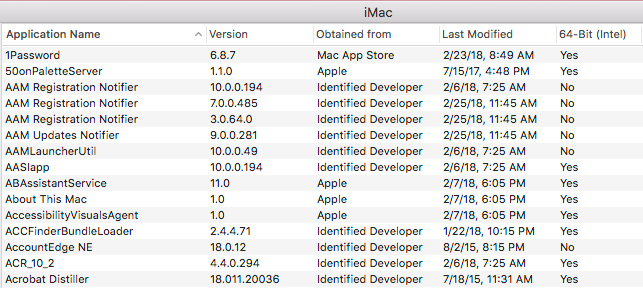 Click the name of an app, to learn more about it.


Click the 64-bit (Intel) column header at the top left of the window to sort all the 32-bit applications together.
Reviewing your list of software now will give you a better understanding of what will go away when Apple finally stops supporting 32-bit applications. More time to plan is always better.
SIDEBAR ON MEDIA
For media professionals, many of our older audio and video codecs are only 32-bit. I have not yet been able to get word from Apple on what happens to these when the transition to 64-bit is complete.
SUMMARY
For now, there's nothing you need to do. Sierra and High Sierra still support most 32-bit applications. However, future versions of the macOS won't. So, consider this a heads-up that allows you to better plan for the future.
---
Bookmark the
permalink
.