Final Cut Pro X 10.4: Working with LUTs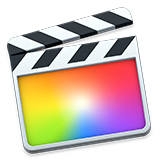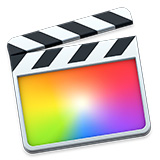 A LUT (short for color Look-Up Table) allows us to instantly convert a video clip from the way colors are mapped in the image sensor of a camera into a different set of values for display to a monitor.
The reason LUTs exist is that most sensors can capture more color and gray-scale data than our monitors can display. LUTs allow us to convert and optimize an image for a particular scene or display.
LUTs are a part of the color grading process and much faster than adjusting color settings then rendering a clip. While LUTs have been in still image photography for a long time, they are only recently making their way into video. LUT support is new with the 10.4 version of Final Cut Pro X.
Craig Taylor recently wrote me with a reminder that, though LUTs are supported in FCP X, they may not be visible. So, with that as a reminder, here's what you need to know to experiment.
LUT BASICS
Final Cut Pro X supports two types of LUTS:
Camera LUTs. These convert from camera log format to the working color space of the current library. Camera LUTs are created by camera manufacturers and shipped with their cameras.
Custom LUTs. These allow us to create, import, or share custom looks for our video clips or projects. Custom LUTs are created by DPs, colorists, anyone, in fact, that wants to tweak their images using 3rd-party LUT software.
An example of LUT software is: 3D LUT Creator.
Final Cut does not create or modify LUTs, it simply allows you to apply and change existing LUTs to your footage. On media import, FCP X will determine if the clips are in a supported log format, then automatically apply the appropriate built-in camera LUT.
You can also import additional camera LUTs (known as custom camera LUTs). Custom camera LUTs can be provided by camera manufacturers or created by your director of photography, digital imaging technician (DIT), or colorist using a third-party color grading app.
Supported cameras include those from:
ARRI
Blackmagic Design
Canon
Panasonic
RED
Sony
Final Cut supports both the .cube and .mga LUT formats. This means that any custom LUT designed for DaVinci Resolve (.cube format) will also work with Final Cut. There are dozens, perhaps hundreds of .cube LUTs available from a variety of websites; just do a Google search for "CUBE LUTs".
LUTs can be changed at any time, the source file is not affected and no permanent changes are made to your images until you export them.
DISPLAY LUT OPTIONS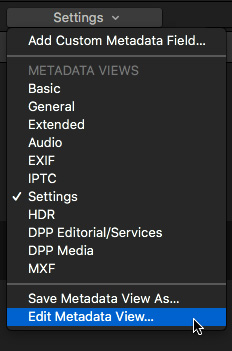 Before we can apply a LUT, we need to display the option. To do this:
Select a RAW or LOG clip in the timeline
Select the Info Inspector
At the bottom, click the Settings menu and choose Edit Metadata View settings. (This menu may display other text, it is at the bottom left of the Inspector.)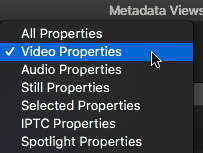 In the popup menu at the top of the Metadata View window, select Video Properties. While not really necessary, checking this option will save a lot of scrolling.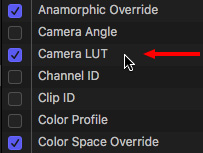 Then, check Camera LUT to display the LUT menu in the Inspector. It is off by default.
Finally, click OK in the bottom right corner of the Metadata View window.
CHOOSE LUT OPTIONS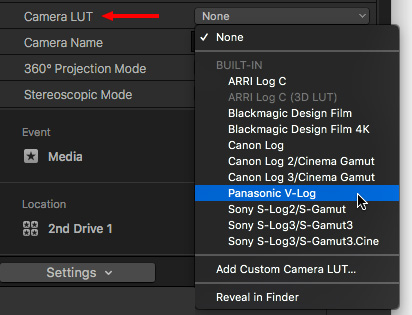 Now, when you select a clip that supports LUTs (i.e. RED, RAW or Log-C), pick the format that represents your camera from the Built-in LUT list.
To remove a LUT, simply select None from this same list.
IMPORT A CUSTOM LUT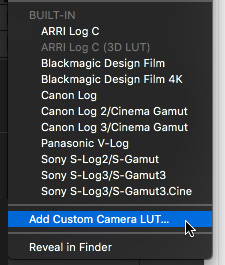 Once you've purchased and/or downloaded a custom LUT, you can import it into FCP X by selecting the Add Custom Camera LUT option. Remember, it must be in either .cube or .mga format.
NOTE: LUTs are NOT stored in the Final Cut Library file. This means that if you move the library, you will need to copy and move the LUTs separately.
SUMMARY
As we move increasingly into shooting media for HDR, LUTS will also become more and more important. The latest version of FCP X makes experimenting with different LUTs fast and simple.
---
Bookmark the
permalink
.