FCP X: Import Layered Photoshop Files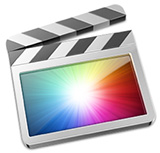 FCP X has always been able to import Photoshop documents — except that if they had layers, FCP would mash them down to a single layer. Which sort of misses the whole point of having layers in the first place. Apple fixed this with the 10.0.3 release of Final Cut Pro X.
NOTE: By the way, this technique works regardless of which version of Photoshop you are using.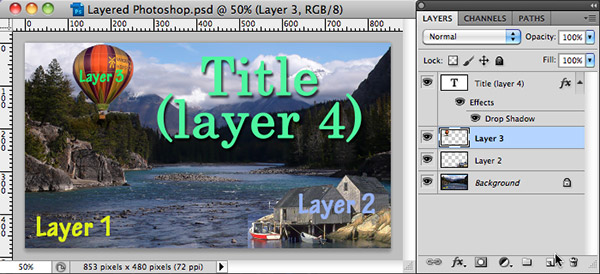 For instance, here is a four-layer Photoshop (PSD) file; incredibly well-designed, if I do say so myself. (This is, perhaps, why no one hires me to do graphics design work…)
I merged the text for each layer into the image to keep things simple. Layer 1 is the text and the background picture. Layer 2 is the text and the small buildings. Layer 3 is the text and the balloon. And Layer 4 is the large green text with a drop shadow layer effect.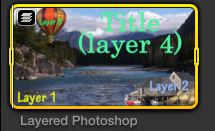 I saved the file as a PSD and imported into FCP X, just as you would import any other file. See the small icon in the top left corner of the image? The one that looks like a stack of papers? That indicates it is an imported Photoshop file.
So far, so good. But we've always had the ability to import PSD files – its just that they were always converted to a single layer PNG. Here's the new part: double-click the file in the Event Browser and watch what happens.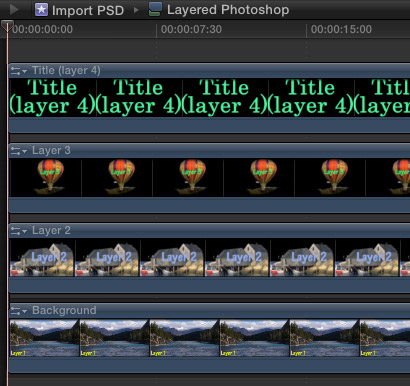 The image opens into a special form of the Timeline that allows you to see and manipulate each layer. In fact, each layer is now separate and selectable.
For example, you can:
Select a layer, which acts like a clip, and make it invisible by typing V
Select a layer and apply a clip effect, such as Blur or Black & White.
Select a layer and animate it using keyframes
Select a layer and apply any of the built-in effects, such as transform or color correction.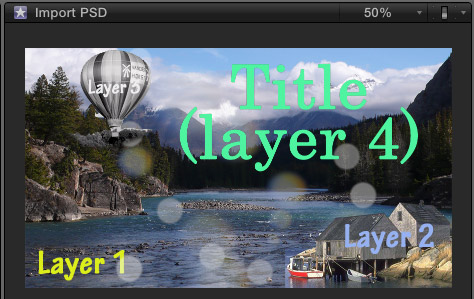 Here, for example, I applied a lighting effect to the bottom layer, which is immediately reflected in the image of the composited clip in the Viewer. Since you are changing the clip in the Event Browser, your changes will be retained as part of the clip when you edit it into the Timeline.
Hmmm… notice that the title in Layer 4 no longer has a drop shadow? More on that in a minute.
WHEN IS A CHANGE NOT A CHANGE?
If you have applied changes to an imported layered Photoshop file, then edited that file into a Project, your changes will travel with the Event clip into the Timeline.
However, if you go back and change that Photoshop file in the Event Browser again, your changes are reflected back to the clip in the Event Browser, but NOT to the edited clip in the Timeline. This means you can change your Event Browser clips without worrying that you are breaking an edited clip in your Project.
A CAUTION
Remember that drop shadow layer style I mentioned when I created the image in Photoshop? Well, just as with Final Cut Pro 7, FCP X does not know how to interpret those layer styles, so it just ignores them.
This means that you either need to apply things like drop shadows in FCP X — something Final Cut does not do well at this point — or you need to rasterize your text inside Photoshop in order to "bake" the drop shadow into the file. The easiest way to do this is to merge the text layer into the layer below it, by selecting the text layer, the choosing Layer > Merge Down.
NOTE: You may be able to simply rasterize the layer in Photoshop (Layer > Rasterize > Text), but I've not seen this work reliably.
SIZE MATTERS
There's one other issue that isn't new, but still needs to be considered. Many video formats, including all the standard definition ones, shape their pixels as rectangles, while the computer uses square pixel shapes. This means that if we are bringing in full-screen images, we need to compensate for the difference in pixel shape (called "pixel aspect ratio") when we are sizing the image in Photoshop.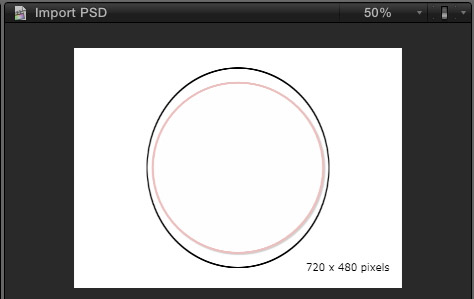 Here's the problem. In this screen shot, the red circle was created in Final Cut Pro X as a test image. The black circle was created in Photoshop. When the PSD file is imported, the black circle became squished, and looks more like an egg. This is caused by the differences in pixel aspect ratio between Photoshop images and video images. The red circle was created in FCP just to prove how weird the black circle looks. (Oh! Those poor squished pixels.)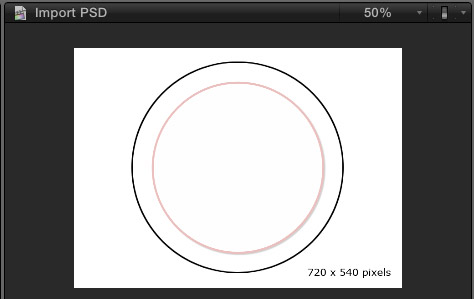 Here's how the image should look. Two perfect circles, the black one from Photoshop and the red one generated inside FCP X. When images are created at the right size, all the geometry is retained. (As before, the red circle was created in FCP as a test image.)
This means that if we are creating images in Photoshop we need to make sure they are the right size so the geometry comes across correctly.
IMPORTANT NOTE: Setting the image size correctly is only necessary when you are importing images that are supposed to fill the screen AND match the image size of the video format. Odd-sized images are always imported as square pixels.
Sizing Photoshop Images for Video
Video Format
Image size
NTSC 4:3
720 x 540 x 72
NTSC 16:9
853 x 480 x 72
PAL 4:3
768 x 576 x 72
PAL 16:9
1024 x 576 x 72
HD 720
1280 x 720 x 72
HD 1080
1920 x 1080 x 72
NOTE: Video images do not use DPI; that is a setting used only for printing images. Video is only concerned with total pixels across by total pixels down. By convention, we say that video images use a resolution of 72 dpi.
SUMMARY
Aside from retaining the layers as separate layers inside Final Cut, importing a layered Photoshop file is the same as importing any other graphic file. And, unless you open it to reveal the separate layers, you can edit it into your projects the same as any other clip.
---
Bookmark the
permalink
.