FCP X: Create Custom Project Sizes
Francesco Portinari sent me a fascinating question and workaround earlier this week that I want to share with you. His goal was to create a non-standard video image size using Final Cut Pro X.
For example, in FCP 7, you can create a sequence of virtually any size by changing Sequence > Settings for a sequence. However, FCP X only uses preset sizes, so customizing the project image size isn't possible.
Francesco sent me two different workarounds. Then, I contacted Apple and got a third. Let me share all three with you, along with the strengths and weaknesses of each.
OPTION 1: SET SIZE FROM A CLIP
If you have an existing video clip at the size you want, import it into FCP X and edit it into an empty Project. The project will automatically configure itself to match that format.
NOTE: This works, within reason. There are some video formats that FCP X doesn't currently support. For a list of all supported cameras and video formats, visit this Apple support page: help.apple.com/finalcutpro/cameras/en/index.html?
---
OPTION 2: CREATE A CUSTOM SIZED CLIP
Then, Francesco provided an almost-really-cool second workaround — which is to create a clip at the size you want using Motion 5.

1. Create a new Motion project, using Motion 5. Set the Preset to Custom. Then, set Resolution to the image size you want to create for your FCP X Project.
2. The new Motion Project opens with a default duration of 10 seconds.
3. Use Share > Export Movie (Command+E) to export a self-contained QuickTime movie. DON'T simply save it as a Motion project, as the file needs to exist as a movie file.
At which point, the process breaks down. Because, while you CAN create movies of any arbitrary size in Motion, you CAN'T in Final Cut Pro X.
When you import a non-standard video image size into FCP X and edit it to the Timeline, the Project Properties dialog pops up asking you to pick an image size for your Project. And ALL the options use preset image sizes, including Other. You can't enter a custom value.
Even if you try converting this to a compound clip, which you can do and which sizes properly, exporting the Project resets it back to one of the standard sizes. You can get close to creating custom sizes by setting your Motion project to be in the same aspect ratio as standard video, but this just starts making things too complex.
So, if you need to create a custom video size, you can easily do so in Motion. But not in FCP X. So, what if we need to edit our video in FCP X, but still create a custom size?
I decided to contact Apple to get their opinion.
---
THE APPLE WORKAROUND
Apple confirmed that FCP X does not allow creating custom project sizes. Their suggestion was to edit your video using standard video formats in FCP X, then export it to Compressor and use the Geometry tab in Compressor to create the final movie size you need.
The benefit to this process is that FCP X is optimized for video editing, so there is no performance hit working this way. The disadvantage is that many web videos are non-standard sizes, so being able to create custom Project image sizes would be very helpful.
So, here's a quick overview of how to use the Geometry tab to create custom-size movies.
COMPRESSOR'S GEOMETRY TAB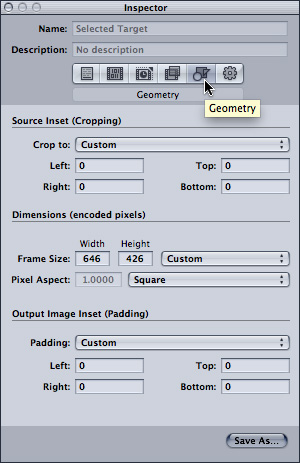 The Geometry tab is where you can scale your movie to any size. You can also crop it and pad it; cropping removes pixels from an image, padding adds black pixels to the edges of an image.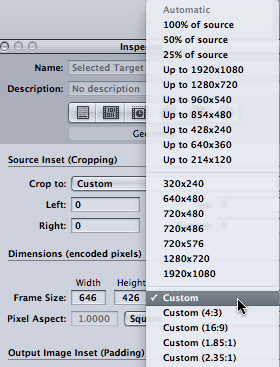 Click the popup menu next to Frame Size and select the image size you want to create. You can select Custom and enter any numeric value you want. However, if the aspect ratio between your video and the custom setting doesn't match, your image will look stretched.

Use the cropping controls at the top of the Inspector to crop your image. The numbers represent pixels subtracted from the edges of the original image. This allows you to create any aspect ratio you want, by removing pixels you don't need.

Compressor also allows you to preview your results. To see the preview, click this right-hand button. This shows your compressed image at its final size. (The Preview window shows the results of filters and geometry settings, but not compression or frame controls.)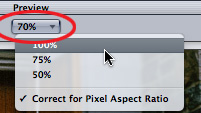 Then, view the compressed image at 100% scale by selecting 100% from the popup at the center.
Using Crop and Dimensions, you can create a sequence of any size. While it would really be helpful if FCP X could create custom image sizes, at least we have a couple of workarounds – one in Motion and one in Compressor.
---
Bookmark the
permalink
.