FCP X: Create a Backtime Edit
Sometimes, you need to edit a clip into the Timeline based upon the Out, not the In — think sports highlights – where you care more about the moment when the runner crosses the goal than where the run started. This type of edit is called a "back-time edit;" because it edits from the "back" of a clip.
FCP X makes creating a back-time edit easy – but does it very differently than FCP 7. Here's how: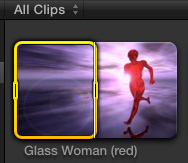 1. Set an Out in the clip in the Event Browser you want to edit to the Timeline. Leave the In at the start of the clip, as it is not used in this edit. In this screen shot, I set the Out just before her foots hits the ground.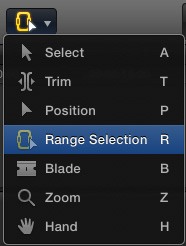 2. In the Timeline, select the Range tool (shortcut: R)

3. Draw a range that puts the Out where you want it and extends back to where you want the shot to start. You can overwrite clips or gaps, or have the range span multiple clips.
NOTE: If you don't have video in the Timeline where you want to put the range, use Edit > Insert Generator > Gap to insert a gap into the Timeline and stretch the gap to run the length of your video. For this edit to work, you need either video or a gap within which to put the range.
SECOND NOTE: It is essential that the duration of the range in the Event Browser be equal to, or greater than, the duration of the range in the Timeline. Otherwise, FCP will display an error message and not do the edit.

4. Type Shift+D. This overwrite edits the selected clip in the Event Browser into the Timeline, matching the Out to the Out. The duration of the clip range in the Timeline determines the length of the clip.
Because this is an overwrite edit, it always works using ranges, not entire clips. And because it uses a keyboard short-cut, it is very, very fast.
---
Bookmark the
permalink
.