FCP X: Using Audio Enhancements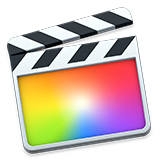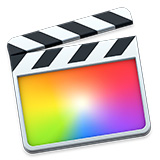 Audio Enhancements are a feature in Final Cut Pro X that automatically analyze audio during import to determine if it is too soft, too noisy or has hum, then automatically corrects for those problems.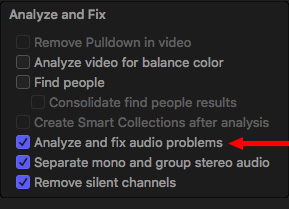 When you import any audio, whether a stand-alone clip or part of a synced audio/video clip, there's a checkbox in the Media Import window that enables automatic audio correction: "Analyze and fix audio problems."
When this is checked, Final Cut checks every imported audio clip for levels, hum and noise; then applies filters to correct any problems found.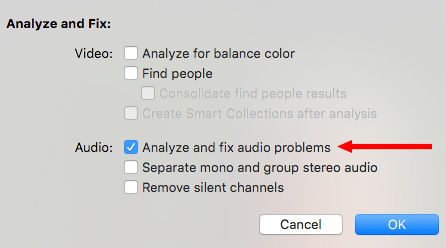 If you decide to import files without checking this box, you can analyze and fix your audio later by selecting the clips in the Browser and choosing: Modify > Analyze and Fix then checking the Analyze and fix audio problems check box.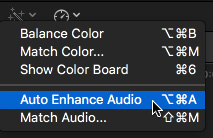 NOTE: Clips must be analyzed in the Browser. Once they are edited into the Timeline, you need to use the Magic Wand menu at the bottom left of the Viewer and choose Auto Enhance Audio.
Personally, I find it faster and easier to always analyze clips during import. That way, I don't need to worry about doing it later.
WHAT IS ENHANCEMENT?
According to the Final Cut Pro X Help files:
Analyze and fix audio problems: Analyzes the audio for hum, noise, and loudness. Final Cut Pro automatically fixes problems that are considered severe (marked in red) and flags problems that are considered moderate (marked in yellow).
Loudness: Improves the main audio signal and makes it more uniform. [This essentially acts as an audio compressor.]
Background Noise Removal: Reduces background noise.
Hum Removal: Reduces common electrical hum noise at either 50 or 60 Hz.
All enhancements are designed to correct most common audio problems automatically or with minor adjustments. You can let Final Cut Pro analyze audio and adjust these problems in your audio clips automatically, or you can make manual adjustments in the Audio Enhancements section of the Audio inspector.
When you import a clip with the "Analyze and fix audio problems" import option selected, only severe audio problems are corrected. If the clip contains moderate problems, these appear in yellow next to Audio Analysis in the Audio Enhancements section of the Audio inspector after the clip is imported. To correct these problems, you need to automatically enhance audio in the Audio inspector.
IMPORTANT: Audio enhancement works on the component level, not the clip level. If your audio clip has more than one audio component (for example, a dual mono clip), select an individual component, then proceed with the enhancements.
NOTE: Think of an "audio component" as an audio channel in a clip.
FINDING AND ADJUSTING SETTINGS
Finding and modifying enhancement settings is a bit more difficult in the 10.3 update; in fact, it confused me to the point that I couldn't find it during a recent corporate training. Sigh…

Select the clip, or clips, you want to adjust, open the Inspector and click the Audio icon. Then, to the right of "Audio Enhancements" title click Show. This reveals some of the settings. However, it doesn't reveal all of them.

To the right of "Audio Analysis" click Show, again. This reveals the individual settings for all three Audio Enhancements.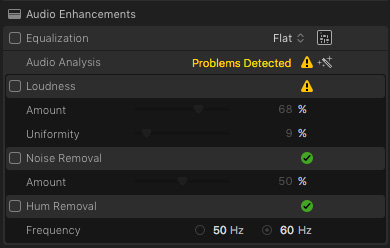 Equalization allows you to "shape" the sound by manipulating specific frequencies in the clip.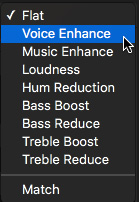 Flat means that no changes are made to the audio. The other eight options are presets that optimize the audio for different situations. The best option is to try these for your clips and see which, if any, you like the best.
Every clip will respond differently to the same setting, but you'll get a sense of which to use with a little experimentation.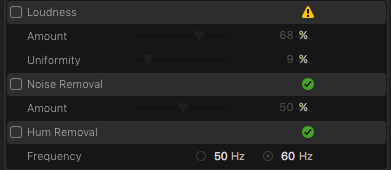 A red flag indicates a clip with a severe problem that Final Cut fixes automatically. A yellow flag indicates a clip with a moderate problem that Final Cut does not fix automatically. A green check indicates a clip with no problems in that category.
Loudness applies an audio compression filter to boost the apparent gain of a clip. Adjust the Amount slider to increase the level. Adjust the Uniformity to minimize the dynamic range; that's the range between the loudest and softest passages of the clip.
Noise removal reduces background noise; the slider determines how much. In general, you want to reduce the noise, not remove it. The more you remove, the more artificial your audio will sound.
Hum removal removes AC hum; for example, where power cables run too close to microphone cables. In North America and Japan, select 60 Hz. Everywhere else, choose 50 Hz.
SUMMARY
While a good audio engineer can improve on these settings, when you are in a hurry or lack an understanding of how more advanced audio tools work, using Audio Enhancements can help make poor audio sound much better.
While there's no substitute for getting a clean recording on set, when the worst happens, Final Cut provides a way to make things better.
---
Bookmark the
permalink
.