FCP X: Sync Double-System Sound [Video]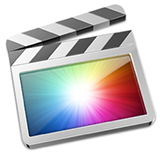 [This is an excerpt from a recent on-line video training: Audio in Final Cut Pro X, which you can download from our store. You can also access all our training when you become a member of our Video Training Library.]
Double-system sound is where you record the video on one device (a DSLR camera, for example), while the audio is recorded on a separate device (such as a digital audio recorder). Many video cameras don't have high-quality audio recording built into them. This process resolves that issue.
However, now you have two files: one for video and one for audio. How do you connect them? Answering that question is what this video is about.
In this short video, host Larry Jordan explains what double-system sound is, illustrates the differences in audio quality between a mic on the DSLR camera and one recorded to a separate device, then shows how to sync the two files. In fact, there are two ways to sync double-system sound: one is very fast, and the other is very easy. Larry illustrates both.
If you are wondering about the best way to connect your media, you need to see this video.
---
Demo: Sync Double-System Sound
TRT: 6:09 — MPEG-4 HD movie
NOTE: This video may not play inside FireFox, if so, please use a different browser.
Our website offers lots more video training in our store.
---
Bookmark the
permalink
.