147: Audio in Final Cut Pro X
147: Audio in Final Cut Pro X
- OR -
BRAND NEW! IN-STUDIO PRESENTATION
Each week, Larry Jordan presents a live, on-line, video training webinar discussing issues related to video editing and post-production. For a list of upcoming webinars, click here.
Duration: 52:01
File size: 603 MB (ZIP file)
Format: QuickTime movie (HD: 1280 x 720)DOWNLOAD NOTE: After you complete the store checkout process, you will see aDownload Link on the Order Confirmation page. This link allows you to download the product to your computer. You are given four attempts and 10 days to download the file. Since this title is downloaded, a CD/DVD will not be mailed to you.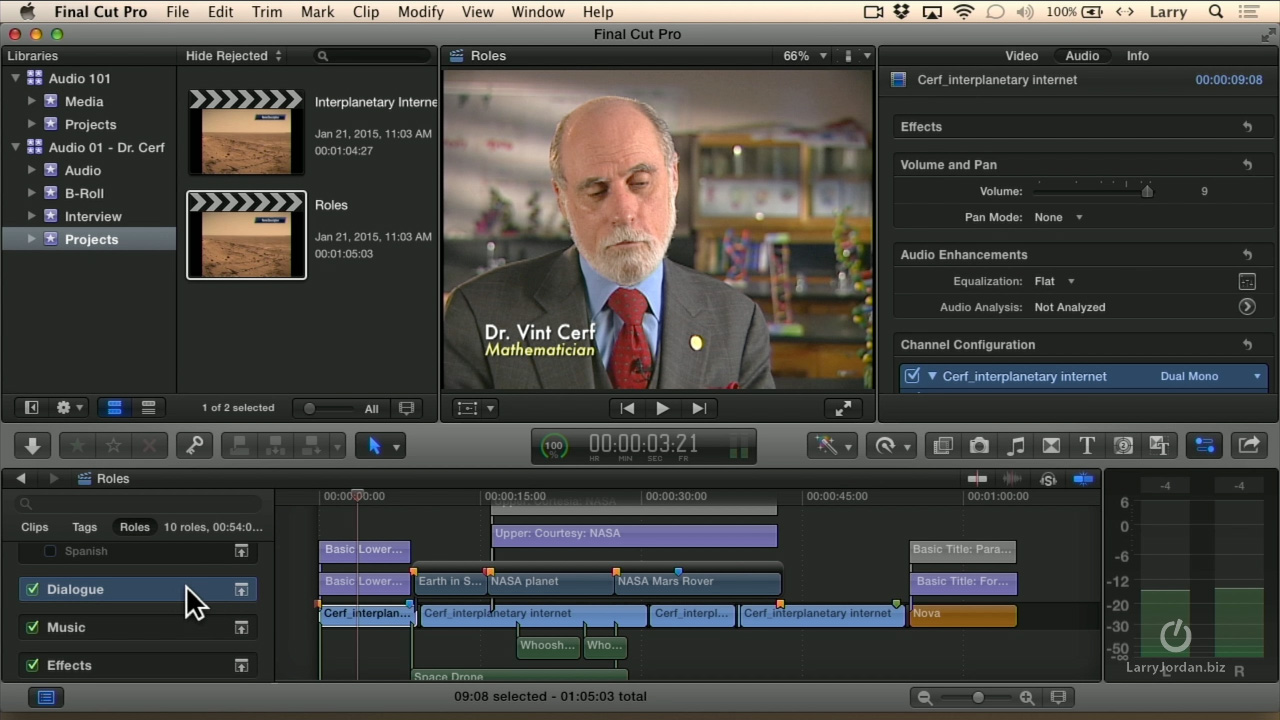 Click to see larger image.
TRAINING DESCRIPTION
It's been said that the best way to improve the quality of your images is to improve the quality of the audio. That has never been more true than right now. But, exactly HOW do you improve the quality of your sound? And what's the best way to work with audio in Final Cut Pro X in the first place? Answering these questions are what this session is all about.
Join host, Larry Jordan, in his brand-new training studio as he starts with the basics of working with audio in Final Cut Pro X, then moves into more advanced subjects such as keyframes, Roles, multi-channel audio and double-system sound. Watch and listen as Larry explains what you need to know, how to adjust it and how to make it sound better.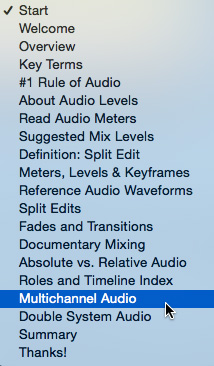 AUDIENCE LEVEL
This intermediate-level webinar is suitable for all Final Cut Pro X editors who want to better understand how to work with audio in Final Cut or are looking for additional techniques to make their projects sound better. (This video training plays as a QuickTime movie. You don't need to own any other software to watch this movie.)
BONUS FEATURE!

To help you quickly find the information you need, we included chapter markers in the QuickTime movie for easy navigation. Click here to learn how to display them in your download.
CONTENT OUTLINE
Audio Definitions and Key Terms
Suggested levels for audio mixes
DEMO: Display and read audio meters
DEMO: Change levels in a single clip
DEMO: Change levels in multiple clips at once
DEMO: Adjust pan
DEMO: Create audio level keyframes
DEMO: Display reference audio waveforms
DEMO: Create split edits in the Timeline
DEMO: Add automatic audio transitions
DEMO: Add fades to audio clips
DEMO: Change audio fade shapes
DEMO: Overlap audio for extended transitions
DEMO: Why and how to create absolute audio level changes
DEMO: Why and how to create relative audio level changes
DEMO: Use Roles to display clips
DEMO: Create new Roles
DEMO: Display, modify and trim multi-channel audio clips
DEMO: Sync double-system clips automatically
DEMO: Sync double-system clips manually