FCP X: Sub-frame Audio Editing [Video]
[This is an excerpt from a recent PowerUP webinar: Advanced Audio in Final Cut Pro X, which you can download from our store. You can also access all our webinars by becoming a subscriber.]
This video tutorial illustrates how to edit audio, specifically adding keyframes to adjust audio levels, within an audio sub-frame using Final Cut Pro X.
While you can only cut audio or video clips at a video frame boundary, for example every 1/30th of a second, you can zoom in and set audio keyframes to change audio levels within a sub-frame: 1/80th of a frame. This is a fast way to remove a click or pop, or minimize a breath.
This short video tutorial illustrates how zoom into the Final Cut Pro X Timeline, how to set keyframes, how to move between sub-frames using keyboard shortcuts, and how to adjust audio levels by adjusting keyframes.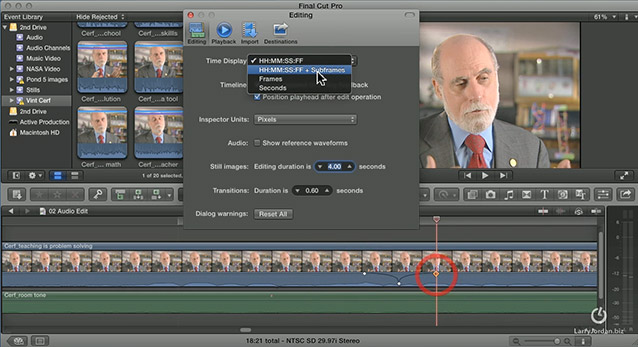 TRT: 3:37 — QuickTime HD movie
NOTE: This video will not play inside FireFox, please use a different browser.
---
Bookmark the
permalink
.