FCP X: Skimming for Timecode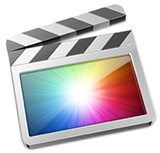 There is a very cool, but hidden, feature in Final Cut Pro X that allows us to quickly view the source timecode of a clip in the Event Browser. It's called "Skimmer Info."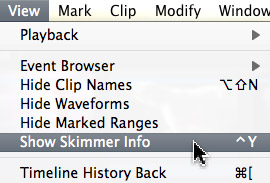 To turn this feature on, either choose View > Show Skimmer Info, or type Control+Y.

Next, if skimming is not turned on, please enable it by either clicking the Skimmer icon in the top right corner of the Timeline, or type "S".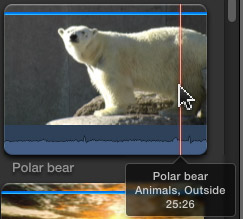 Now, when you skim a clip in the Event Browser, you'll see the name of the clip, any keywords associated with the clip, and the source timecode of the current position of the skimmer.
This technique only works with the skimmer. (Read a bit farther to learn how to view source timecode using the playhead.) However, even with the skimmer, it is easy to quickly convert a paper edit into market Event Browser clips.
For example, slide the skimmer in a clip until you reach the timecode of the first In. Without taking your hands off the mouse, type "I". FCP sets an In at the position of the playhead. Next, skim to the Out and type "O". Using this technique, you can skim and mark clips far faster than real time.
USING THE PLAYHEAD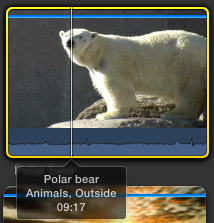 Even with skimming turned off, you can view the source clip timecode using the playhead – though this is a bit more cumbersome –

…by looking at the timecode display in the middle of the Toolbar. Both methods work, but the skimmer with skimmer info turned on is much, much faster.
UPDATE
Here's another article that describes a variety of different ways to display source timecode in FCP X.
---
Bookmark the
permalink
.