FCP X: Import Caution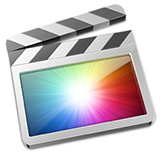 As I was developing my video tutorials on Smartsound's SonicFire plug-in (read the review here), I rediscovered something that I first learned with the initial release of Final Cut Pro X, then promptly put aside.
But it's relevant and you need to be aware of it.
SUMMARY
When importing files from the Finder, or other applications that don't use the Media Import window, your Import Preference settings determine how that file will be handled.
THE DETAILS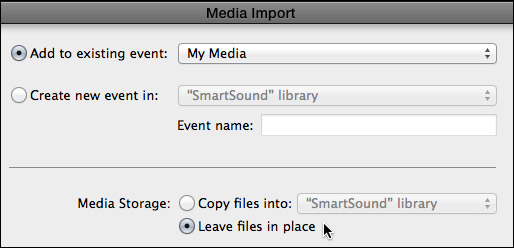 Normally, after selecting the files we want to import using the Media Import window, this screen appears. As I wrote about in my article on Collaboration in FCP X:
When you "Copy files into a library," Final Cut copies the files from where they are into the library. This creates what Apple calls "managed media." These files are stored inside the library and travel wherever the library bundle goes.
When you "Leave files in place," Final Cut creates a symlink, stored inside the library, that points to the location of the source files on your hard disk. "Leaving files in place" avoids duplicating your media by leaving them in their original storage location.
Normally, we copy files that we plan to use ourselves and leave files in place those files we expect to share either between editors or between projects.
So far, no problems.
However, when dragging files from the Finder into Final Cut, or when another application sends files in the background to Final Cut, as Smartsound does, the Media Import window does not appear.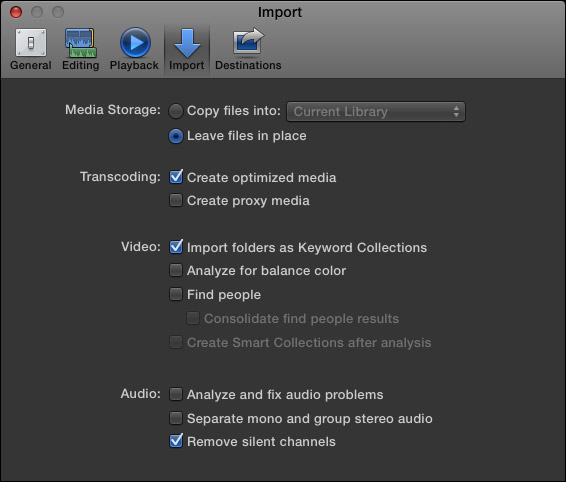 Instead, your Import Preference settings determine how the clip will be handled.
For example, in this screen, notice that the files will be left in place, with only symlinks connecting the clip to the library, optimized media will be created and proxy media won't.
For many files, these settings will be fine. However, if you are in the habit of moving files to the desktop to make them conveniently accessible so you can drag them into FCP, then trash the file, if "Leave files in place" is active, those files don't exist in the library, only a link to the desktop file exists.
Once you trash the desktop file, the source file is trashed and your media in your project goes off-line.
To prevent this, if you prefer to drag files into your project, be sure to set this preference to copy them into your library, or you'll get a very unpleasant surprise when you reopen your project and discover all the media you thought was there is now gone.
EXTRA CREDIT

To enable developers to create temporary files without fear of filling the hard disk, Apple has created a special invisible folder called "Cleanup at Startup." This is a great location for them to store files that you are moving between applications, but don't need to retain.
The problem with this location is that if the developer uses this folder to store files you are importing into your Final Cut projects, the files will appear in your project until the next time you restart your computer. At which point, OS X cheerfully erases all these files as part of its assignment to "keep the place clean."
It was when many of my files went off-line that I started wondering why, which became the genesis of this article.
---
Bookmark the
permalink
.