FCP X: Fix Audio Problems [Video]
[This is an excerpt from a recent PowerUP webinar: Advanced Audio in Final Cut Pro X, which you can download from our store. You can also access all our webinars by becoming a subscriber.]
This video tutorial illustrates how to remove hum, reduce noise, or boost audio levels using the Audio Enhancement tools inside Final Cut Pro X.
Your audio has a bad hum, now, how can you get rid of it? Inside Final Cut Pro X are three audio enhancement tools that can quickly repair poor audio: Boost Levels, Reduce Noise, and Remove Hum. Clips can be analyzed during import and automatically cleaned up when they are edited into the Timeline.
This short video tutorial illustrates how to set import preferences to spot problems, how to access and adjust the audio enhancement tools, how to remove hum, and how to remove background noise.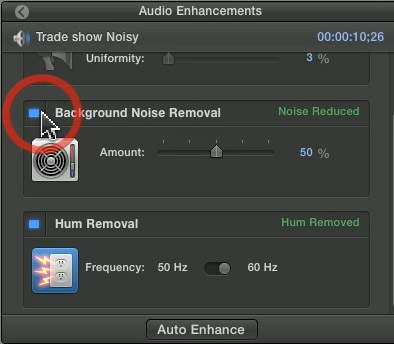 TRT: 5:54 — QuickTime HD movie
NOTE: This video will not play inside FireFox, please use a different browser.
---
Bookmark the
permalink
.