Display Action / Title Safe Zones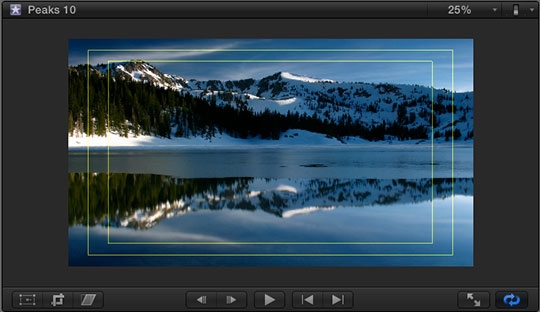 Action Safe and Title Safe boundaries were invented decades ago to solve two problems with televisions that had picture tubes:
The magnets in the back of the picture tube were not always aligned properly, which meant edges of the image were cropped.
As a TV set got older the magnets would slowly zoom into the center of the image, a process called "pin-holing," causing increasing portions of the image around the edge to get lost.
Even today, we still need to pay attention to these issues because not everyone has yet upgraded to an LCD TV set. And, when you are digitally projecting an image, overshooting the edge of an image is common.
So, to help us prevent having portions of our image – like the phone number of a sponsor – disappear because the edge is no longer visible, all versions of Final Cut and Adobe Premiere allow us to display two boundaries to help us align our images. This makes sure that essential portions of our image can be seen on virtually all TV sets.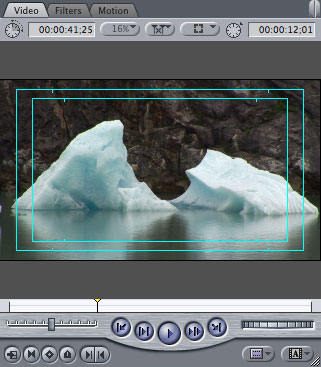 Action Safe: This boundary is 5% in from each edge of the frame. All essential action, and actors, should be inside this outer boundary.
Title Safe: This boundary is 10% in from each edge of the frame. All essential text, logos, graphics, and titles should be inside this inner boundary.
So, now that you know what these are, how do you display them?
FCP X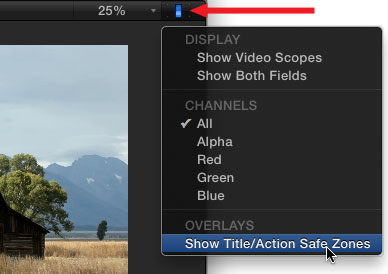 Click the Switch in the top right corner of the Viewer and toggle Show Title/Action Safe Zones on or off.
In Final Cut Pro X, the boundaries are shown as yellow rectangles. Action Safe is the outer rectangle, Title Safe is the inner rectangle.
FCP 7 AND EARLIER VERSIONS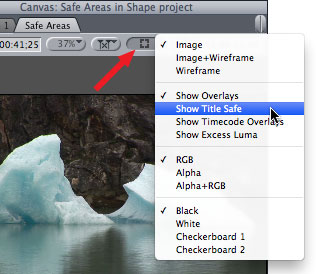 If you are using FCP 7, select either the Viewer or the Canvas and do one of two things:
From the popup menu in the top right corner of either the Viewer or the Canvas, select Show Title Safe – this will toggle the display of the two rectangles either on or off.
Select View > Show Title Safe.
In Final Cut Pro 7, and all earlier versions, Action and Title Safe are displayed as cyan rectangles.
ADOBE PREMIERE PRO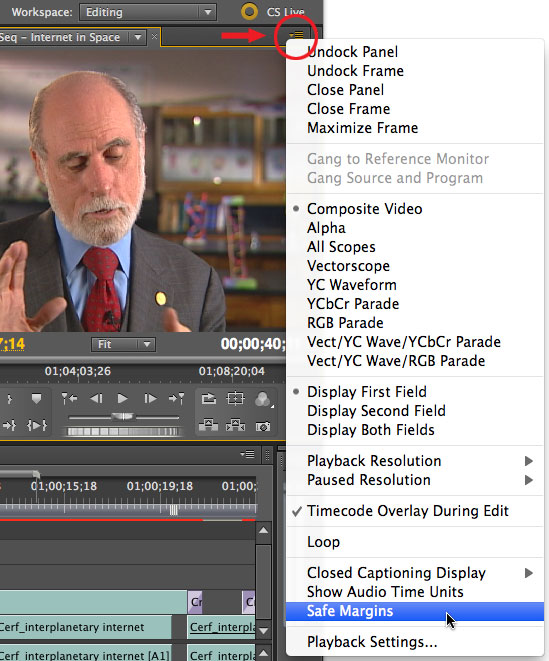 In Premiere Pro, click the small fly-out icon in the top right corner of the Program monitor and select Safe Margins.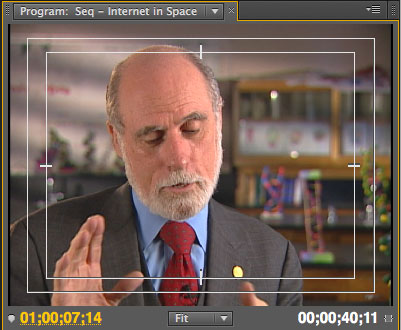 In Premiere, the zones are displayed as white rectangles with a small hash mark indicating the vertical and horizontal centers of the frame.
WEB VIDEO
These boundaries are essential for any video going to DVD, cable, or broadcast — in other words, anywhere except the web.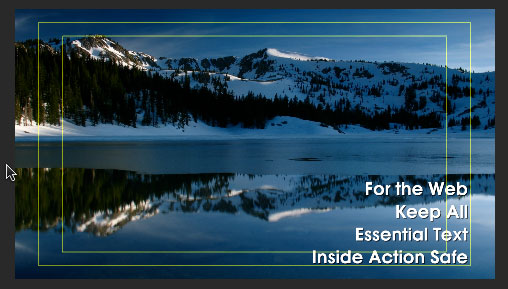 However, I've also found that these boundaries are useful for web video as well. We've grown up watching video that honors these boundaries, it is ingrained in how we perceive television.
Text that touches the edge of an image creates a very uncomfortable feeling in the viewer; generally, this is something we want to avoid.
So, when I'm creating video for the web, I don't need the excess protection that Title Safe affords. Instead, I frame all essential text, logos, or composites so that everything is contained inside Action Safe.
---
Bookmark the
permalink
.