Compressor 4: Create Chapter Markers
[ To see how Compressor 4 works, check out this step-by-step video training. ]
One of the sorely missed features in Final Cut Pro X is the ability to create chapter markers. Chapter markers are not just for DVDs, they can also be built into a QuickTime movie that's posted to the web. In fact, all my online training uses chapter markers. (Here's an article that describes how to view chapter markers in both QuickTime X and QuickTime 7.)
However, while we can create chapter markers in Final Cut Pro 7, we can't in FCP X. However,  we can in Compressor — both Compressor 3 and Compressor 4. Here's how.
EXPORTING FROM FINAL CUT PRO X
When your project is complete and ready to output, open the Project Library and select your Project. Exporting is always done from the Project Library, never the Timeline.
With the Project selected, choose Share > Send to Compressor. (This is faster than first exporting your movie as a self-contained QuickTime movie, and, depending upon the video format you are editing, has the potential to yield higher quality images.) If you have already created a master QuickTime file, simply import it into Compressor.
If Compressor is already running, your Project loads almost instantly.
CREATING CHAPTER MARKERS MANUALLY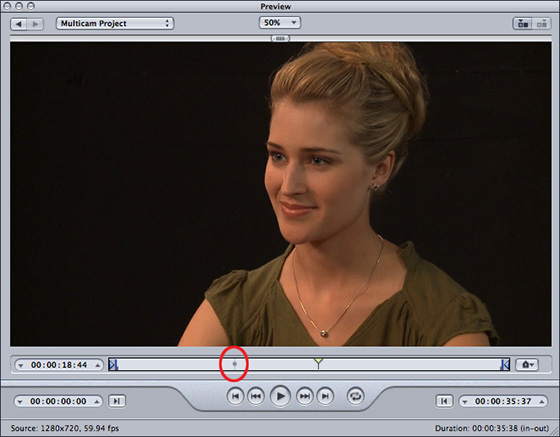 Select your Project by clicking it in the Task window. This displays the movie in the Preview window.
NOTE: See that small marker to the left of playhead (it's circled in red)? That indicates the location of the poster frame for this movie. You can set this manually, see below.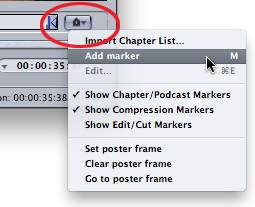 Click the Marker icon to reveal a popup menu. From this menu you can jump to, set, or clear the poster frame for the movie, as well as set chapter markers. Chapter markers are always set at the position of the playhead.
You can set chapter markers manually by positioning the playhead, then either use this menu or type M.
CREATING CHAPTER MARKERS AUTOMATICALLY
However, you can also import a marker list to set markers automatically.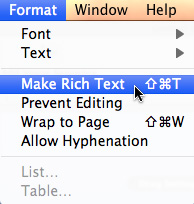 A marker list is a plain-text document. The easiest way to create one is using Text Edit. Go to the Format menu and make sure the menu choice says Make Rich Text. That's the indicator that you are creating a plain text document. (Yes, it is a bit counter-intuitive.)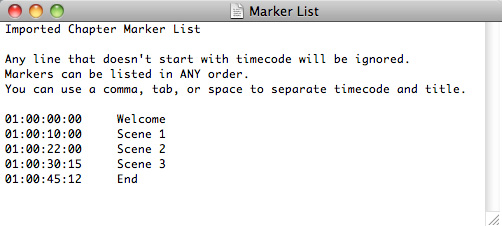 You can give your document a name and add comments at the top. Any line that doesn't start with a number is ignored.
Then, enter a timecode value that corresponds to the Timecode of your exported movie. Press Tab and add a marker title.
Once you have markers set, compress the file as normal and the markers will be included in the compressed file. These embedded markers will be visible in both Quicktime during playback or in your MPEG-2 video for use by your DVD authoring software.
---
Bookmark the
permalink
.