Apple Compressor: Create MXF OP1a Media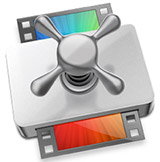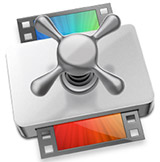 (This article grew out of a phone and email conversation with a client that needed to deliver MXF OP1a files to a broadcaster and couldn't figure out how to do it.)
WHAT IS MXF OP1a?
Material Exchange Format (MXF) Operational Pattern 1a (OP1a) is "nicely self-contained and can work well in applications where each file represents a complete program or take . . . [but] may be less applicable to content authoring steps such as non-linear editing, where programs are created by slicing and dicing different sections of source material." (DigitalPreservation.gov)
Basically, it is a delivery format for audio and video files used by many broadcasters (CBS comes instantly to mind) and supported by a variety of software and hardware vendors. It's been around for a long while and the format, itself, hasn't changed since 2008.
While MXF can be a difficult format to edit, it is often required for media files destined for play-out servers and broadcast.
COMPRESSOR SUPPORTS OP1a
All of Apple's MXF export options deliver OP1a files. Using them is easy, but creating them is a bit hidden. This article shows you how.
WORKING WITH EXISTING PRESETS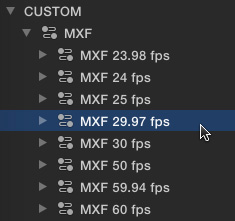 MXF is a new group of settings in the 4.2 version of Compressor; located in the Custom Settings section on the left.

To use an existing MXF setting, twirl down the frame rate that you need to deliver for your final project.
NOTE: It is ALWAYS best to shoot and edit your project using the same frame rate you plan to deliver. Changing frame rates between editing and delivery is possible, but never the best choice.
If what you shot does not match the frame rate for your deliverable, always match editing project settings to the format you need to deliver.
While there are lots of options, a very common choice is 1080i XDCAM 422 50 Mbps; and select the setting that matches your frame rate.
NOTE: If a client requires MXF files, but doesn't specify exactly the format they need, this is what I would recommend as a "best guess."
Once the preset has been applied to a clip, the rest of the compression process is the same as always.
CREATING A NEW MXF SETTING
If a client hands you a sheet outlining the specific technical settings your MXF file needs to meet, it may be easier to simply create a new custom setting.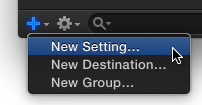 In the lower left corner of the Settings panel, click the Plus icon and choose New Setting.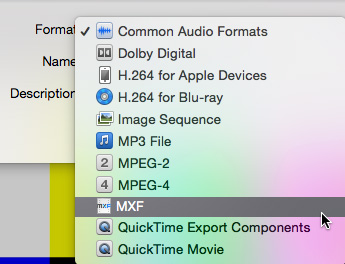 From the Format popup menu at the top, select MXF, then give the new setting a name and description. (For this example, I called it "My MXF Setting.")
Select the new setting in the Custom settings on the left, then open the Inspector.

Click the Configure button underneath Default Location. This does not configure the location, it configures the MXF settings.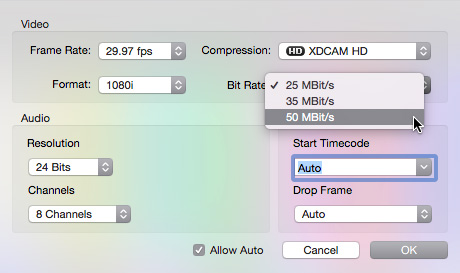 In the resulting dialog:
Frame rate. Match this to the frame rate you need to deliver to the client.
Format. Indicate whether the video is interlaced or progressive.
Compression. This will be specified by the client; when in doubt, select XDCAM HD
Bit Rate. Higher is better, most often this will be 50 Mbit/s.
The remaining settings are, generally, fine. Don't worry if you don't have eight channels of audio. Unused audio channels are left blank.
Click OK and the setting file is configured. There are no other audio or video settings you need to make.
NOTE: While you can't add them to the master setting, once an MXF setting is applied to a clip, you can add all the standard audio and video effects that can be applied in other compression settings.
That's it. Done.
---
Bookmark the
permalink
.