Adobe Audition: Separate Stereo Audio to Dual-Channel Mono Clips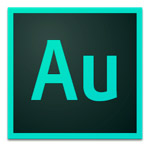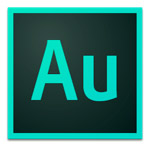 There are many times where I need to convert a multichannel clip into separate mono clips to simplify a mix. For example:
I recorded dual-channel (or more) mono audio in the field and need to separate the interviewer from the guest into two separate clips.
The master clip is stereo while the session is mono
There is phase cancellation between the two channels
I want to avoid the audio level differences between channels in a stereo and mono clip
Adobe Audition makes this easy, but it isn't obvious.

Here, for example, is a stereo clip ("Space Ambience") that needs to go into a mono session ("Multitrack Session").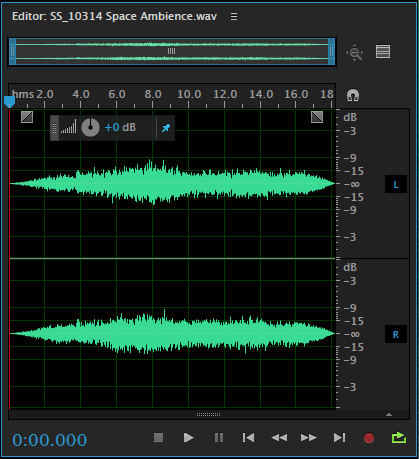 After importing a multi-channel audio clip into Audition, double-click the clip to open it in the Waveform Editor.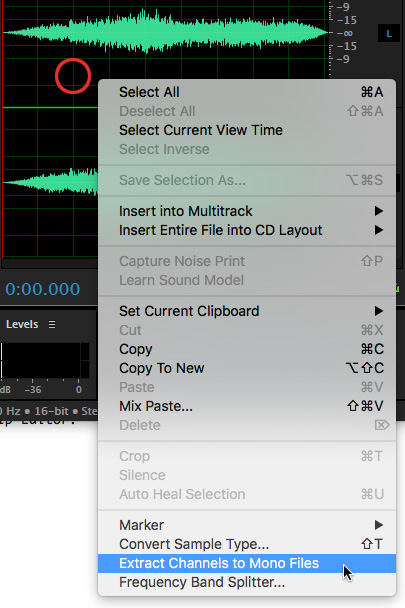 Right-click (or Control-click) directly on the waveform and choose Extract Channels to Mono Files.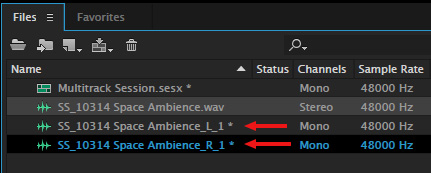 Almost instantly, two (or more) mono files are added to the File Panel, ready to add to your mix. The left channel is indicated by "_L_" in the file name, while the right channel contains "_R_".
Whew. Easy.
SUMMARY
I do this every week for the Digital Production Buzz which is recorded in stereo, but compressed and posted as mono. Extracting one of the recorded master channels prior to compression improves audio levels and reduces the size of the final compressed file.
---
Bookmark the
permalink
.