Moment Air Gives Your Drone Footage Anamorphic Goodness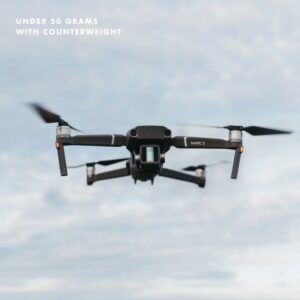 As you probably know, I dig the guys over at Moment Lenses. They are obsessed with bringing fine quality cinematic lenses to the mobile platform. From their Moment Pro app, Moment lenses for your smartphone, and the Moment Filmmaking Kit, which includes their groundbreaking anamorphic lens, Moment taking mobile filmmaking to that professional level that turns your footage up to eleven. But Moment is now turning their attention to drones, and is planning to do the same thing with aerial cinematography.
In our exploration of how to make drones better we realized that shooting Anamorphic video was expensive, the filters weren't sharp enough, phone cases don't fit in the controller, no one wears drone backpacks and helipads weren't mobile enough. We decided to fix all of that with Moment Air. Drone filmmaking will never be the same. – Moment on Kickstarter
https://youtu.be/CKgb6870niI
Calling Moment Air "the future of filmmaking for drones," the gang at Moment wanted to solve the main problem with aerial footage. It all looks pretty much the same now. This is largely due to a standard aspect ratio that's built around a small camera that has to be light enough to take to the skies. Then there's the restrictive drone regulations that sandboxes in aerial filmmakers, limiting their options. Moment can't do anything about laws, but they can certainly help make your aerial footage be all it can be.
But true aerial cinematic footage is more than just a smooth traveling camera soaring above your head. To make your aerial video more cinematic, you need to have a widescreen 2.35-1 aspect ratio, horizontal lens flares that would make J.J. Abrams proud, all designed to give that DJI Mavic 2 Pro image some buttery cinematic goodness.
Using the lightweight, aviation grade aluminum, along with hand polished, cinema grade glass, Moment has crafted a lightweight, anamorphic lens design which also includes a counterweight built into a simple lock and balance mounting system. To install to your Mavic 2 Pro or Mavic 2 Zoom drone, you simply slide the lens onto it, and clasp it from behind. The counterweight keeps the camera working as smoothly without it.
And the results? Well, look at the footage above and decide for yourself. But I think you'll agree that adding some squeeze to your drone's camera is what is sorely needed for aerial cinematography today. It just gives it that extra … something, that separates it from every other drone shot.
But that isn't all. Moment has also designed a set of shatterproof and scratch resistant ND filters, to give the aerial image even more options, and have redesigned their Moment smartphone case to be ultra thin without sacrificing its ability to guard against impact damage. The new thin case will mean that users wouldn't have to remove their case in order to fit their phones into the DJI controller.
Moment is running their fifth Kickstarter campaign to bring the Moment Air Anamorphic lens, filters, and ultra thin smartphone case to market. And you can get your own for your DJI Mavic 2 Pro, or Mavic 2 Zoom for around $199 if you back the campaign. That's $100 off the MSRP if you jump in early and support them.
Your drone footage will thank you.
---
Bookmark the
permalink
.
Larry Recommends
Final Cut Pro X 10.3

Edit smarter with Larry's brand-new webinars, all available in our store.
Access over 1,300 on-demand video editing courses. Become a member of our Video Training Library today!
JOIN NOW
Subscribe to Larry's FREE weekly newsletter and save 10%
on your first purchase.