Wandering the Edges of SIGGRAPH 2016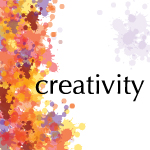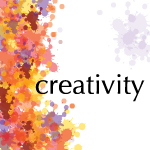 "Since its beginning in 1974 as a small group of specialists in a previously unknown discipline, ACM SIGGRAPH has evolved to become an international community of researchers, artists, developers, filmmakers, scientists, and business professionals who share an interest in computer graphics and interactive techniques." (ACM SIGGRAPH website)
SIGGRAPH rolled into Anaheim, California, this week and for the first time in a long time, I finally had time to go visit.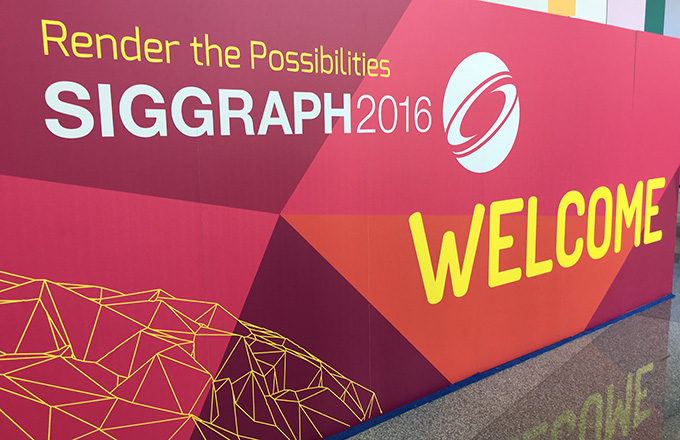 "Render the Possibilities" is a perfect description for this week's event. From graphics hardware to software to every possible permutation of VR to massive render farms, SIGGRAPH is all about making the imagination real.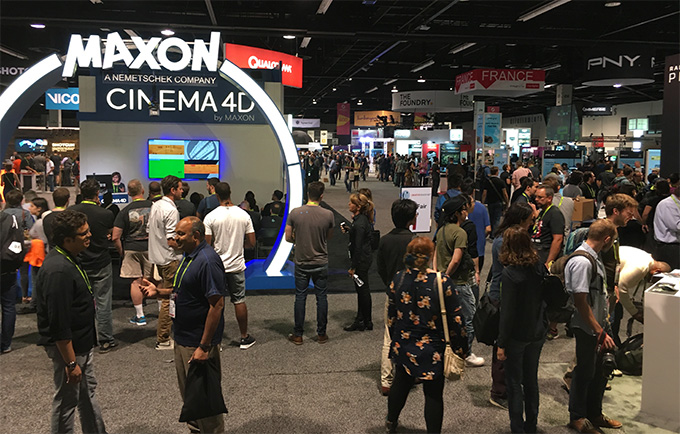 Most trade shows feature a huge exhibit floor crammed with hundreds of companies showcasing new products; and SIGGRAPH was no exception. The expo floor was crowded with companies and visitors.
Except… an equally large space was devoted to interactive installation art, technical papers and technology exhibits from researchers. This was a unique experience for me. I've seen integrated conferences and trade shows, but not research as well. I'll have more on this in a minute.
While I enjoy seeing what all the big players are demoing, for me, the fun part of any trade show is wandering the edges to see the cutting edge new ideas from companies that pooled their credit cards to attend the event. This report highlights what I saw, from $30 360-VR cameras to $400k 3D printers; and lots of cool stuff in between.
WALKING THE EDGES
Boris FX was showing a new version of Mocha Pro 5, running as a plug-in inside After Effects. Ross Shain, CMO for Boris FX, was demoing how the new version could track objects in a 360 VR movie; even as an object wrapped from one edge of the screen to the other.
Mocha is now aware of rectilinear space and can view objects from inside the sphere of the shot. This allows tracking, masking and removal of objects in a 360 VR video clip.
Website: borisfx.com/pages/mocha-pro
– – –
Mura LLC was showing a texture scanner for virtual reality surfaces. Lingfei Meng, Co-founder, explained how their technology allows for very high-quality, highly-detailed scans that can then be mapped onto any surface.
The images are 4K or larger, and support surface micro-geometry with sub-micron depth resolution. The demos in their booth, and website, are really stunning.
Website: www.muravision.com
– – –
Lightspace Technologies, based in Latvia, was showing a 3D volumetric display which takes a series of still images and displays them in 3D where the high resolution, full color 3D images were physically deep. Ilmars Osmanis was showing some excellent examples using medical imaging where we could fly around a series of X-rays. This is also an intriguing technology for visualizing architectural displays.
The key benefit is that it "delivers physically deep images that leverage the whole human visual perception bandwidth and can be used without glasses or helmets and with no visual fatigue." (Lightspace 3D website)
Website: www.lightspace3d.com
– – –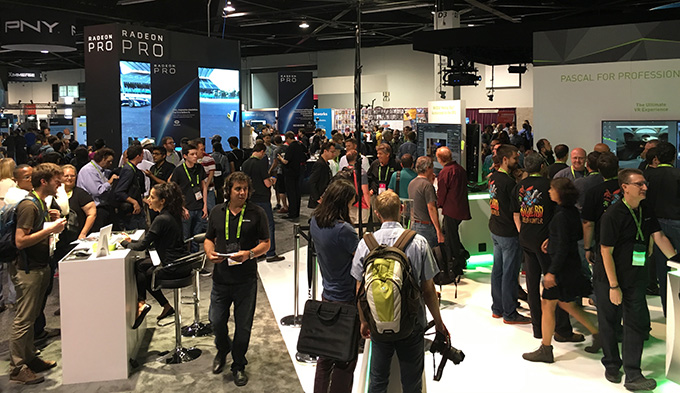 AMD was touting their latest graphics card technology: Radeon Pro WX. This is a series of graphics cards designed for architecture, product development, gaming and visual effects. AMD also announced that they were releasing ProRender, a powerful physically-based rendering engine into open source, giving developers access to the source code.
AMD also announced new technology designed for large dataset applications, which will be available initially as a developer kit.
Website: radeon.com/siggraph/
– – –
Amazon had a number of products in their booth. The one that caught my attention was Lumberyard, a 3D cross-platform game engine that is integrated with the Amazon Web Services and Twitch. Even more enticing, for developers, is that it is free.
"By starting game projects with Lumberyard, you can spend more of your time creating great gameplay and building communities of fans, and less time on the undifferentiated heavy lifting of building a game engine and managing server infrastructure." (Amazon website)
Website: aws.amazon.com/lumberyard/
– – –
Ricoh was showing the latest version of their camera, Theta, containing two 180° lenses in a handheld device that allowed you to shoot a 360 VR movie, using something the size of a stapler.
The camera shoots both stills and 360° video.
Website: theta360.com/en/
– – –
Mantis Vision showed their Pocketscan 3D, a small 3D camera/scanner that allows users to "put 3D data acquisition in the hands of app developers, game designers, artists, and industry professionals. Turning people and objects into high resolution 3D models and in real-time" allows you to create 3D modeling on the go. They told me it was designed for automotive, industrial, academic, medical and construction projects. (Mantis-Vision website)
Website: www.mantis-vision.com
– – –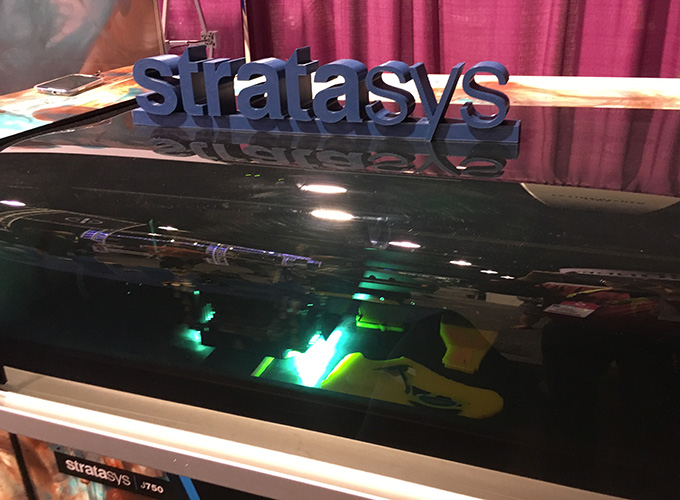 Stratsys was showing a high-end 3D printer that allowed images to contain up to six different materials inside the same printed object. They showed me a ring of about 20 different samples that varied by color, texture and translucency; allowing more complext and visually interesting objects to be printed.
3D printing has revolutionized creating props and set pieces in Hollywood. After watching this system print, I can understand why.
Website: www.stratasys.com/j750
– – –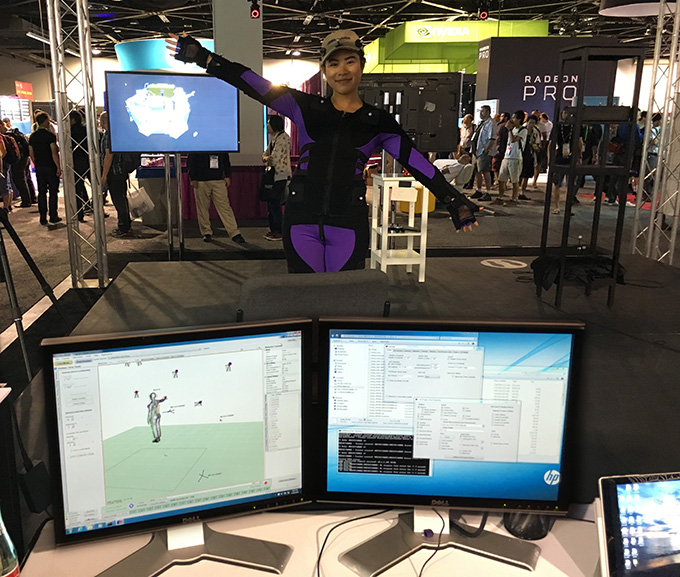 Canon, in conjunction with Motion Analysis, was showing a remote motion tracking and training facility that allow motion capture actors to create avatars that could be placed on remote devices, such as satellites, to provide training, maintenance, or design verification.
Canon website: www.usa.canon.com
Motion Analysis website: www.motionanalysis.com
– – –
Bournemouth University was demoing DRInventor, a personal research assistant that can link a research paper to the web to see what other papers may be relevant to it. "Dr Inventor acts as a personal research assistant, utilizing machine-empowered search and cognitive computation to bring research novel and thought-proving perspectives for scientific innovation. It has a particular focus on computer graphics and SIGGRAPH authors.
This harks back to the strong educational and research foundation of SIGGRAPH.
Website: drinventor.eu
– – –
FXGear was showing three technologies for VR surfaces: Qualoth, high-quality cloth simulator, FXHair, realistic hair simulator, Flux, fully scalable fluid simulator, and ezCloth, cloth animation tool for game characters.
Website:www.fxgear.net
= = =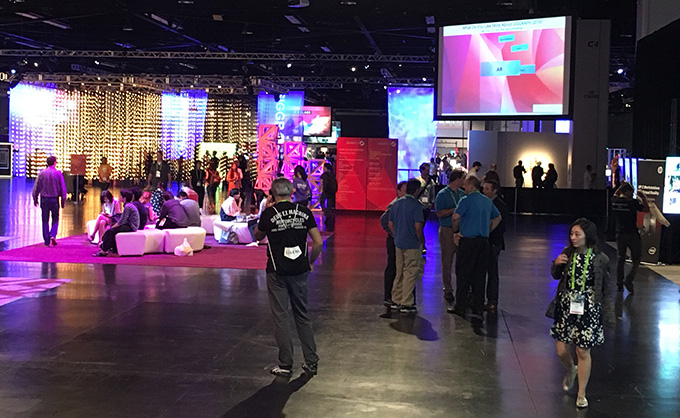 After wandering the expo floor, I strolled over to the vast Experience Space. In addition to the floor-to-ceiling hanging color garden, and several ride simulations, the edges were filled with displays of technical papers.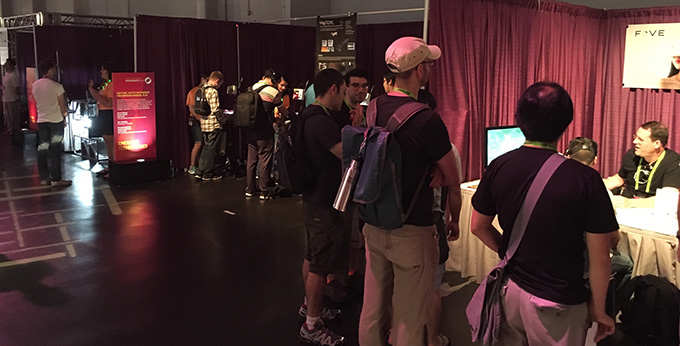 It was fascinating to listen to the depth of conversations between academics and their audience as they explained their latest findings.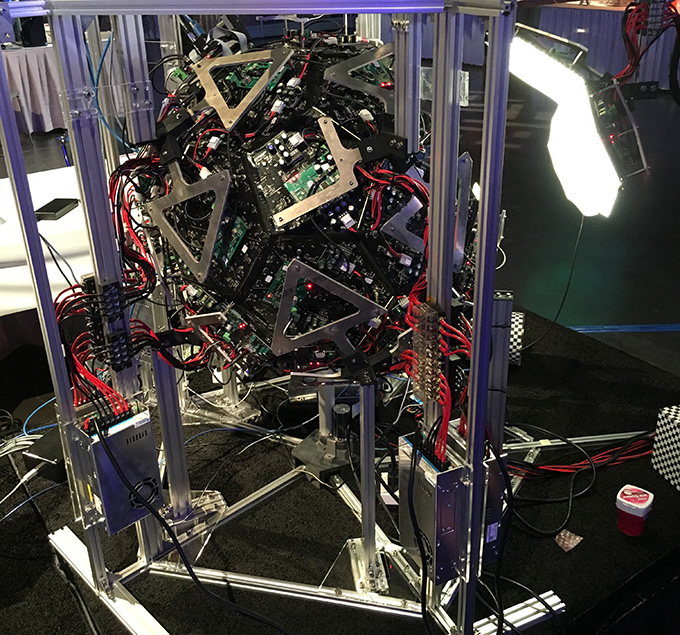 There were demos of gear that was way cool – and totally understandable, like this 3D scanner that captured 3D panable images of objects inside the scanner using an array of cameras mounted around the edges. It would be completely happy on the set of any sci-fi movie.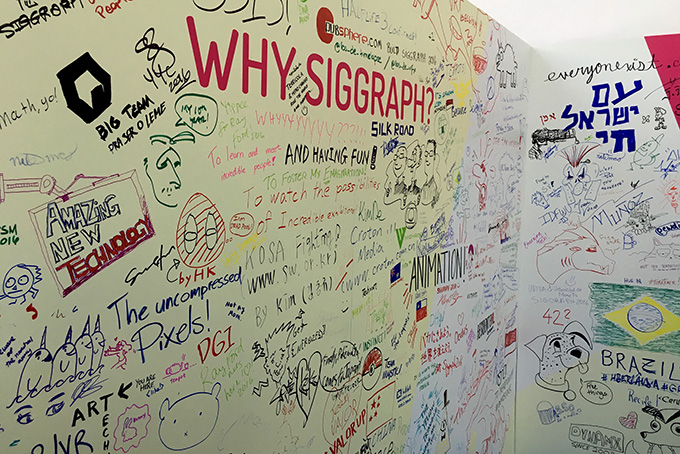 OH! I should also mention the graffiti boards scattered about the halls. There must have been six of them, all the size of a medium-sized billboard and totally filled with, um, cool stuff.
All-in-all, it was a day spent have my brains expanded by the amazing art that all this new technology can create.

---