Video Pro News from WWDC 2019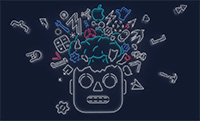 The big news, for video folks, coming out of this morning's WWDC announcements from Apple were the new Mac Pro and Pro Display XDR monitor.
For developers, the ability to use Swift to code user interfaces much more easily, the separate iPad operating system, and the ability to create a single application that runs on iPads and Macs were, I suspect, the highlights.
Let's take a look at these in more detail.
The new, NEW MAC PRO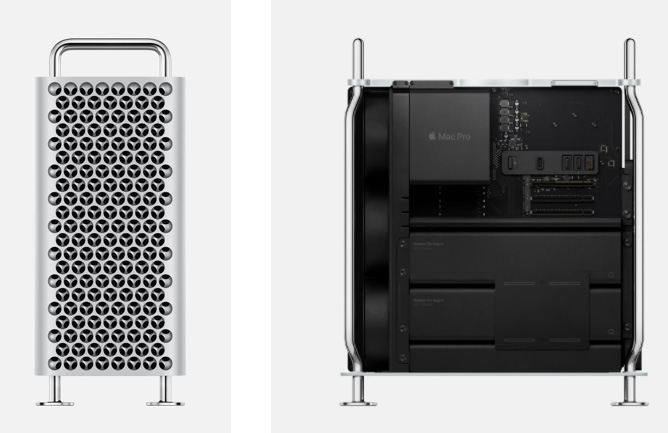 (Image courtesy: Apple Inc.)
Coming "in the fall," the 2019 Mac Pro is reminiscent of the cheese grater Mac Pro of the last decade. "Built around a stainless steel space frame, an aluminum housing lifts off, allowing 360-degree access to every component and vast configuration.
"At the heart of the system is a new Intel Xeon processor with up to 28 cores — the most ever in a Mac. In addition, large L2 and shared L3 caches and 64 PCI Express lanes provide massive bandwidth in and out of the processor.
"Eight PCI Express expansion slots. Mac Pro is designed for pros who need to build high-bandwidth capabilities into their systems. With four double-wide slots, three single-wide slots, and one half-length slot preconfigured with the Apple I/O card — it has twice as many slots as the previous Mac tower.
"Mac Pro has extremely high-performance I/O, and lots of it. It begins with four Thunderbolt 3 ports, two USB-A ports, and two 10Gb Ethernet ports. And with every MPX Module you add you get more capability. Connect up to 12 4K displays or up to six Pro Display XDRs from Apple and see your work with over 120 million pixels. It's now easy to expand at will." (Apple website)
The base price is $5,999 for the 8-core system with 256 GB of SSD storage and 32 GB of RAM. Full pricing options have not yet been announced. Extra cost options that most video pros will want to consider include:
A monitor
Updated graphics card
Afterburner for faster ProRes processing
The things I like are its ability to be user-configured after you purchase it, it's emulation of the wildly popular cheese-grater Mac Pro, and the ability to add really high-performance components to the system. I expect, in coming days, that 3rd-party hardware developers will be announcing additional hardware in support of the fall release.
NOTE: Here's the link to learn more
PRO DISPLAY XDR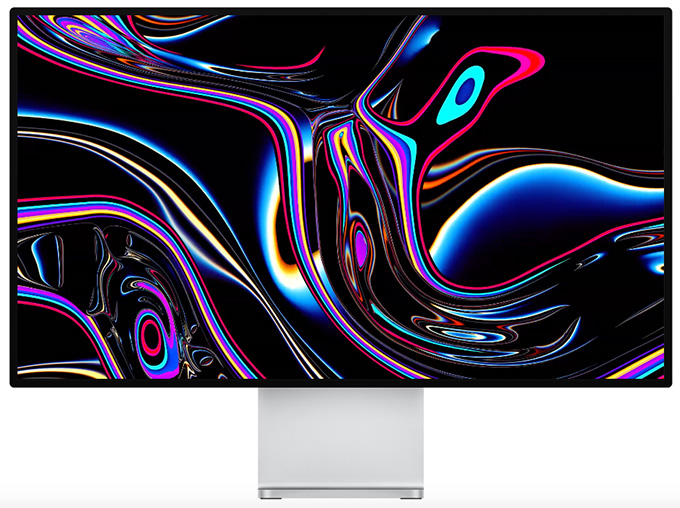 (Image courtesy: Apple Inc.)
Apple also announced a new Pro Display XDR (for Extended Dynamic Range), which will be shipping in the fall. (I can already see that the "XDR" name will cause confusion with HDR and the different published monitor standards.)
"The first 32-inch Retina 6K display ever. Up to 1600 nits of brightness. An astonishing 1,000,000:1 contrast ratio and super-wide viewing angle. Over a billion colors presented with exceptional accuracy. And dynamic range that transforms the professional workflow. Introducing Apple Pro Display XDR, the world's best pro display." (Apple website)
While Apple implies that this exceeds the HDR spec, in fact, it doesn't. What it DOES do, though is provide up to 1600 nits (peak) of brightness. (Most monitors are 500 nits.)
It also displays a P3 wide color gamut, which we have become used to on other Apple monitors, such as MacBook Pro laptops. A very need feature is that the stand and monitor support rotating into a vertical display. While not particularly helpful for video, it will be very helpful for photographers and people working on display advertising.
Retail price is $4,999 plus another $199 for the stand. (A VESA mount adapter is also available.)
NOTE: Here's the link to learn more.
macOS UPDATED TO CATALINA (v. 10.15)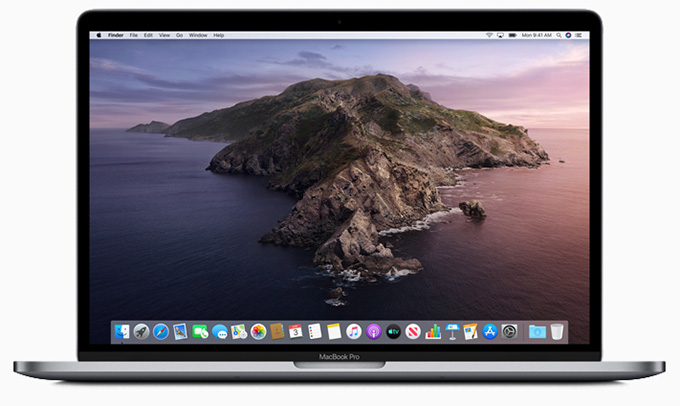 (Image courtesy: Apple Inc.)
Apple also previewed the next version of macOS: Catalina.
"With macOS Catalina, Apple is replacing iTunes with its popular entertainment apps — Apple Music, Apple Podcasts and the Apple TV app. The all-new Sidecar feature enables users to extend their Mac desktop by using their iPad as a second display or as a high-precision input device across creative Mac apps. New security features keep users better protected and Voice Control lets users control their Mac entirely with their voice.
"'With macOS Catalina, we're bringing fresh new apps to the Mac, starting with new standalone versions of Apple Music, Apple Podcasts and the Apple TV app,' said Craig Federighi, Apple's senior vice president of Software Engineering. 'Users will appreciate how they can expand their workspace with Sidecar, enabling new ways of interacting with Mac apps using iPad and Apple Pencil. And with new developer technologies, users will see more great third-party apps arrive on the Mac this fall.'" (Apple press release)
As a reminder, Catalina will not support 32-bit applications or codecs. So, while the new OS won't ship until the fall, make sure that any existing application or media that you need in the future can be updated to 64-bit.
Another potentially nice feature is Sidecar. This allows an iPad to be used as a second monitor for a Mac desktop or laptop system. The iPad connects via BlueTooth, so you don't need to carry connectors to use this feature. "When paired with an Apple Pencil, they can use their iPad to draw, sketch or write in any Mac app that supports stylus input. Sidecar is a great tool for editing video with Final Cut Pro X, drawing with Adobe Illustrator or marking up iWork documents." (Apple press release)
NOTE: Here's an article that explains how to tell if your applications are 32-bit.
Most of the other featured applications were consumer-focused.
NOTE: Here's the link to learn more.
SUMMARY
The new announcements are exciting. But, as with all new updates, allow yourself time to learn more and NEVER update when a new OS is first released. Our job is to create compelling visual content on time and on budget. Let others, who don't have deadlines, run the risks associated with any new release.
I'm looking forward to learning more and sharing the news with you.
---