Larry Jordan's Thoughts on WWDC 2021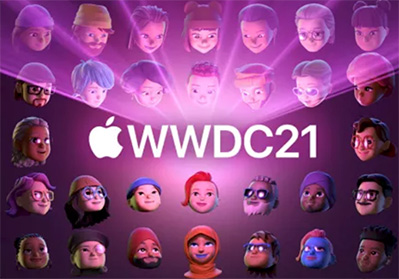 Apple introduced all their new operating systems yesterday at the start of WWDC 2021. These new systems are in beta now, with release scheduled for the fall.
Almost immediately, readers asked for my reaction. My short answer is, for media creators, not much changes. But, as I think about it, the longer answer is more nuanced.
Like many, I was hoping for new hardware announcements, which didn't come. (Published reports indicate that the on-going limitations imposed by both COVID and chip shortages played a role.) But, truthfully, the real reason WWDC (Worldwide Developer Conference) exists is to get DEVELOPERS excited about creating programs for all the various Apple platforms, then, second, to get consumers excited about upgrading.
If developers don't get excited, all our cool computer hardware becomes, at best, expensive door stops.
So, Apple kept the focus tightly on its software.
PERSONAL THOUGHTS
Everyone will have their favorite news from the event, but, for me personally, the key point was Apple's continued and growing focus on privacy; especially trapping those ubiquitous tracking pixels that are all too common in email campaigns. I agree with Apple that consumers should be given a choice on whether and how their personal information is tracked, sold and manipulated.
I have never used tracking technology on my website because I find it invasive. Yes, I would like to know all this detailed information, but I don't NEED to know it. So, I don't.
NOTE: FastCompany has an interesting interview with Craig Frederighi discussing Apple's new privacy features.
PROFESSIONAL THOUGHTS
From a media creator point of view, several things struck me:
1. Monterey (the new name for macOS 10.16) seems far less in scope than Big Sur. Big Sur was a major, major change in operating systems and had no end of serious bugs both during beta and after its release. Monterey seems smaller, which means it may be more reliable from the start, but with the overall look-and-feel of Big Sur.
Hopefully, smaller changes, allowing more time spent improving the stability of Monterey, will make Monterey safer to upgrade sooner. As my emails will attest, Big Sur was a mess.
2. Apple put a lot of emphasis on co-viewing, that is watching videos while also messaging or FaceTiming friends. I see this in my own family, where folks are watching and chatting at the same time. Personally, I find the distraction untenable, but that's because I'm focused on watching – both for enjoyment and technical analysis. The younger generation is much better at splitting their attention while watching.
This means that, as media creators, we need to think about what else we can offer viewers – outside the program – that will enhance the viewing experience. This is especially relevant for live events, where side-channel conversations expand on the live experience.
I'm reminded of a comment Mark Raudonis, from Bunim/Murray, made at an Editors Lounge session a couple of years ago. In it he said that the future of TV was multiple screens, where people watch TV with a mobile device in their hands. It's the job of producers today to figure out how to get all those screens to work together in a complimentary way.
NOTE: NextTV has a nice article about this.
3. Apple continues to expand the ability to move elements between devices. It started with Sidecar and Continuity, but Apple expanded that this year with Universal Control. This is where a Mac can control up to two other devices, drag the mouse seamlessly between them, then drag-and-drop content between any connected screen.
While not in the initial developer beta, Universal Control is expected to be part of the final release of Monterey. We'll learn more about this in the next month or two.
SUMMARY
While this year's WWDC was not the stunner of last year, where new Apple Silicon was introduced along with the new hardware that used it, this year was still eventful.
What I'm hoping for, truthfully, is that Apple, by doing a bit less, makes the operating system more stable. Unlike Big Sur, which even today remains a bit of a gamble, Monterey needs to reassure us so that, as folks that rely on our computers to meet deadlines that entertain the world, we can upgrade with less fear.
An added benefit would be that our systems will be better for the upgrade.
---