In Memoriam: Bruce Nazarian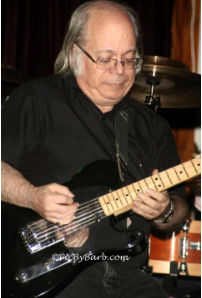 Last Friday (Oct. 9, 2015) I received word that Bruce Nazarian died of a heart attack while editing music at his computer. For those who knew Bruce, as I was fortunate to do, I can't imagine a better way for him to leave us.
But this is still a very sad event.
For those who didn't know him, Bruce Nazarian was born in Detroit, MI, and was a funk and rock musician, recording artist and music producer. He was an active member of the Contemporary Jazz music scene in Los Angeles, and the respected producer and presenter of The Digital Guy Radio Show, heard weekly on Solar Radio in the UK.
During his many years as a Detroit studio musician, he shared studios and sessions with many of the legendary names in the Motor City's amazing music history: David Ruffin, Johnnie Taylor, Barrett Strong, Anita Baker, the Spinners, and many others. He toured as bass player with Automatix and Brownsville Station, and pioneered digital sequencing and dance music in the 1980's. (Here's a link to Bruce's personal music bio.)
Whenever we talked, which was often, I was impressed with his deep love of music, especially jazz. For those who want to see Bruce truly enjoying himself while playing, watch this clip.
Bruce was never happier than when he had a guitar in his hand and an audience to perform for. And his joy brought joy to the rest of us.
However, music is not how I remember him best. I first met Bruce in 2007 at an LA Final Cut Pro User Group meeting. It was a time when DVDs were the dominant form of media distribution and Blu-ray Discs were starting to appear. Bruce taught himself both technologies so well that he was the definitive go-to resource for the rest of us.
I became the host of the Digital Production Buzz podcast in November, 2007. Bruce was one of the first guests we invited onto the program, Dec. 27, 2007. That was to be the first of his 59 appearances on The Buzz over the next eight years. His last appearance was May 7, 2015, talking about new technology he helped develop for one of the major studios creating on-demand DVDs for movie distribution.
In recent years, like all of us, Bruce struggled to figure out where technology was going; especially when it came to making and selling music. I remember many phone conversations where Bruce would enthusiastically describe a new artist he was working with, new music he was creating, or the Lemonade Jazz Festival he was trying to get off the ground.
Bruce was small in stature, but huge in spirit. He was always willing to answer a question, explain a complex piece of technology, or just lend a helping hand. I learned something every time I talked with him; and I'm grateful for each opportunity.
He was an amazing guy, an immense resource and a good friend. He will be missed.
The Digital Production Buzz created this video tribute to Bruce. Watch it here.
NOTE: To learn more about Bruce, visit his Wikipedia page.
---