Color Correction Shape Masks in Final Cut Pro X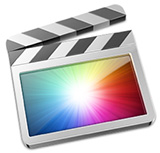 [This is an excerpt from a recent online video webinar: "Color Correction Overview in Final Cut Pro X" which you can download in our store, or as part of our Video Training Library.]
Your edit is done. Now its time to make your images look "perfect." That's where color correction and grading come in. In this webinar, Larry Jordan offers an overview of the color tools inside Final Cut Pro X that can help you make your images look great. During this session you will learn how to:
How to configure Final Cut's video scopes
How to use video scopes to evaluate images
How to create unique looks for your clips
How gray scale values affect the emotions in a clip
How to use the Color Board to fix exposure problems
How to use the Color Board to fix color problems
How to use masks to fix problems inside a portion of a clip
If color is a mystery to you, or the only color tool you know is the automatic color corrector, then this presentation can change your life.
In this short video excerpt, Larry shows how use a Shape Mask to color correct just a portion of an image in Final Cut Pro X.
---
Color Correction Shape Masks in Final Cut Pro X
TRT: 3:53 – MPEG-4 HD movie
Our website offers lots more video training in our store.
---