Apple Announces New Gear for Video Pros at WWDC 2017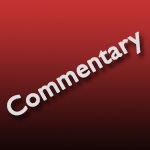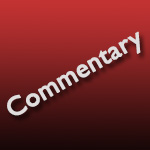 At the Apple Worldwide Developer Conference this morning, Apple announced, and in some cases released, new hardware and software specifically designed for media professionals.
NOTE: They also announced new versions of tvOS, watchOS and iOS which are also interesting, but outside the range of covering media creators.
SOFTWARE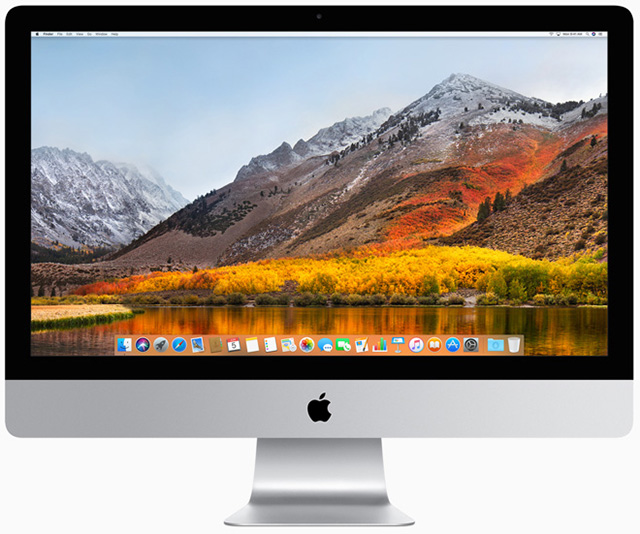 The emphasis in the latest version of Mac OS was "refinement" rather than radical change. This was reflected in its new name: "High Sierra" which builds on the current Mac OS version, which is "Sierra."
For me, the biggest change is under the hood with the release of the new Apple File System (APFS). HFS+ began 30 years ago. It was time for something new.
"APFS features enhanced performance, security and reliability of data and provides a foundation for future storage innovations. An advanced architecture optimized for today's massive storage technologies, APFS makes common operations such as copying files and directories instantaneous, helps protect data from power outages and system crashes and keeps files safe and secure with native encryption. macOS High Sierra also maintains complete read-and-write compatibility with previously formatted HFS drives and data and is designed to accommodate future advancements in storage technology." (Apple press release)
Another big change is that one of the media standards that's been missing in action with Apple is support for H.265 (also called HEVC). Originally designed to reduce traffic on cell phone networks by making file sizes smaller without diminishing image quality, Apple announced that this new video codec will finally be supported in all three Apple media apps – Final Cut Pro X, Compressor and Motion – as well as built into the new version of Mac OS X: High Sierra.
"Support for industry-standard HEVC (H.265) enables video streaming and playback of 4K video files at incredible quality that are also up to 40 percent smaller than with the current H.264 standard. With HEVC, Apple is enabling high-quality video streaming on networks where only HD streaming was previously possible, while hardware acceleration on the new iMac and MacBook Pro deliver incredibly fast and power-efficient HEVC encoding and editing." (Apple press release)
Apple also announced that an upcoming version of Final Cut Pro X will support VR, as well as H.265. In fact, Apple is also including hardware acceleration in all their new laptop and desktop systems, which means that creating H.265 material will be really fast.
Here's the link to Apple's press release on the Mac OS.
HARDWARE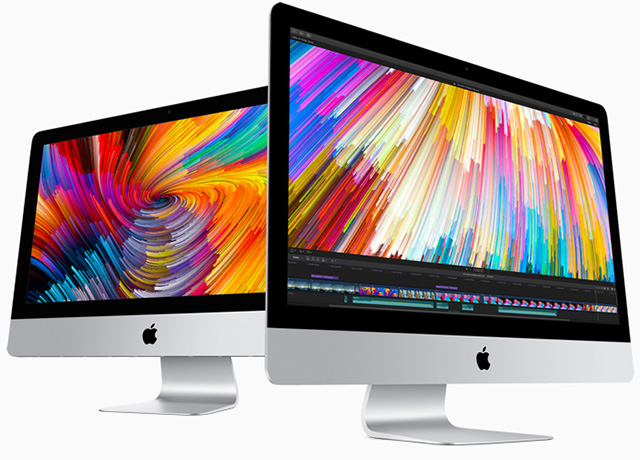 Unexpectedly, Apple also announced hardware updates for both iMac and MacBook Pro systems. While the MacBook Pro upgrades are nice, they provide essentially the same performance as the 2016 MacBook Pro, from what I'm reading on the web; with the exception that switching to the Kaby Lake processors enables hardware acceleration of H.265 files.
This is NOT true for the iMacs, which received a major performance boost, especially in graphics and RAM. The new features are VERY exciting for everyone that needs to push tons of pixels at high speed.
"Apple today updated its iMac line with up to three times more powerful graphics, faster processors, Thunderbolt 3, faster storage options and brighter Retina displays, and added a Retina 4K display and discrete graphics to the $1,299 (US) 21.5-inch iMac.
"The updated iMac features faster Kaby Lake processors up to 4.2 GHz with Turbo Boost up to 4.5 GHz and supports up to twice the memory as the previous generation. Fusion Drive is now standard on all 27-inch configurations and the top-end 21.5-inch iMac. SSD storage options are now up to 50 percent faster, and iMac comes with Thunderbolt 3, the most powerful and versatile port ever." (Apple press release)
All systems can be ordered today and start shipping on June 7.
Here's the link for the iMac Press release
SNEAK PEAK – iMAC PRO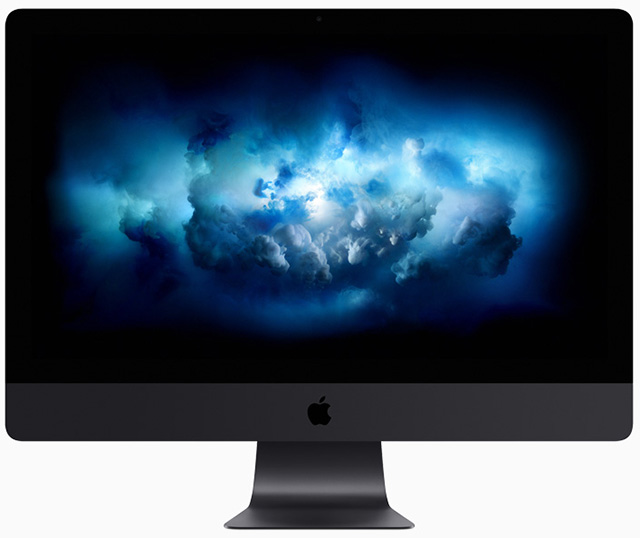 Apple also previewed the new iMac Pro, which won't be shipping until December, with three times the performance of the current Mac Pro.
"Apple today gave a sneak peek of iMac Pro, an entirely new workstation-class product line designed for pro users with the most demanding workflows. The all-new iMac Pro, with its gorgeous 27-inch Retina 5K display, up to 18-core Xeon processors and up to 22 Teraflops of graphics computation, is the most powerful Mac ever made. Featuring a stunning new space gray enclosure, iMac Pro packs incredible performance for advanced graphics editing, virtual reality content creation and real-time 3D rendering. iMac Pro is scheduled to ship in December starting at $4,999 (US)." (Apple press release)
Here's a link to the iMac Pro press release
SUMMARY
These new features, plus the announcement that all Apple's media applications will support these new video formats, go a long way toward reassuring existing customers that Apple has not forgotten the importance of high-end desktop systems. (Given the new iMac Pro, I'm REALLY curious to see what Apple releases when they update the Mac Pro, which they discussed in April, but for which they haven't yet released any details.)
Today was a very exciting day.
---