A "Good News" Support Story About Electro-Voice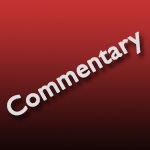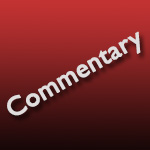 For those of you in need of some good news, here's a story that I'm delighted to share.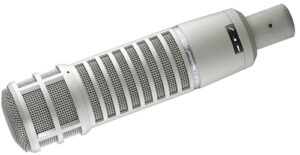 Four or five years ago, I purchased three Electro-Voice RE20 microphones for the Digital Production Buzz because they are great sounding desk mics.
I was delighted with both their ruggedness and great sound. We've used these microphones every week since the day we bought them. They survived rough handling, moving between studios and interns.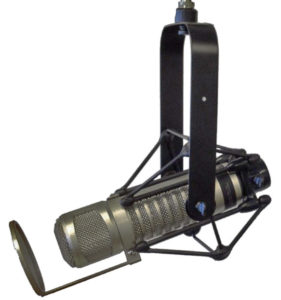 Then, about a year later, I bought two suspension mounts (EV309A) so we could fly the mics above the table, allowing us to use our computers while still getting close to the mic. (Because, as you know, all radio announcers LOVE a deep, tight sound on their voice mic.)
Time passes and we move offices, convert our audio studio to video and transition the mics back to desk stands, because the suspension mic totally destroys sight lines from the talent to the camera. (Because, as you know, no television talent wants anything to block their view of the camera; or the camera's view of them.)
For about a year and a half, those lovely suspension mounts were stuffed into a dark, lonely corner… Until, we moved offices again and converted The Buzz back to an audio-only show. At which point, we needed those suspension mounts.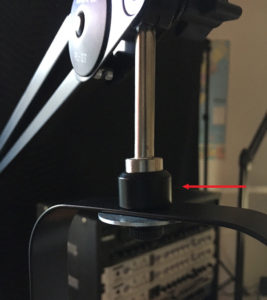 The problem was in all this moving about, the small yet HIGHLY ESSENTIAL black screw thingy that attached the suspension system to the floating mount got lost. This is a seriously non-standard part and the entire mic system was dead in the water unless we could get a replacement.
At this point, I sent an email to Electro-Voice support and included the photo of the missing part you see above. (EV is now owned by Bosch Security Systems, Inc, and based in Lincoln, Nebraska.)
Within a day, Adam Johnson, After Sales Technical Responsibility Americas, sent me the following note: "We do have some of these in our reclaim stock here in service. If you can send us your address, we would be happy to send out a pair of these for you at no cost."
Notice Adam did not ask when I bought the unit, or why the part was lost, or to provide proof of purchase. He also offered to ship these free, even though in my email I volunteered to pay for the part.
A day later, Ann Maul, from their Parts Desk, sent me two sets of these connecting bolts and they arrived three days later. They fit perfectly and worked exactly as the originals.
I'm really impressed. It was fast, simple, and very responsive. If you are looking for good news stories, this is one of them.
Yay, Electro-Voice. And, yes, their mics really do sound that good.
---