Video Compression Hardware Speed Test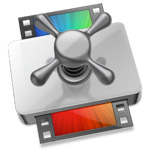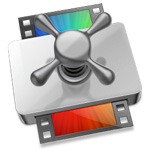 This is the third in a series of articles looking at the new Apple Compressor 4.2. In this article I compare compression speeds between a new Mac Pro, iMac and MacBook Pro when compressing video for YouTube and, by extension, the web.
EXECUTIVE SUMMARY
The power of hardware-accelerated compression is brought home in this test. Based on the YouTube presets shipped with Apple Compressor 4.2 – which are typical for many web compression tasks – if you want the fastest video compression get the fastest iMac.
Video compression is surprisingly complex. Different codecs will compress at different speeds on the same hardware. There are some tasks, such as transcoding video files into ProRes where the Mac Pro should be substantially faster. I'll look at ProRes transcoding in a future article.
However, for tasks where you are compressing video for YouTube, Vimeo, Facebook or other web sites utilizing the H.264 codec, your best option is an iMac.
TEST GEAR
I used three essentially current computers for this series of tests:
New Mac Pro, 3.0 GHz, 8-cores, 32 GB of RAM, AMD D700 GPU
21″ iMac, late 2013, 16 GB of RAM, 3.1 GHz i7 processor
15″ MacBook Pro, late 2013, 16 GB of RAM, 3.1 GHz processor
I created a series of four test files, all exported as Master files from Final Cut Pro.
XDCAM EX (1280 x 720)
ProRes 422 HQ (1920 x 1080)
ProRes 422 HQ (1280 x 720)
ProRes 4444 (1280 x 720)
During compression all files were scaled to 1280 x 720, using the YouTube HD720 preset shipped with Compressor 4.2 No changes were made to the compression setting for this test. All source media and resulting compressed files were stored locally.
THE RESULTS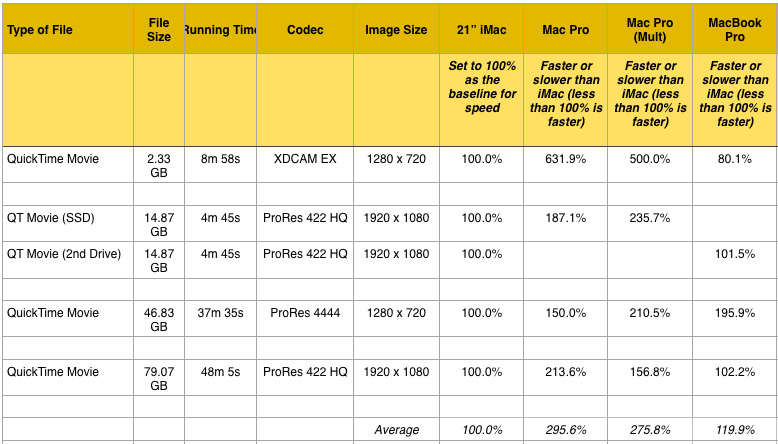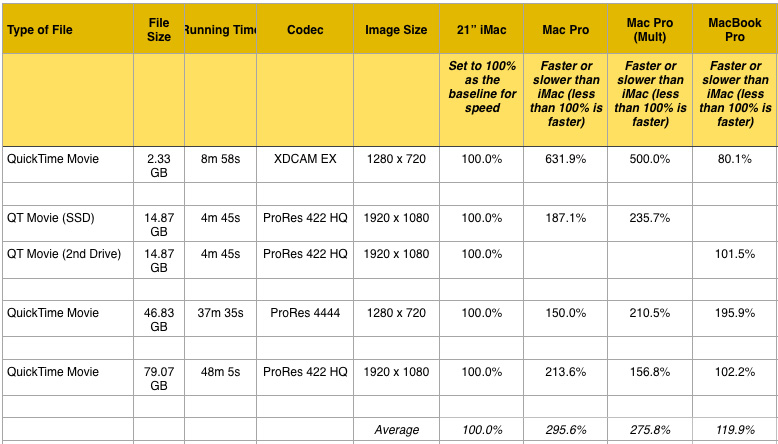 (Click the image to download a PDF with the detailed results.)
For the purposes of comparison, in the table I set the speed of the iMac to equal 100%, then compared the compression speed of the other two computers to it. (The PDF, which you can download here, has all the details, including timing durations, so you can check my math.)
Both the iMac and the MacBook Pro utilize hardware-acceleration when compressing files using the H.264 codec. You can see the benefits in these results. The iMac was almost three times faster than the Mac Pro, while the MacBook Pro matched the speed of the iMac for everything except ProRes 4444 source files.
I was really surprised at how much hardware-acceleration improved compression speed. This does NOT mean that the Mac Pro is not a useful computer. H.264 is a codec that does not fully utilize multi-core computers. Video compression uses significantly different computer resources than video editing.
NOTE: I should point out that every system running Compressor 4.2 was a WHOLE lot faster than the same system running Compressor 4.1.2.
USING MULTIPLE INSTANCES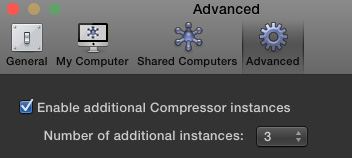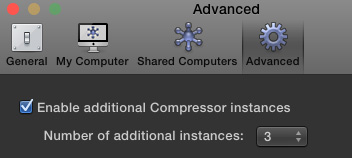 A feature available in the Mac Pro that doesn't exist in the iMac or MacBook Pro, is the ability to run Compressor in multi-instance mode. This allows multiple "copies" of Compressor to run simultaneously.
NOTE: Multiple instances are turned off by default. You turn them on from the Compressor > Preferences menu. When multiple instances are turned on and Compressor is running, other applications will slow down significantly.
If you are compressing a single file, you won't see a whole lot of difference by enabling multiple instances. As you can see in the results, Compressor speeds up about 8%. What does benefit is when you are compressing a number of files at the same time. Multiple instances allows Compressor to compress different files at the same time. While I did not specifically time it, enabling multiple instances reduced total compression time for all four files almost in half.



You can see the results of multiple instances in Activity Monitor. CPU load is way up with almost double the processing power applied when the maximum of 3 instances are enabled.
NOTE: The number of available Compressor instances is determined by your computer's cores and memory. After meeting the minimum system requirement (four cores and 2 GB of memory), you can add one additional instance for every additional four cores and 2 GB of memory. This portion of the Compressor documentation describes this in more detail.
INTERNAL VS EXTERNAL DRIVES
Last week, I discovered that when compressing media using hardware-acceleration on an iMac compression speeds improved almost 15% when storing media on a fast SSD drive – whether internal or external. In the PDF, you'll see comparisons between media stored on an SSD drive vs. spinning media.
NOTE: In this test, the SSD drive was an Apple Fusion internal drive.
SUMMARY
There are three more tests I'm working on for next week:
Transcoding media into ProRes from AVCHD. Here, I expect the Mac Pro to truly shine.
Compressing video stored on a server and compressed using a network of Macs.
Comparing Compressor with Adobe Media Encoder.
However, based on compressing video for YouTube or the web, a current model iMac is about the best it gets. As always, I'm interested in your comments.
---
Bookmark the
permalink
.