FCP X: Using Roles to Manage Complex Projects
Roles are new with FCP X v10.0.1. These are a new kind of labels which allow us to flag clips by type. Roles can help us in two significant ways: tracking and managing clips during the edit and exporting just the clips we need.
This article talks about the first option, I'll write about the second in a second article.
What is a Role?
A Role is a keyword that describes a clip. There are five default keywords:
Video
Titles
Dialogue
Effects
Music
We can create custom Roles, or within one of these categories, we can create subroles. For instance, in Titles, we can create "English," "Spanish," "French" as three subroles all linked to Titles. Roles can vary by Project.
Every clip contains exactly one, and only one, Role. Linked clips contain one video role and one audio role. Roles can be changed at any time. All clips must contain a Role.
Final Cut Pro assigns Roles automatically when a clip is imported, captured, or created. Exactly how it figures out what is dialog, music, or effects is something I don't know – but it is generally very accurate. And, in those cases where it guesses wrong, changing Roles is easy.
The Modify Menu
To change a Role assigned to a clip, select the clip then choose Modify > Assign Roles and pick the Role you want to apply. Remember, all clips must contain one and only one Role.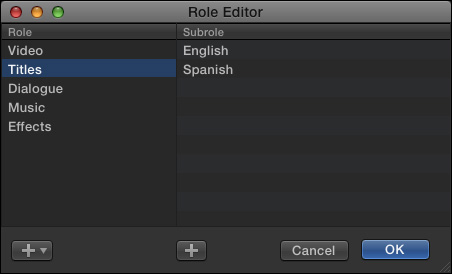 To create a new Role, choose Modify > Edit Roles. For example, here I've added two subroles to Titles – one for English and one for Spanish.
Click the left Plus button to add new Role categories, or, select a category, then click the right Plus button to add a subrole into it.
You can delete a Role if it has not been assigned to a clip. Once it is assigned to a clip, you can neither delete it, nor change it. (The best way to delete unused Roles is to quit FCP X, restart it, then remove the Role.)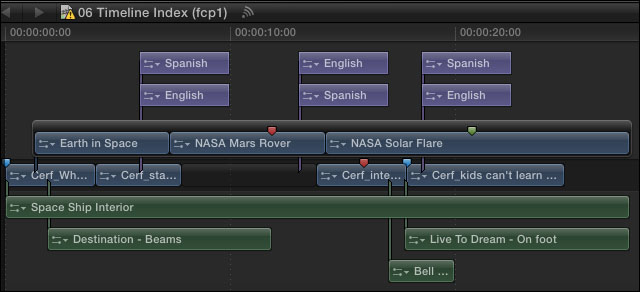 Here's an example Timeline, containing titles in two languages, B-roll in a connected storyline, talking head dialog, sound effects and music. Notice that both effects and titles clips are on different layers. The location of a clip does not matter to a Role.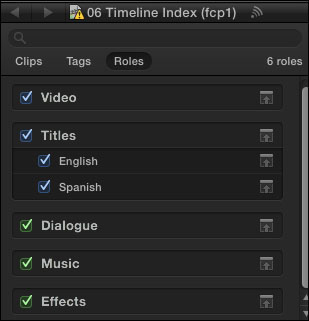 You access Roles in the Timeline Index (type Shift+Command+2). Click the word Roles at the top to display all the Roles assigned to clips in this Project.

This is where it gets interesting. Let's say you want to find all your dialog clips, as in this example. Click the Dialog Role and all dialog clips are highlighted in the Timeline. (Highlighted is not the same as selected, though. You can't use this to highlight all clips then apply a filter to all of them.)
You could use this same technique to find all your effects, or music … or titles.
If you are viewing larger versions of your clips, click this icon to minimize the clip display for those Roles.

Here's the one I like the best. Uncheck the checkbox next to the Role name and all clips with that Role become invisible or inaudible.
Imagine you are editing a project that needs titles in two languages. Create a subrole for each language and apply it to your titles. To display English, uncheck Spanish. To display Spanish, uncheck English.
This ability to turn clips on or off extends into exporting as well, which means we could create a single project and output it in a variety of different languages!
Roles make it much easier to manage complex projects.
---
Bookmark the
permalink
.