User Review: Sony PMW-100
User Review: Sony PMW-100 Camera
Trevor Ward sent me his experiences working with the Sony PMW-100 camera, which I wanted to share with you. (I made a few minor edits for clarity.)
– – –
Trevor F. Ward is an award winning documentary film maker currently based in Orlando, FL. His adventures have taken him across the USA and across the globe to places like India, Mexico and the UK. If you're lucky, you might see this tall, bald guy lugging his gear in a black and green backpack, getting frisked by airport security, on his way to or from another adventure. Visit his website here: http://www.redeyefilmco.com
– – –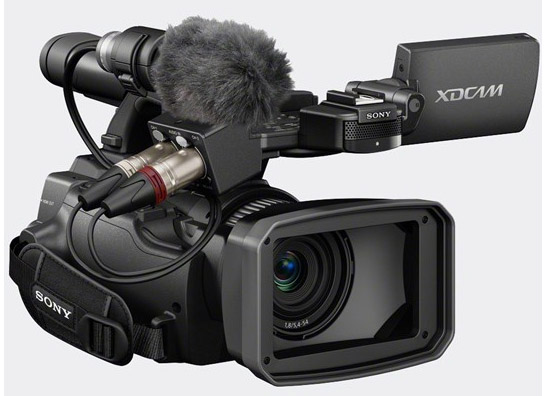 I was hired to shoot a documentary in London during the 2012 Olympic games. We were to shoot about 17 interviews sort of guerilla style throughout London. In addition to the formal interviews, we were also following around several team doctors for a few of the USA teams which might require a cinema verité shooting style. One morning we might be shooting team practice at the USA training facility at the University of East London and later that same day we might be shooting an impromptu interview in front of the Tower of London. Needless to say, we did a lot of walking with our 30 lbs. of camera gear.
We brought two cameras with us: a popular DSLR and the brand new Sony PMW-100. I would like to share with you some of my experiences using the new Sony PMW-100. The big selling point of the Sony is that this small little camera shoots a 50 Mb/s compressed image to SXS cards. We did not use SXS cards. Rather, we used SD cards in SXS adapters. As a result, we were not able to shoot in 50 Mb/s mode and had to settle for the regular 35 Mb/s XDCAM EX codec. If you want to record in 50 Mb/s, you'll have to buy the expensive SXS cards or XQD cards. We also outfitted our Sony with an inexpensive wide angle adapter, a shotgun microphone, and an extra battery.
At times, I found some features of the camera to be quite beneficial. At other times, I was left a bit frustrated and wanting more. Let's start with the good.
WHAT'S GOOD
Light weight. The lyrics of the song "I'm Gonna Be" by the UK band, The Proclaimers says "I would walk 500 miles and I would walk 500 more…" That's because these guys probably DID walk 500 miles. London is a city of public transport and lots of walking. Some days we ended up walking 4-6 miles per day – Walking up and down streets, in and out of the tube and up and down stairs. Thank goodness this camera weighs in at about 5 lbs. Hand holding this camera while operating it proved to be quite easy too, although it's not as easy as a shoulder mount camera. Walking around the city while keeping my subjects in frame was a breeze. And because of the weight, I was able to actually keep the camera attached to my carbon fiber Miller tripod while shooting my subject AND walking through the busy crowds all at the same time.
Two SXS card slots. Having two card slots is great because you can record continuously without having to worry about switching cards or stopping an interview. This is something even our beloved DSLRs don't do. You can even reformat one card, while the other card is recording.
A deep depth of field. Yes, I said a DEEP depth of field. The sensor is quite small at 1/2.9″. I know all the hype around shallow depth of field and that's why we love our DSLR's and our large sensor cameras. When the action is fast and you're running around trying to follow people, having a shallow depth of field means keeping your subject in focus is a major challenge. But when the depth of field is DEEP, you have more leeway and your focus doesn't have to be dead on. For run-and-gun situations, this deep DOF is an advantage. For more formal interviews, just put your camera further way from the subject so that you're on the long side of the zoom. If you're wanting a shallow DOF camera, this is not the camera for you.
Focus Assist button. The PMW-100 has a nice focus assist button that works well and is easy to engage, even while recording. That's something our DSLR's won't do (at least not MY DSLR).
The LCD screen. The LCD screen is on top of the handle, pretty far forward. It's in a good location for my shooting style (cradled in my hands at chest level). I think it's better to have the screen high and forward rather than low and closer to the back of the camera. The image detail on the screen is good and is even easy to see in bright sun. I'm not a tech guy and couldn't tell you what the specs say about the detail, but I find the screen acceptable for my needs. The display on the screen provides me with the necessary information such as audio meters, time code, card record time remaining, battery time remaining, focus peaking, zebras, etc.
The exposure dial. The exposure dial is easy to get to and easy to operate. One feature of the dial that is nice is the exposure lock. There is a little button "inside" the dial. When you press it, the dial is active and you can dial in your exposure. If you want to "lock" the exposure so you don't accidentally rub the dial with your hand, you just press the button again and the exposure is locked.
Zoom rocker switch. If you find yourself wanting to do really slow zoom ins and zoom outs, the rocker switch allows you to creep super slow. I don't do a lot of moves like this, but I know a lot of people do and they will find this nice. Overall, I found the zoom rocker one of the nicer rockers I've used on a camcorder.
Sound. The camera records 4 channels and has two XLR inputs with phantom power. I plug in one wireless lav and one shotgun and the camera uses channels 3 and 4 to record with the internal mic. The mic controls are easy to get to and adjust on the fly but not too easy to adjust so as to accidentally change the settings. I'm not a audio tech and couldn't tell you much about quality of the audio. The record sounded decent to me and of course it's nice to be able to record sound directly to my video. No separate audio recorder, no separate cards, no separate files, no syncing. All together now. My only minor gripe is that I don't like the location of the XLR inputs. They are on the top of the handle and therefore the camera doesn't lie flat in my camera backpack. The portion of the handle that has the mic mount and the XLRs sticks out and I was always afraid it would break off.
Image quality. I found the image quality to be good. My wide shots and close ups all appeared sharp, but not overly sharp. We did not change any of the camera settings and therefore I'm not sure what the camera is capable of doing. Out of the box, I'd say it's a pretty good image. I was able to pull the footage into my NLE and do a quick color correct.
Battery indicator. When the battery is breathing it's last breaths, the camera will gasp loudly. Actually, the camera beeps at you in the headphones monitor to let you know that the camera is about to die. This is nice because sometimes I lose track of these details on the screen.
WHAT'S NOT SO GOOD
The focus ring/zoom ring. I suppose Sony is trying to save space. There is only one ring on the lens barrel. It acts as either the focus ring or the zoom ring, depending upon the mode in which you have it set. The ring is of the servo type and has a long travel, with no "stop." In focus mode, I have to twist the ring quite a bit to change my focus from furthest to closest. In zoom mode, I have to twist the ring perhaps one or two full rotations to go through the whole zoom range. Both situations are quite frustrating as I have to lift my hand off the ring several times just to run through the full range (which prevents me from making a continuous move whether it's a continuous zoom or a rack focus). To make matters worse, the slower you turn the ring, the more travel is involved. I understand that Sony thinks this to be a good feature as someone would probably want finer control over their zoom or focus if they are moving it slowly. But because the ring doesn't turn with consistency, getting to your desired zoom/focus means dealing with two variables: how much you're twisting the ring and how quickly you're twisting the ring. For run and gun situations, where I'm constantly wanting to change focus and zoom, I didn't find this very user friendly. In fact, I got so frustrated with the zoom ring, that I eventually left the ring as a focus ring and just used the rocker switch as my zoom.
Exposure control. What f-stop? Sony has decided to reinvent the exposure measurement. Instead of using the archaic, confusing method of f-stops, they use a newly invented metric scale of 0-99 based on … [goodness only know.] Sony has dropped the ball here. This was VERY frustrating. I had no way to really control my depth of field. I still don't know if the camera is adjusting ISO settings, gain, or aperture. I understand for the average consumer, it may be simpler to do away with f-stops and ISO numbers. With the price and the 50 Mb/s recording rate, this camera isn't really meant for a consumer. And as a professional, I want to control my equipment to get a certain result.
Autofocus. Like the bum bag, or fanny pack as we call it in the USA, it seems like a good idea, but doesn't really live up to its billing. In some situations, the autofocus moved quickly and was fairly accurate. However, the computer in the camera doesn't know what I'm thinking and doesn't know what I want in focus. Combine the auto focus with the combo focus/zoom ring, focusing became a frustrating chore for me. For shooting stationary interviews, no big deal. For cinema verité shooting… argh! As irony would have it though (is it irony or design?), because of the deep depth of field it would be hard for anyone to notice if the focus was off. And the wider your shot, the harder it is to tell what's in focus and what's not. Take a look at the sample footage. In the shot from my porch, you'd have a hard time telling what my focus is on.
SUMMARY
In summary, I believe every camera has its uses in which it will excel and uses in which it will struggle. I see this camera as a great camera if you have to meet the 50 Mb/s compression standard required by many networks. This camera is also great for news gathering or reality TV as the depth of field is very deep and allows for much of the image to be in focus. Lastly, this camera will be great for the novice or newbie who doesn't want to be bothered by f-stops and other manuel controls. There is an "Auto-Everything" button that makes this camera almost dummy proof. You still have to take the lens cap off yourself. What you get for the size and the money is a pretty good camera that travels well. Now as for my feet, can anyone recommend a good massage?
---
Bookmark the
permalink
.