Thoughts on the 2019 Mac Pro – and the Future [u]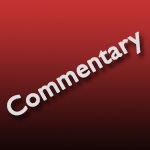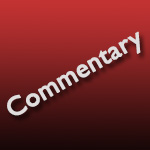 Before I start, let me clearly state that I have no inside information. I have not been "briefed." These are NOT rumors. And I don't know anything that you don't know. Still, I was just thinking….
---
About the new Mac Pro that Apple announced Monday at the start of the 2019 WWDC. Yes, it's modular. Yes, it's powerful. And, yes, it's expensive. So why did Apple create it?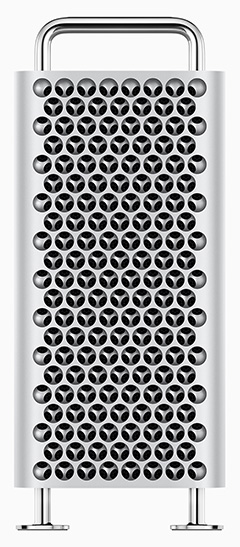 Think back to the launch of the 2013 Mac Pro. Powerful, but not expandable. Worse, Apple made some bad assumptions on where GPU technology would go in the future. The 2013 Mac Pro was only a limited success. In fact, many creatives hung onto their old "cheese-grater" Mac Pros simply because they were so easy to expand; even though these were first released in 2006.
Apple learned many lessons from this experience, all of which are reflected in the 2019 Mac Pro. The new version is highly modular, with more expansion capability than the original 2006 Mac Pro. Even the CPU can be upgraded because it is attached via a slot, rather than soldered into place.
I was reading a tweet from Stu Maschwitz yesterday: "Apple, by finally meeting nearly every one of their demands for a Mac Pro, has made a computer that is 100% not for them." While I think this is a bit hyperbolic, especially because of his insistence that a computer that doesn't use nVidia GPUs is not worth buying, there's some truth in his statement.
Apple faced a decision: abandon the Pro market to focus on consumers or prove to the Pro market that Apple could design computers that can compete head-to-head at the high-end of the market. Abandoning the Pro market was never a serious consideration, as Steve Jobs realized years ago – if Pros don't create on a Mac, very soon they won't create products that run on a Mac, or another Apple device. Still, creating new hardware from scratch takes years.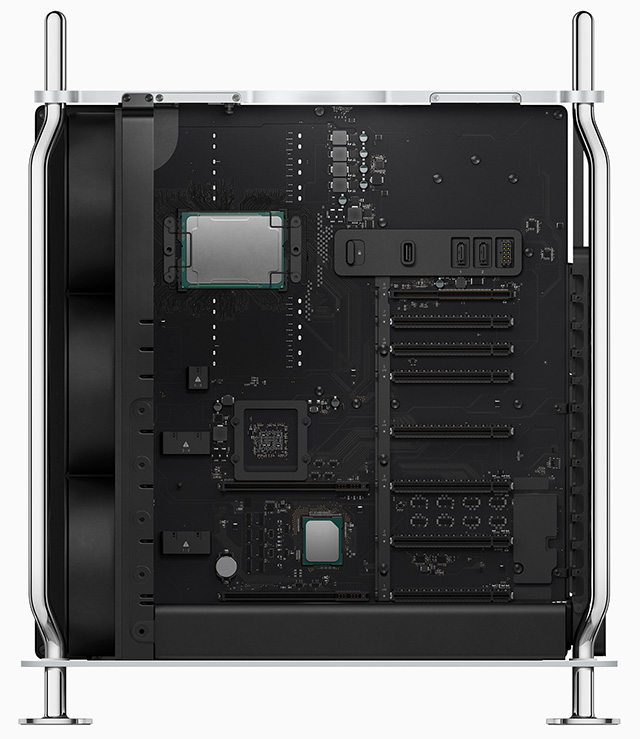 A friend who works in the chip design industry told me recently that, on average, it takes four to five years to create a new CPU or GPU chip from initial design to final release. Consider all the different chips that need to be created, tested and integrated into any modern computer and you can appreciate why new computers take several years to develop.
So, realizing that they couldn't abandon the high-end market, Apple set out to create the best, most modular, most upgradeable computer it could. It's target wasn't to beat the iMac Pro, but beefy workstations from SuperMicro, HP, Boxx, Titan, and others. Water-cooled, expandable, multi-GPU Windows beasts that cost multiple thousands of dollars. These high-end Windows systems use server-grade components which focus on delivering performance, rather than lower cost. While consumers want a low price, the high-end of the market will pay serious money to get serious performance.
Now, put your marketing hat on. If you are launching a new product, with high-end performance and a high-price, who do you target? Right! The people most likely to buy – those with money and a deep need for performance. Customers who want the security, reliability and integration that is a hallmark of Apple systems.
Marketing folks call customers like this the "low-hanging fruit;" customers who are most likely to buy a product. For them, performance, not cost, is the driving force. Apple would be foolish to ignore this market with their initial release, because these are the people who are the easiest to sell into.
At this point, though, a thought struck me. Last week, AppleInsider reported on the Mac Power Users podcast, where hosts David Sparks and Stephen Hackett had the opportunity to speak with Apple product manager Doug Brooks about the all-new Mac Pro. "[Our] team is really a deep investment on what we're doing here in the pro space," Brooks told Mac Power Users. "And it goes well beyond just Mac Pro to MacBook Pro and even iPad Pro. You're going to see the benefits and the implications of that team across all of our Mac products and our pro products."
Again, thinking like a marketer, once you have a product that defines the high-end, where do you go? Right, you expand the product line downward to appeal to users who need the performance, but can't afford the price.
Smile… think of this new product as a "Mac Pro mini." Similar form factor, not quite as high in performance or expandability, but with a lower price. To me, this new unit would replace the iMac Pro, with a similar price point. This new modular design can easily lead to an entire family of high-performance computer systems at a range of price points.
Much of the heavy-lifting for this new Mac Pro is now done. They have the hardware design, a powerful new interface providing multiple GPU support, slotted CPU, RAM beyond all reason… The next step is to bring out the junior model. Not this year, but next.
Personally, I'm looking forward to what happens next.
---
A TANGENT ON THE PRO DISPLAY XDR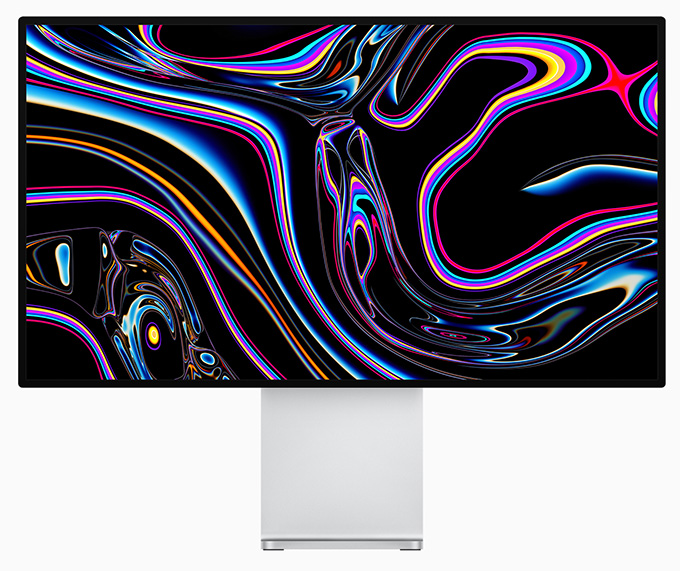 A quick thought on Apple's newest monitor: Pro Display XDR. Keep in mind that this a reference monitor, not a computer monitor. At 1,000 nits, if you replaced your current computer monitor with this thing, you'd start tanning the instant you looked at it. It is not designed for close-up work.
Remember those rumors about 10′ Thunderbolt cables? This monitor is designed to hang on the wall about ten feet from the computer so that clients, editors, DPs, and colorists  can all see the same high-quality picture, whether on-set or in the edit suite. Then, considering this is a reference monitor, compare the price of the Pro Display XDR ($4,999) to other HDR reference monitors. Here are three examples:
TV Logic ($32,000)
Canon ($29,500)
Sony ($23,400)
UPDATE: The challenge with this monitor was that it was rolled out to the wrong group of people. By and large, developers don't need high-quality HDR reference monitors to write code. A $500 LG monitor is more than adequate.
So, when the price was announced, the audience – and the press that follows them – instantly compared the $5,000 to a standard computer monitor around $500 and were appropriately shocked. Again, what reporter needs an HDR-quality monitor to write a news story? The price of the stand simply became a stand-in for not understanding the reason for or the price of the monitor.
The key to keep in mind is that this does NOT replace your computer monitor, this is IN ADDITION to your computer monitor. At which point its design, specs, image quality and price make a great deal of sense.
And, thinking about the stand, yes, the stand is expensive. But how many reference monitors have you seen that use monitor stands? Virtually all the reference monitors I've seen are bolted to the wall using a VESA mount, which is a far less expensive attachment than the stand.
---
Just something I'm thinking about. And, as always, I'm interested in your comments.
---
Bookmark the
permalink
.