The Small, Hidden, Updates in Final Cut Pro X 10.4.9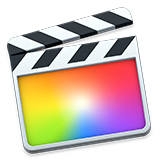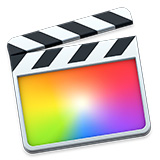 Apple updated Final Cut Pro X to version 10.4.9 yesterday and the marquee features are an improved proxy workflow and automatic reframing ("Smart Conform") converting traditional video to the different formats demanded by social media.
These free updates are available in the Mac App Store.
NOTE: I'm writing two separate articles covering the new proxy workflow and Smart Conform. I'll post links here when they are ready.
However, Apple also released a flood of small changes that drew a whole lot less press. Let me take you behind-the-scenes to discover these smaller gems.
VIDEO CODECS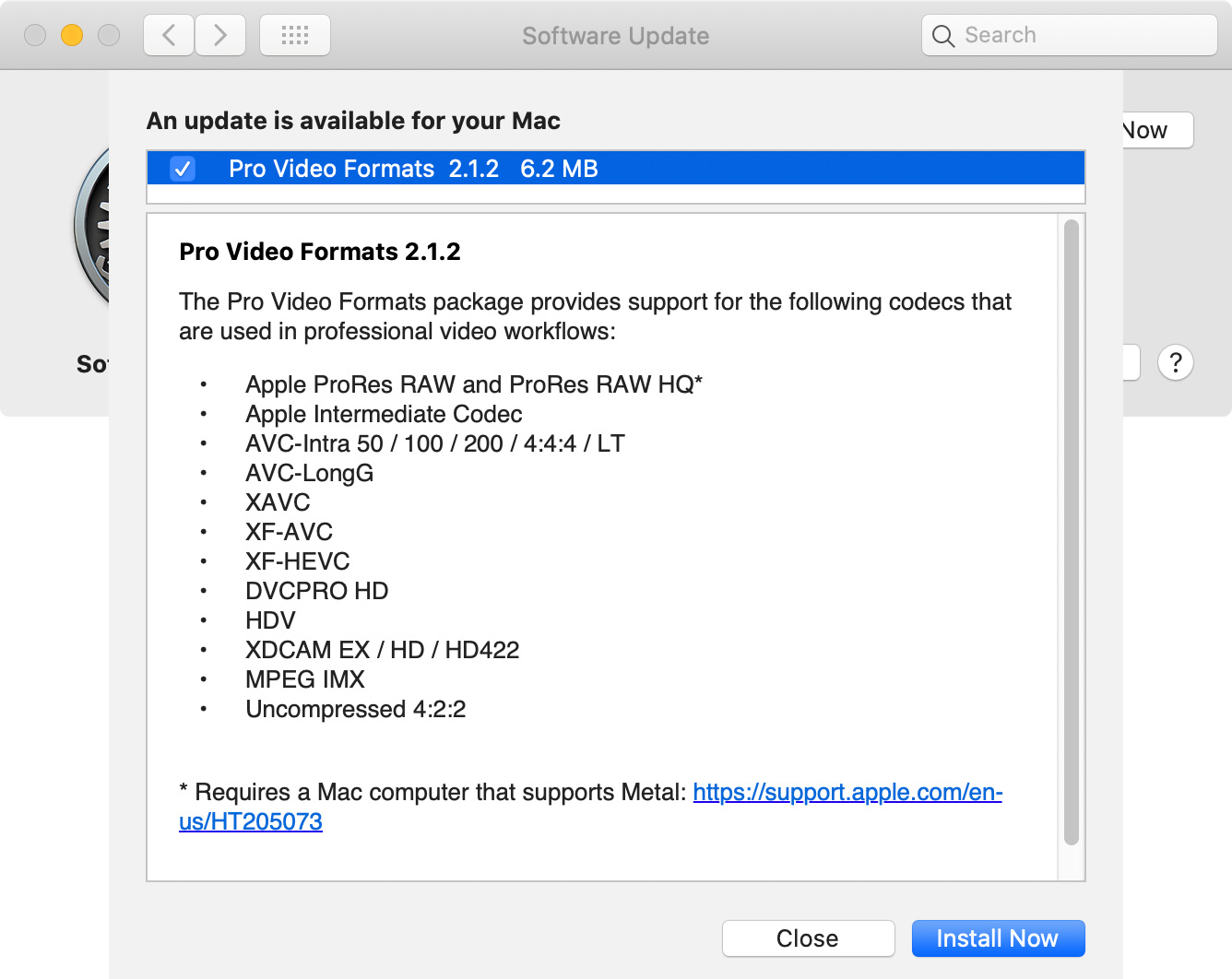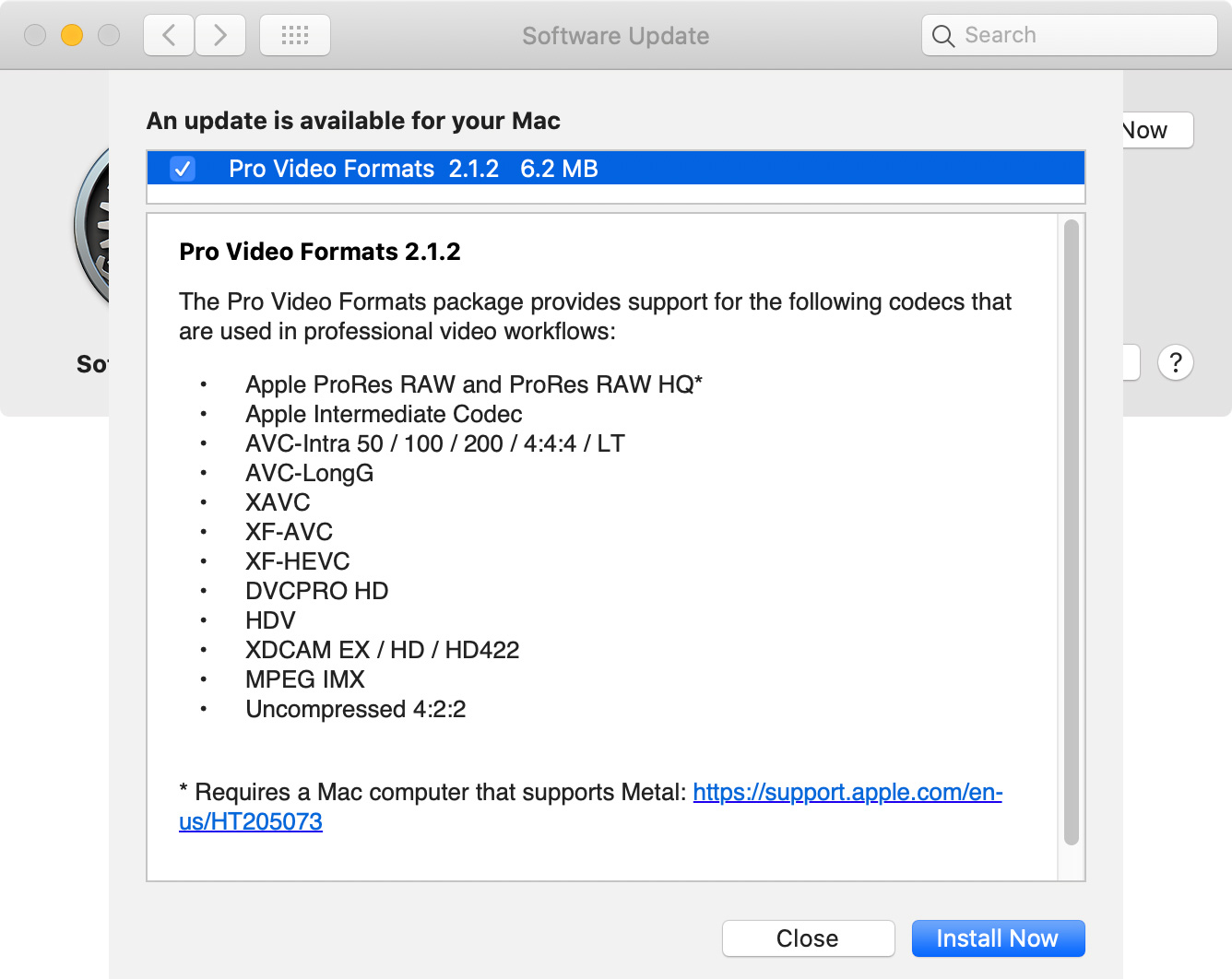 Apple updated a ton of camera codecs. However, you will need to update the Pro Video codecs for this version of Final Cut. To upgrade these, go to System Preferences > Software Update. All updates are free.
Also, if you edit RED footage, you'll need to update the free RED Workflow Installer to version 16.0.0 or later. Here's the link.  The RED installation will require restarting your computer.
AUDIO CROSSFADES
We can now quickly apply audio crossfades between two or more selected audio clips. Here's the process:
Select two or more clips that you want to crossfade (the audio equivalent of a dissolve) between. These MUST be touching – any gaps and this won't work.
Choose Modify > Audio Fades > Crossfade – or – type Option + T.
NOTE: This shortcut mimics the video dissolve shortcut of Cmd + T.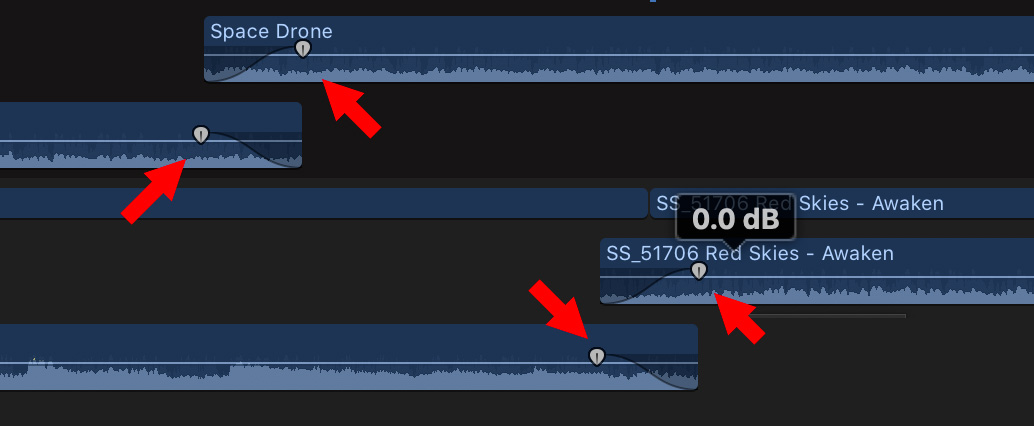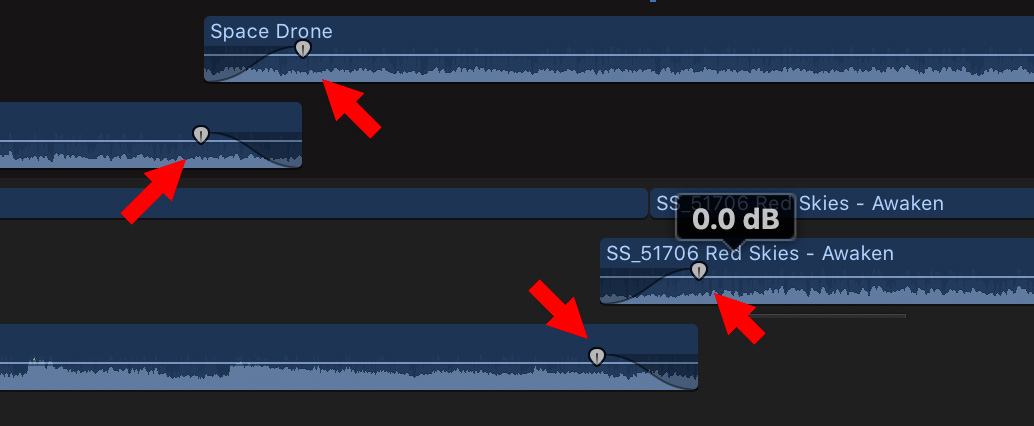 Then, if you want to see what FCP did, select the clips with fades and choose Clip > Expand Audio Components. This allows you to see the overlap between clips. In this example, I highlighted the fade dots of each clip. In normal use, you'd only see one.
Final Cut automatically moves the fade dots and trims the ends of each selected edit point to create a crossfade. You can change any of these manually.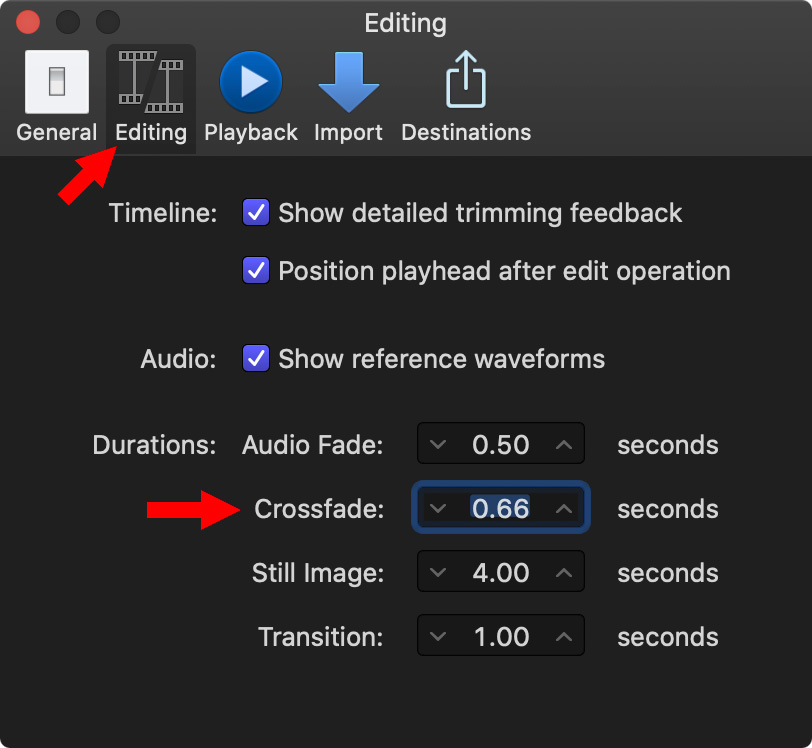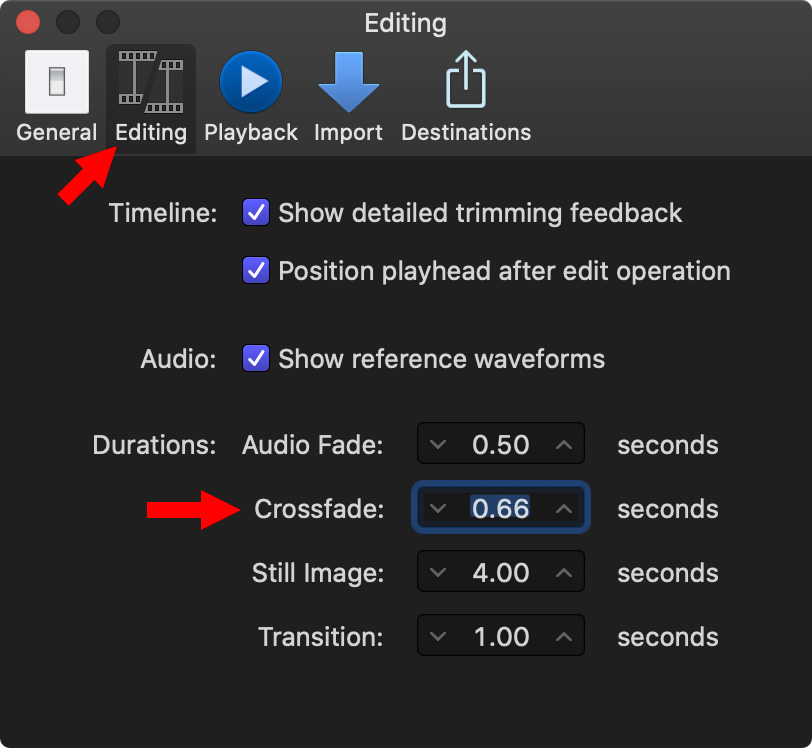 By default, each crossfade is 0.10 seconds. You can adjust this default duration for audio cross-fades, go to Final Cut Pro > Preferences > Editing and enter a new value into Crossfade. (I prefer fades between 1/2 and 1 second.)
IMPORT SETTINGS REARRANGED


Apple rearranged the import options – and added a couple new ones – to the Media Import window.
Analyze Video moved up from the audio options.
Transcode was beefed up with more options.
MORE PROXY OPTIONS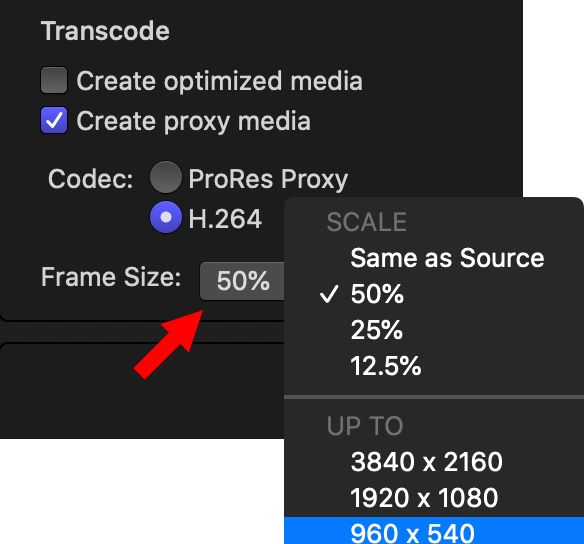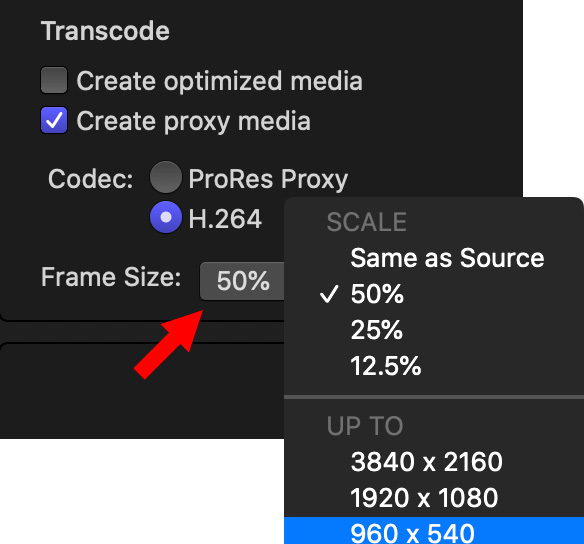 Transcode now supports creating proxy files in both ProRes Proxy and H.264. As well, it also supports creating proxy files at 1/1, 1/2, 1/4, and 1/8 size. (Smaller fractions create smaller files, but with lower image quality.)
For the best image quality, continue to create proxies using ProRes Proxy. This format is also the easiest to edit, especially on older systems.
However, we now have the option to create H.264 proxies. Both ProRes and H.264 support creating smaller files, though H.264 will be far smaller than ProRes Proxy. But, there's a trade-off. H.264 is less efficient to edit. If you have an older system, stay with ProRex Proxy, but at a smaller frame size.
Remember, you don't need great images when editing proxies. You just to see what's there to create a rough cut – or a rough multicam edit. Proxies are GREAT for multicam editing.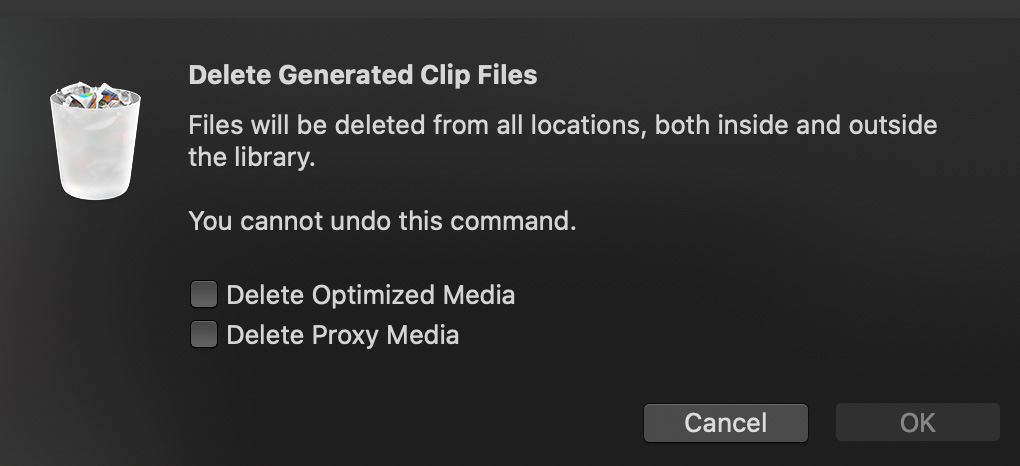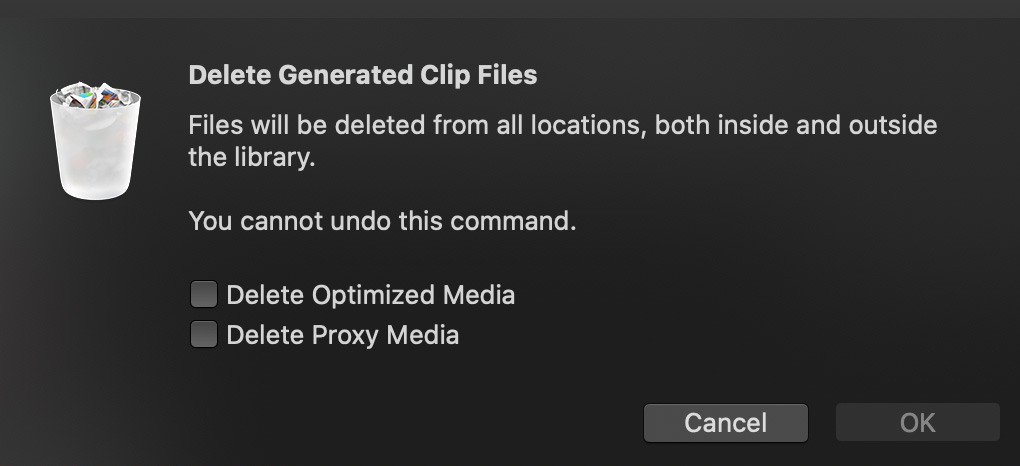 NOTE: We can now delete render files for individual clips, not just projects or events. To do so, select a clip(s) in the timeline or browser, then choose File > Delete Generated Media.
TIMELINE POP-UP MENU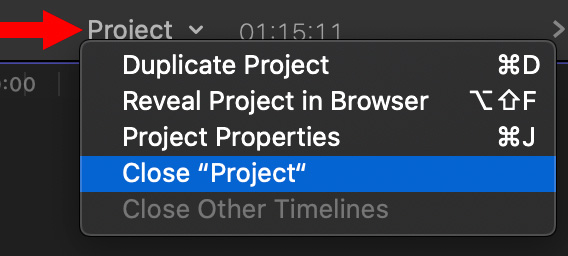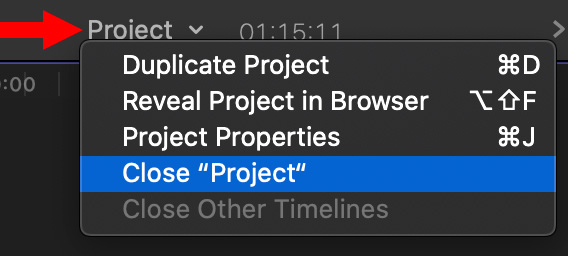 Click the name of your project at the top center of the timeline and new options appear:
Duplicate project. Remember, if you use compound or multicam clips, do NOT use this option. Use "Snapshot Project" instead. (Control-click the project in the Browser to create snapshots.)
Reveal Project in Finder.
Project Properties. This is the same as typing Cmd + J.
Close the current project. This removes it from the timeline, but not from the Library.
Close other projects. This removes other, not active, projects from the Timeline but not the Library.
REVISED PROJECT OPTIONS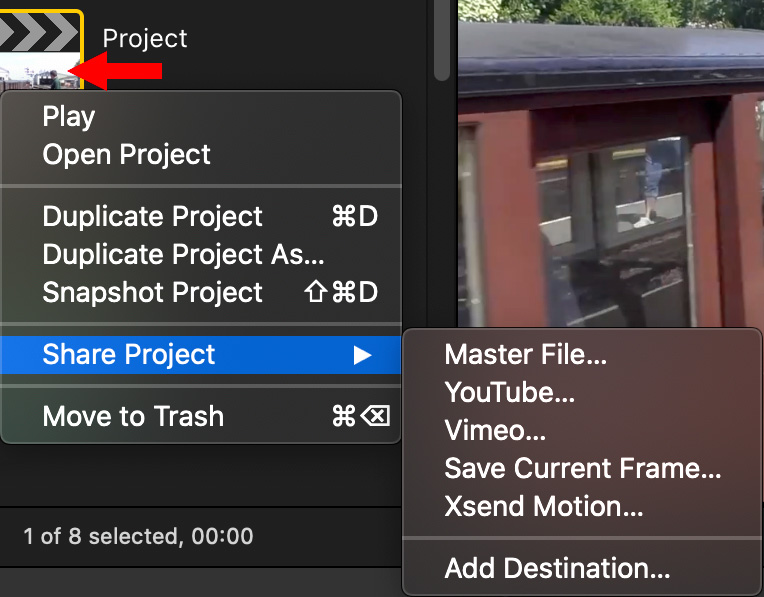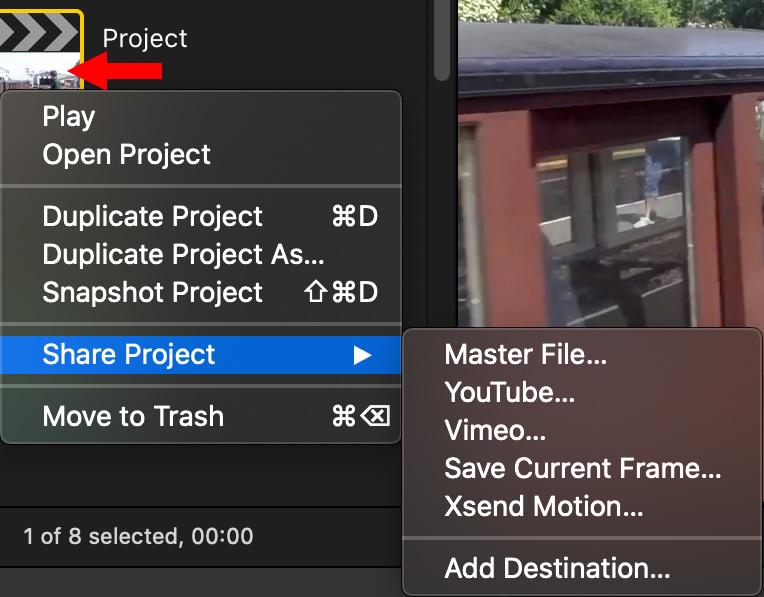 Control-click the project name in the Browser to see these options.
Play. Opens the project and plays from the last position of the playhead.
Open Project. Opens the project in the Timeline.
Duplicate project. Duplicates project.
Duplicate project as… and give it a new name, rather than just append "copy."
Snapshot Project. Renamed from "Duplicate Project as Snapshot." This is the best choice when duplicating projects.
Share Project. A faster way to export a project, based on preference settings.
Move to Trash. Delete project from storage.
There are limitations when you duplicate a project. Compound and multicam clips are copied, but not made independent. This means that if you have a compound or multicam clip in Project A and use it again in Project B, if you change it back in A, that clip in Project B will change too.
It is a MUCH better option to choose Snapshot, to protect yourself, than simply duplicating a project. Also, Snapshots are the better choice when you want to "freeze" a project at a specific moment in time; say as an approved rough cut that you don't want to change.
NOTE: Yes, given my choice, I would rather the Snapshot Project appear in the popup menu at the center of the Timeline.
BROWSER CHANGES


You can now display – and sort on – the last modified date for a clip or project.
Switch the Browser to List view.
Control click any column header
Check Last Modified to add it to the header
Click a column header to sort on that column
Click a second time to sort in descending order
360° VIDEO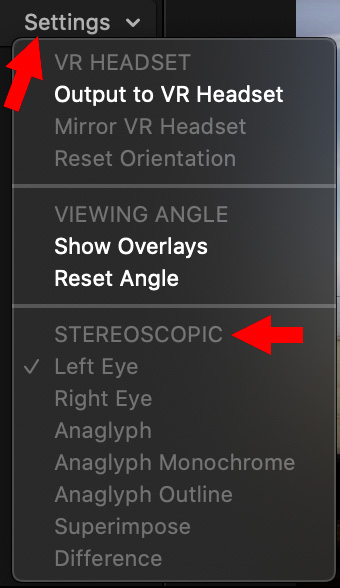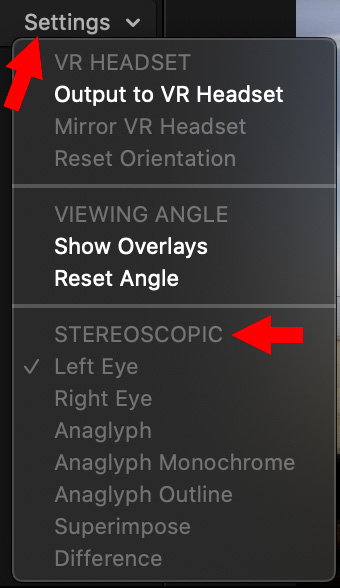 We can now preview 360-degree stereoscopic 3D video in simultaneous left and right eye views with the 360° Viewer.
We can also easily stabilize 360-degree video with one-click tools in the inspector. However, there are no settings to adjust when stabilizing 360 VR clips. Stabilization is either on or off and is enabled in the Video Inspector.
NOTE: Analyzing a 360° clip for stabilization will take a long time, MUCH longer than analyzing a traditional HD clip. Stabilization is a very good thing, however, start the analysis when you can be away from your computer for a while.
VIEW MENU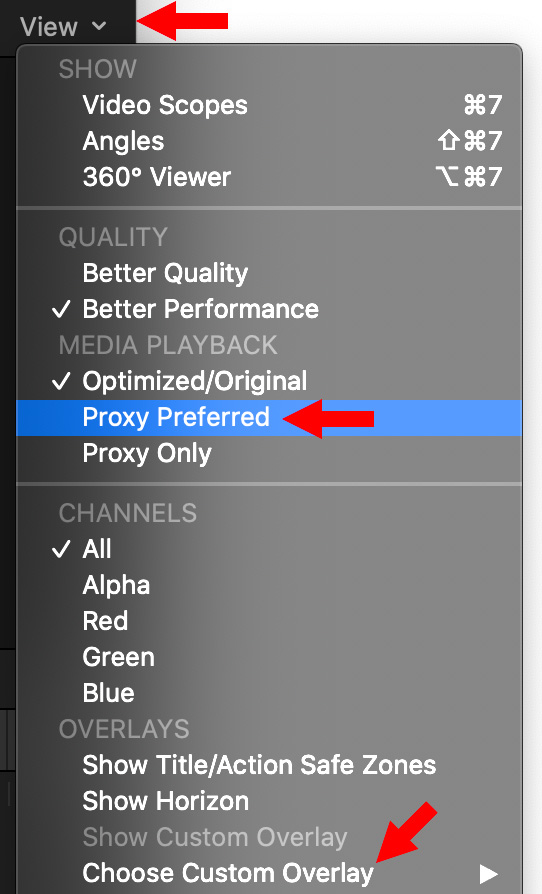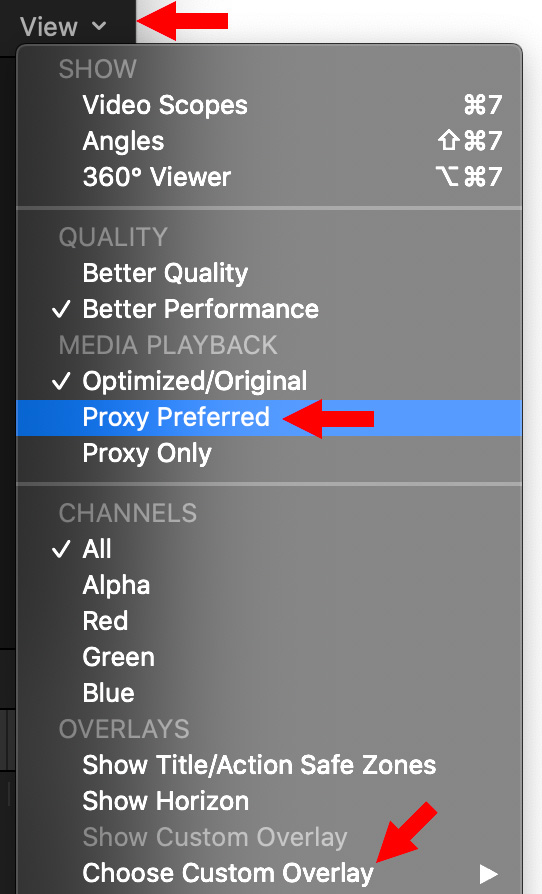 The View menu now has a Proxy Preferred setting. This means that, if you have created proxies they will be displayed. For those clips that don't have proxies, Final Cut will display the optimized or camera native media. This means that you no longer see the red "Missing Proxy" warning.
In general, when working with proxies, Proxy Preferred will be the better choice.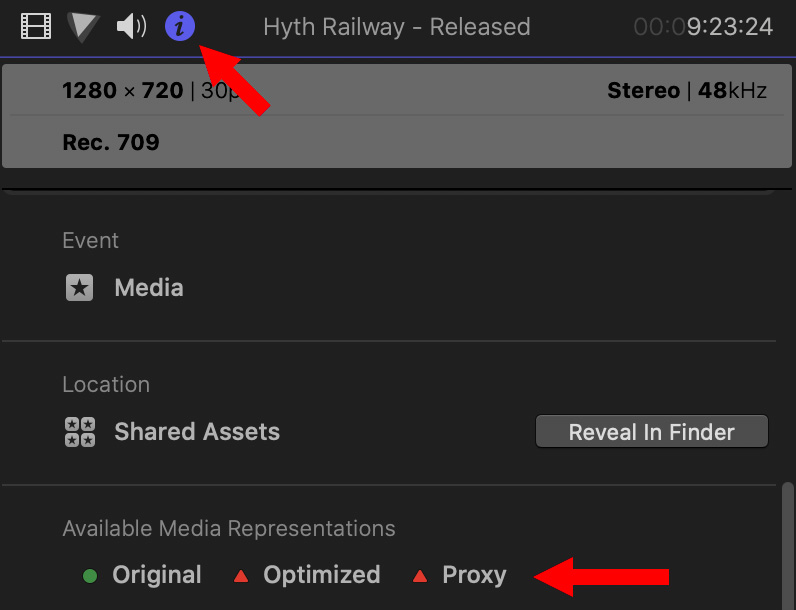 Because there is no quick indicator as to which files are proxy and which are not, select a clip, then scroll to the bottom of the Info Inspector. Clips with a green dot exist, clips with a red dot do not.
CUSTOM VIEWER OVERLAYS


Another new feature is Choose Custom Overlay, also in the View menu located in the top right corner of the Viewer. This allows you to import custom grids or framing guides for the Viewer.
Create these in Photoshop, or any other image editing application, and make sure the background is transparent. (I also recommend you match the frame size of your project.)  Save these as PNG or TIFF files with alpha channels and name the file something that makes sense. To add them to the Viewer, choose Add Custom Overlay; you can add several guides and choose between them in this menu.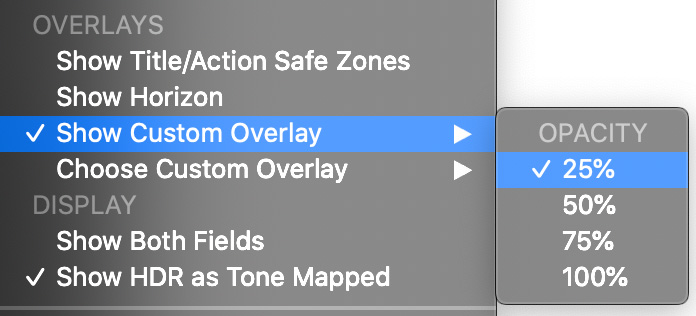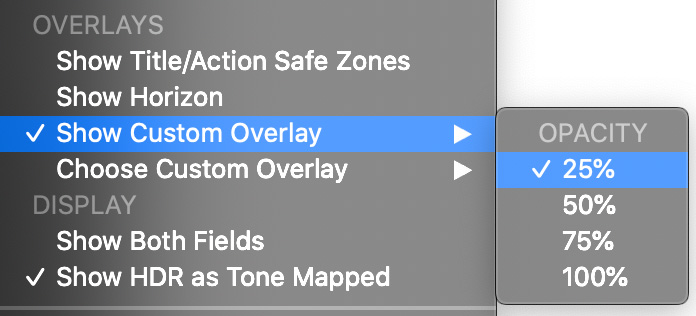 Once an overlay is imported, set its opacity in this menu. To remove an overlay from the display, uncheck Show Custom Overlay. I like the feature a lot!
NOTE: Here's an Apple KnowledgeBase article with more details on this feature.
TIMELINE TRICKS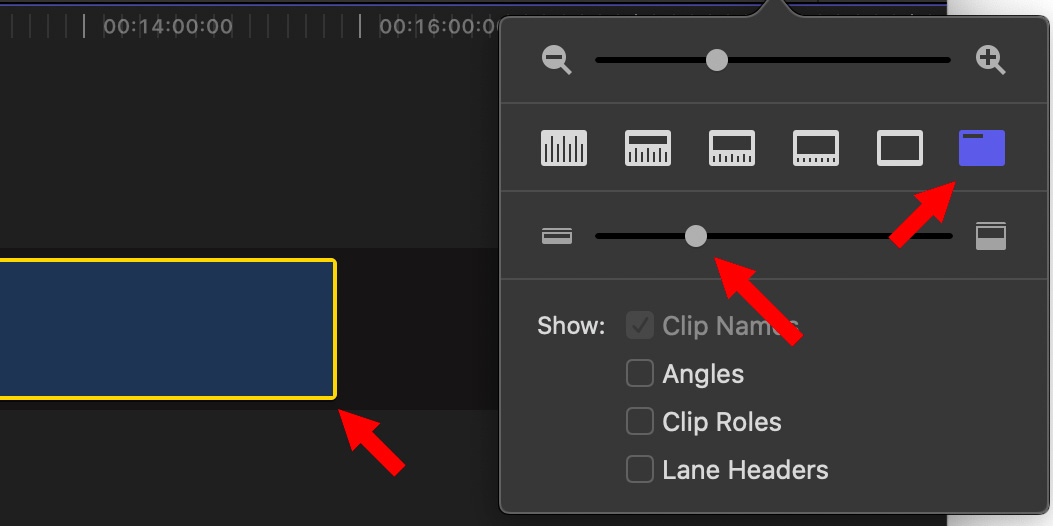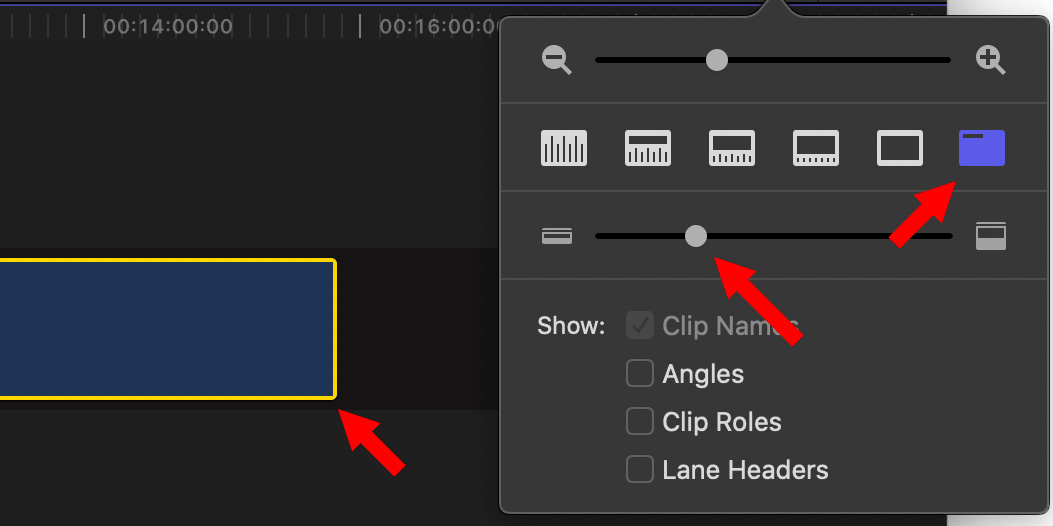 When you set the timeline to thumbnail view, you can now adjust the height of those thumbnails.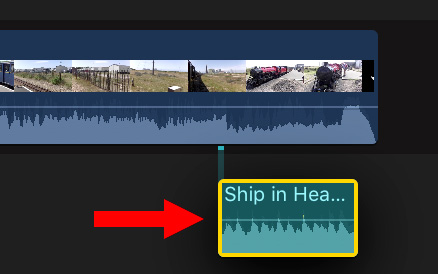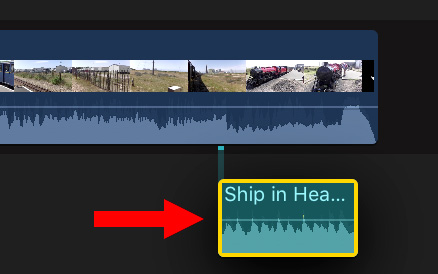 Apple also improved the visual feedback when dragging music or sound effects clips to the timeline.
SUMMARY
Apple made a wide variety of changes with this update – both large and small. Here's a link for Apple's complete list of changes. Let me know in the comments, if I forgot anything.
---
Bookmark the
permalink
.