FCP X: The Power of the Position Tool
One of the problems with the Primary Storyline is that it does not allow gaps between clips; everything always snaps together.
Well… that's not completely true. It's only true when you use the Arrow tool. Still, to get things to move, you really need to use the Position tool. Here's how.

For instance, here are two clips in the Primary Storyline that are touching. The second clip also has a connected clip attached to it. In this example, we want to create a gap between the two clips in the Primary Storyline. (To move a connected clip, all you need to do is drag it somewhere else.)
This can't be done using the default Arrow (or Selection) tool.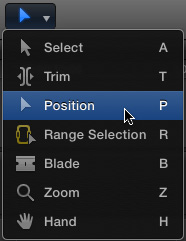 However, it is easy to do using the Position tool (keyboard shortcut P).

Using the Position tool, select all the clips you want to move – in this case, I dragged a rectangle around them – then drag them to the right.
This automatically adds a gap – which, in FCP X is an actual object – between the selected and non-selected clips. This gap can be any duration you want. In this example, I just created a short one, but there truly is no limit to how far apart you can drag clips.
When you are done dragging, type A to select the Arrow tool again.
---
POSITION OPTIONS
You can insert a gap at the position of the playhead by selecting Edit > Insert Gap (type: Option+W). The default duration of an inserted gap is 3 seconds.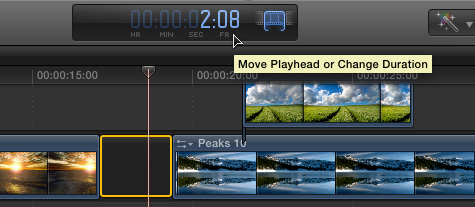 You can also use keyboard shortcuts to change the duration of a gap. Using either the Arrow or Position tool, select the gap who's duration you want to change.
Type Control+D (this is the same Duration keyboard shortcut that's in FCP 7).
In the blue numbers in the Dashboard, enter the duration you want the gap to become.
You can also trim gaps the same way you trim clips.
Finally, you can add transitions between gaps and clips the same way you add transitions between clips.
In other words, a gap acts just like a clip, except it displays black video and no audio. Could you use a gap as a slug? Yes.
---
VERY QUICK POSITION TIP
Once a gap exists in front of a clip in the Primary Storyline, you can easily move it left or right using timecode "offsets."
Select either the Arrow or Position tool.
Select the clip, or clips you want to move.
On the KEYPAD type the amount of minutes, seconds, or frames you want the selected clips to move. (You don't need to use punctuation if you don't want to.)
Negative numbers move the selected clip(s) left, positive numbers move the selected clip(s) to the right.
Very cool and very fast.
---
Bookmark the
permalink
.