The Buzz at NAB 2016: Ric Viers Interview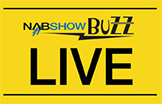 [This is an excerpt from the Digital Production Buzz coverage of NAB 2016. For all our shows and interviews, visit: NABShowBuzz.com]
The annual NAB Show is filled with new product announcements and technology. For 2016, the Digital Production Buzz produced a series of programs interviewing industry leaders about their announcements at the show.
In this audio interview, Larry Jordan talks with Ric Viers, Founder and CEO, BlastWave FX and the brand-new SoundEffects.com, about why he created SoundEffects.com to teach how to record sound effects, then an in-depth discussion of the process Ric goes through to record high-quality sound effects; in this case, frogs on a summer night.
---
Creating and Recording Sound Effects
TRT: 14:08 — MP3 Audio
(Visit NABShowBuzz.com to hear all The Buzz interviews at NAB 2016.)
---
Bookmark the
permalink
.