The Buzz at NAB 2016: Rampant Design Tools Interview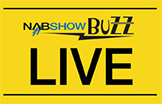 [This is an excerpt from the Digital Production Buzz coverage of NAB 2016. For all our shows and interviews, visit: NABShowBuzz.com]
The annual NAB Show is filled with new product announcements and technology. For 2016, the Digital Production Buzz produced a series of programs interviewing industry leaders about their announcements at the show.
In this audio interview, Larry Jordan talks with Sean Mullen, Lead Designer for Rampant Design Tools, about their newest effects packages, plus an in-depth discussion of how they created their most popular package: Lens Flares.
NOTE: James DeRuvo, from DoddleMe.com, joins Larry as co-host for this segment.
---
Creating Lens Flares and Other Visual Effects
TRT: 16:23 — MP3 Audio
(Visit NABShowBuzz.com to hear all The Buzz interviews at NAB 2016.)
---
Bookmark the
permalink
.