Changing the Length of a Still Image
[ This article was first published in the December, 2010, issue of
Larry's Monthly Final Cut Studio Newsletter. Click here to subscribe. ]
Unlike video, which has a fixed duration, still images are assigned a duration when they are imported into Final Cut.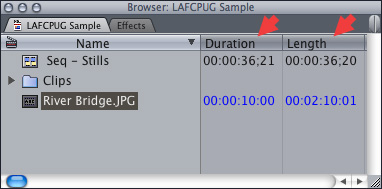 There are actually two "durations" assigned to a still image when it gets imported:
Duration is the amount of time between the In and the Out. By default, this is set to 10 seconds, though you can change it in Final Cut Pro > User Preferences > Editing tab.
Length is the amount of time for the entire "media clip." By default, this is set to 2:00:00, plus whatever Duration is assigned to the clip. While there is no way to change this default setting, you CAN change it.
Here's the secret: You can not change the Length of a still image once it has been edited to the Timeline. This means that you need to change it BEFORE you place it into the Timeline.
You can't change Length in the Browser, though you can change the Duration. So, that means you need to change the Length in the Viewer – just before editing the clip. But, how?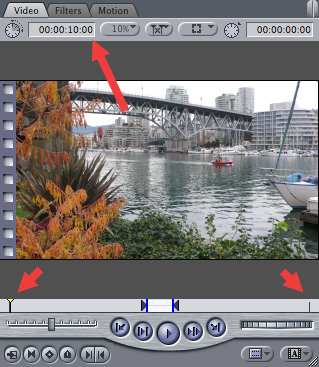 Load the still image you want to change into the Viewer.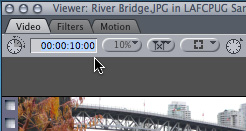 Double-click in the timecode box in the upper left corner (the default duration is 10:00).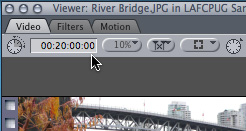 Change the duration to any number you like — in this case, I changed the Duration (which also changes the Length) from 10 seconds to 20 minutes.

Now, when you edit the clip into the Timeline, it will have the new duration. This makes it very easy to create a slug, or graphic that runs the length of your program, without needing to constantly duplicate the clip in the Timeline.
NOTE: This technique only works with still images, not video clips.
Cool!
UPDATE – DEC. 31, 2010
Tom Wolsky adds:
[Saying you can't change the duration of a still image once it's been edited into the Timeline] is no longer correct. You now simply have to open the still into the Viewer from the Timeline and dial in a new duration, longer than the original length if you wish.
Larry replies: Thanks, Tom. I am not able to get this to work reliably. However, if you say it works, then I believe you.
---
Bookmark the
permalink
.