Sorenson Squeeze: Get Started [Video]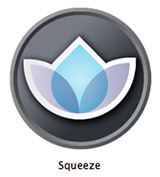 There is a wide variety of video compression software on the market. One of the high-end packages is Sorenson Squeeze which, when combined with Sorenson 360, provides a wealth of formats and features not available in Apple Compressor.
I've written a lot about Apple Compressor. However, recently, I began working with Telestream Episode, along with Sorenson Squeeze, because both provide compression options not available in Compressor.
In this short, four-minute video tutorial, I'll orient you to the interface and show you how to setup a simple compression in Sorenson Squeeze. (Squeeze also provides a lot of in-depth features, download their free trial and experiment for yourself.)
NOTE: This is an excerpt from my recent video webinar on video compression, comparing Telestream Episode with Sorenson Squeeze and Apple Compressor. You can download the entire webinar here or become a member and access all my video training via my new subscription membership.
TRT: 4:35 — QuickTime HD movie

NOTE: This video won't play inside FireFox, please use a different browser.
---
Bookmark the
permalink
.