FCP X: Smoothing "Ken Burns" Moves
Here's a quick tip for Final Cut Pro X:
If you are adding Ken Burns moves to two clips and you want to add a transition between them, apply the transition between the two clips FIRST, then add a Ken Burns move to each of the two clips on either side of the transition.
If you add the transition after adding the moves, the moves will pause during the transition.
---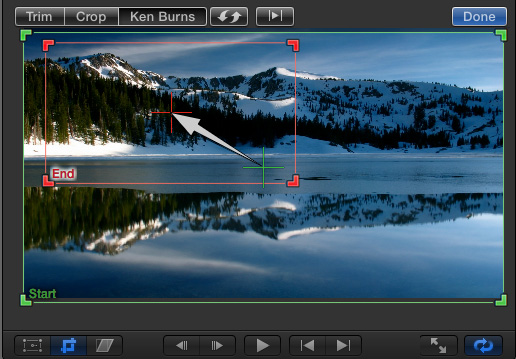 A "Ken Burns" move is one of the three Crop moves in FCP X. This effect allows you to create moves within an image; we generally use this on still images, but it works for both moving video and stills.
To create a Ken Burns move:
Select a clip
Click the crop icon in the lower left corner of the Viewer.
Drag the green rectangle to indicate the starting shot
Drag the red rectangle to indicate the ending shot
Click the OK button.
The duration Ken Burns effects always equals the duration of the clip. Also, it always applies an Ease-in / Ease-out behavior to the effect. To create a move that only last for a portion of a clip, you'll need to use keyframes.
---
Bookmark the
permalink
.