Secret Tip: Editing Multicam in Apple Final Cut Pro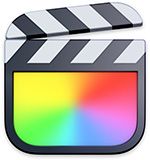 Final Cut Pro is known for the high-quality and high-performance of editing multicam clips. It's a delight to use.
But… one of the features that has always troubled me is that, unlike Final Cut Pro 7 or Adobe Premiere Pro, you can't flatten the multicam clip when you are done editing.
BACKGROUND
Unlike "normal" editing, where we view, edit and playback one clip at a time (ignoring, for the moment, visual effects like split screen), multicam editing plays back ("streams") multiple clips at the same time. This places great demands upon storage bandwidth—especially as frame sizes increase.
For example, I have a four-drive RAID composed of spinning hard disks (because they hold a lot and don't cost much) that I use for editing. This RAID reliably delivers 350 MB/second, or more, of data when I'm editing. This is more than enough for any editing up to 4K. But not multicam. Multicam requires far more bandwidth, which I'll illustrate in a second.
NOTE: "Bandwidth" is the speed data transfers between the storage system and the computer. It's measured in MB/second. "Read" is data coming from storage. "Write" is data going to storage.
Flattening is done at the end of an edit, when you no longer need to see all the different angles. When you "flatten" a multicam clip, you disconnect all the angles that you don't need and only play the ones you do.
However, Final Cut doesn't flatten. For years, I thought that meant that every clip was playing all the time. Nope.
THE SECRET
When the Angle Viewer is open, displaying all the multicam angles for editing, Final Cut streams all the angles in a multicam clip.
When the Angle Viewer is closed, so that you only view the clips in the timeline, Final Cut only streams the timeline.
In other words, Final Cut automatically flattens a multicam clip based on whether the Angle Viewer is open. Even better, if you suddenly realize you need to reedit a multicam clip, simply reopen the Angle Viewer. All those clips are still there, linked and ready to edit.
THE PROOF

Here's an example. I created a multicam clip composed of four 4K clips. When I edited it, the bandwidth varied from 200 MB/second to 1.2 GB/second, and averaged around 500 MB/second! In this screen shot, Final Cut was using more than 600 MB/second to play this multicam clip (red arrow).
NOTE: You can measure storage bandwidth yourself using Utilities > Activity Monitor. Click the Disk text button at the top, then look at Data Read to monitor data traveling from storage to the CPU.

However, when I close the Angle Viewer and play the timeline, the bandwidth drops to 50 MB/second. (This, too, varied from about 50 – 75 MB/second.)
A SIDEBAR ON MULTICAM STORAGE
Editing multicam clips really taxes storage. Successful multicam editing – especially as frame sizes or the number of camera angles increase – requires shifting your storage from spinning media to SSDs.  There are two reasons for this:
SSDs are faster. A spinning hard disk transfers data around 225 MB/sec. An older SCSI SSD is around 400 MB/sec. A newer NVMe SSD is about 2,800 MB/sec.
SSDs have no latency. Latency is the time it takes the heads in a spinning hard disk to travel from one spot on the drive to another. The more clips that are playing at once, the more places those heads need to jump in order to play each clip. The more they need to jump, the faster they need to move for each jump. "Jump speed" is what latency measures. Lower is better. SSDs have essentially 0 latency, making them much more efficient for mulitcam editing.
SUMMARY
Final Cut saves wear and tear on your storage by automatically flattening multicam clips when the Angle Viewer is closed. Cool.
---
Bookmark the
permalink
.