HARDWARE REVIEW: RAIDAGE Trayless RAID

{For my policy on product reviews, read my disclosure here.)
UPDATED – July 6, 2012
Felicia, at iStarUSA, contacted me recently about reviewing their GAGE104U40 series of 4-bay Trayless RAID systems. They market it under the brand name "RAIDAGE."
I'm always interested in storage so I said "Yes, thanks!"

Shortly thereafter, the new RAID showed up. Like many storage vendors moving into the retail market, iStarUSA is a well-established supplier of OEM products – OEM (Original Equipment Manufacturer) means that iStarUSA makes products which are sold to consumers by other companies.
Their website says:
iStarUSA Group has over 20 years of experience in the industrial computers industry. We specialize in OEM/ODM projects and manufacture of industrial power supply, rack-mount chassis, enclosed cabinets and racks, data storage, and custom power solutions.

Our intrinsic value is driven by one steadfast belief: "To always provide our customers with the best products and superior customer service."
While it is hard to tell for sure, the chassis I was sent retails for about $325 and holds up to four 3TB drives. In a RAID 5 configuration, that would allow for up to 9 TB of storage. (A RAID 0 could be configured using only two drives.)
FIRST LOOK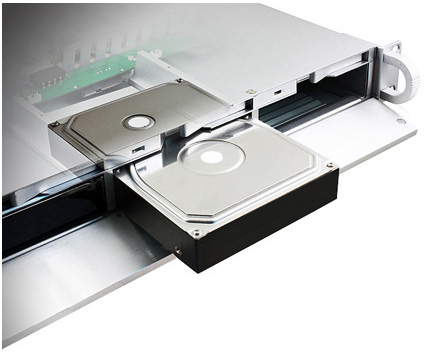 At first glance, this chassis (the RAID ships with no drives) looked nice. Aluminum finish, easy access to the drive slots.
I happened to have four Seagate 2TB drives sitting around the office, so I slipped them into the unit. Adding drives is easy, requires no screws or hardware and is very, VERY difficult to mess up. (However, removing the drives was a bit trickier, two of the levers that push the drives out took a lot of force to eject the drive.)
At this point, problems typical of an OEM manufacturer started to show up. The "user manual" is a single sheet of paper that's written in a style I call "translated Chinese." It CAN'T be that expensive to hire an English-speaking copy-editor to proof-read a single sheet of paper, and it would surely help make the configuration process understandable.
NOTE: The installation instructions imply that this RAID only supports USB 2 when connecting to a Mac, which is not correct.
The access door, which covers the drives, was either manufactured, silk-screened, or mounted upside down – the text silk-screened onto the door was upside down and the little windows which allow you to watch the blinking lights from the drives didn't align with the drive lights. Once the cover is closed, you can't tell if the drive is on or off, or if the drives are working. Also, the magnetic latches holding the door closed are very weak and the access door tends to fall open.
I'm starting to get the feeling that the company mission statement about quality has not yet filtered down to the manufacturing floor.
I REALLY like the idea of a RAID that can either sit on the table-top (it has rubber feet to keep it from skidding) or can be rack-mounted as part of an edit bay.
However, back to that quality thing, the screws for the rubber feet never tightened down completely which meant the feet were loose and allowed the unit to wobble. Also, the bottom of the unit has 28 different holes drilled into it: 10 filled with screws, four for the feet and 14 that seemed empty and waiting for… something.
POWER ON

The RAIDAGE supports USB 2, FireWire 400, FireWire 800, and eSATA. For Mac users, there is ZERO benefit to attaching a RAID using either USB or FireWire 400, so I didn't bother.
For some reason, and I do NOT blame the manufacturer, I was not able to get eSATA to work. On the other hand, eSATA is not an option for any Mac other than a MacPro or 17″ MacBook Pro.
The fans are quieter than many RAIDs, but still louder than I would like. iStarUSA advertises this RAID for audio and video recording applications – if they could cut the fan noise in half that would be great.
For my speed tests I used FireWire 800. This will ALWAYS be slower than eSATA, but for many Mac editors, FireWire 800 is the fastest option for connecting storage to their computer.
NOTE: As far as I could tell from their website, iStarUSA does not currently ship storage with a Thunderbolt connection.
I attached the FireWire cable and power to the unit, set the DIP switches on the back to RAID 5, and powered the unit up.
NOTE: Click here to read an article explaining what RAID levels mean.
It beeped once, to indicate it recognized the DIP switch settings, and a warning message appeared on my Mac saying the drive needed to be initialized. Initialization is normal for all new hard drives.
I opened Disk Utility, selected the RAID and formatted it as HFS+ Journaled. (Journaling creates a slight performance hit, but minimizes problems with corrupted disk directories. The performance hit due to using FireWire is far greater than any slowdown caused by journaling.)
Formatting was done in a minute or two and the new RAID showed up on my desktop, like any other hard drive.
SPEED TEST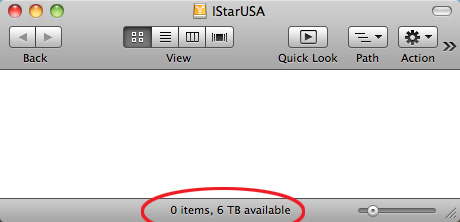 There's something very sweet about 6 TB of brand, spanking new, totally empty storage. (It won't be empty long, so I was enjoying the view.)
Using my 2010 MacPro, I used the AJA System Test utility to run a file size sweep. Hard drive speeds generally vary based on file size (bigger files write and read faster), and write vs. read (writing is generally faster).

Now the surprises started. Regardless of file size, speeds didn't vary. And, in fact, write speed was slower than read and both were below single drive speeds. For example, the write speed (the speed the drive records data) was 68 MB/second, regardless of file size. A single hard drive inside my MacPro (also a 2TB Seagate) was 7% faster for writes. RAIDs should ALWAYS be faster than single drives, all things being equal.
Read speed hovered around 83 MB/second. That same internal single hard drive was only 5% slower.
The theoretical speed limit for FireWire 800 is 100 MB/second. For a RAID 5 with four drives, I would expect read and write speeds around 90 MB/second. The speed of this unit is nothing to write home about, and the write speed I found especially distressing.
A BIGGER PROBLEM
Still, RAID 5 storage is a good thing – it protects you in case a drive dies. However, what made this unit unacceptable for media use is that it automatically powers down into sleep mode if the drive is unused for five minutes.
This means that if you are using it for video or audio editing and you are not reading or writing to the disk, it will go to sleep automatically. And it takes about 10-15 seconds to wake back up again. This will drive you absolutely nuts if you are trying to edit efficiently.
At the very least, there needs to be some way to turn off auto-sleep mode on the unit, but iStarUSA's website had very limited tech support options to help find answers to that question.
UPDATE – July 6, 2012
The folks at iStarUSA notified me that they have added the ability to control sleep mode. They wrote:
The RAID manager allows you input an interval of standy by or SLEEP mode timer.
This is excellent news.  Here are links to download updates:
Windows: www.istarusa.com/documents/faq/RAID_Management_v0.09.67_Windows.rar

Mac: www.istarusa.com/documents/faq/RAID Manager_JMicron_v0.09.58_Mac.zip
SUMMARY
RAID 5 is a good thing. An inexpensive RAID chassis is a good thing. Slim, rack-mount storage with quiet fans is a good thing. But, this RAIDAGE RAID is not a good thing.
iStarUSA needs to address:
Manufacturing quality
Data transfer speeds
Improving the clarity of the installation instructions
Disabling auto-sleep
Decreasing fan noise
This unit isn't bad – but it isn't designed for working with media. There are better choices. iStarUSA tells me they are working on a new version. I'm looking forward to seeing the improvements.
---
Bookmark the
permalink
.