Rethinking Audio Levels [u]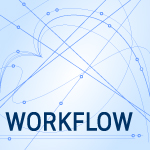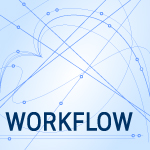 [Updated 9/26/16 with a Reddit link on audio levels then, again, 9/30/16 with modified settings for web audio.]
For years, I've taught the following two audio concepts:
Audio levels must not exceed 0 dB at any time for any reason.
When mixing for the web, set your peaks to bounce between -3 and -6 dB.
NOTE: When mixing audio for broadcast or theatrical release, your specs are much more stringent.
Both of those statements are still valid, but I've learned that they are no longer enough. We now need to also consider average audio levels.
BACKGROUND
Peak levels measure the instant by instant maximum level of a sound; peaks can apply to either an individual clip or a mix.
Average levels measure the level of a sound over time; which tends to reflect more accurately how the ear hears. While average levels can apply to a single clip or track, it is most appropriate for the entire mix.
Complicating the mixing issue is the relatively recent passage of regulations affecting sound mixing in both the EU and US; the Calm Act is the relevant legislation in the US. These regulations specify that, when mixing audio for broadcast or cable, average audio levels must not exceed -24 LKFS; where one LKFS is essentially the same as one dB.
While programs delivered to the web are not affected by these rules, unless they first appeared in a broadcast or cable program, paying attention to average levels can improve the quality of our mixes.
MY THINKING EVOLVES
I first started thinking about this three years ago as we were mixing the second season of the "2 Reel Guys." We had the budget to work with a professional audio mixer for some of the shows and he started me thinking about mixing using average, rather than peak, levels. However, our studio sessions were short and I didn't have much time to talk with him.
Moving into our video studio last year accelerated this, where our audio engineer – Ed Golya – and I would have long conversations about how to mix television programs. Ed is a multi-Emmy-Award-winning audio mixer and working with him every week was a treat.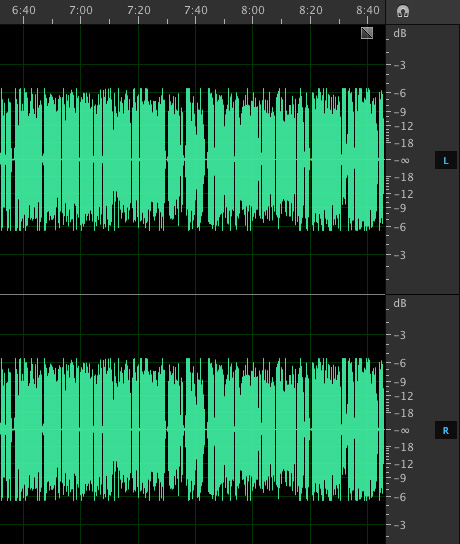 Here's a sample stereo waveform of an interview (left channel is on top). Notice how even the peaks are and how dense the waveform is? Peaks are around -6 and overall audio levels are consistently loud.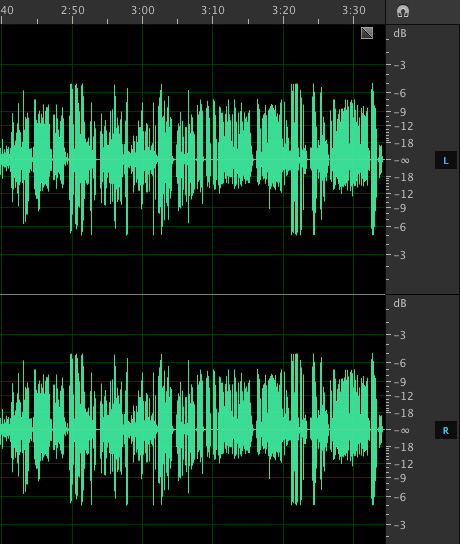 Here's another example from a different interview. Here the peaks are also around -6, but there is a lot more variation within the clip. The loudness level will vary a lot as you listen to it. Peak levels alone do not adequately convey the difference in levels between these two clips.

We are all familiar with the audio meters, showing peaks on a moment-by-moment basis.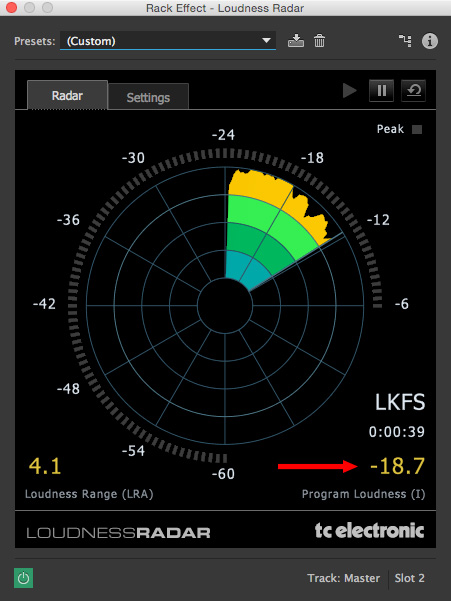 But, our mixes will improve if we also watch our average levels, as measured by loudness; such as this Loudness Radar in Adobe Audition.
NOTE: Here's an article I wrote explaining how the Loudness Radar works.
UPDATE – 9/26
After I first published this article, Michael Kammes shared a Reddit link of professional audio engineers discussing where they set levels for broadcast and web. Read their views here. I found their comments on doing two mixes – one for broadcast and one for the web – so enlightening that it crystallized my thinking on settings for my own web work.
HERE'S WHAT I'M DOING NOW – 9/30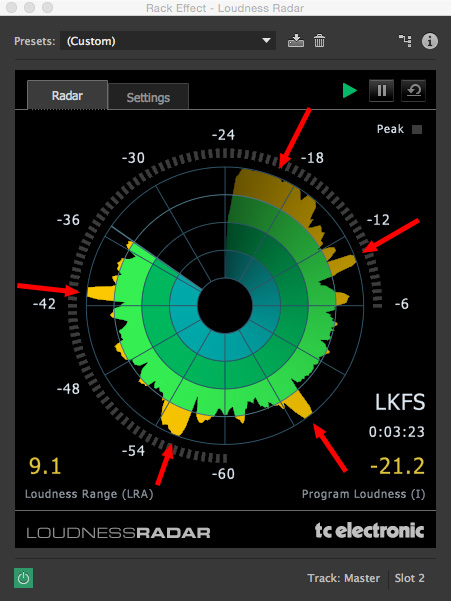 Here's an example of an interview where things are out of whack. Notice the high peaks around 1:00, 2:30, 5:00 7:00 and 9:00, as indicated by the red arrows. These are sections where I am asking a question. (The softer passages are where the guest is speaking.) My mic is closer to me – and higher quality – than the guest's voice over the phone. Thus, my levels are louder.
As you listen to the interview it is easy to hear these louder passages, even though the difference in peaks is not that great. (Yes, I'm using compression and limiting on the different tracks, which will account for some of this.)
NOTE: My past experience with poor quality computer speakers made me realize that louder is better – provided the audio does not distort. So, when I'm mixing for the web, I don't bring my levels all the way down to -24. Instead, I use an average level hovering around -16 LKFS. However, broadcast/cable mixes must still follow their rules, which require -24 LKFS.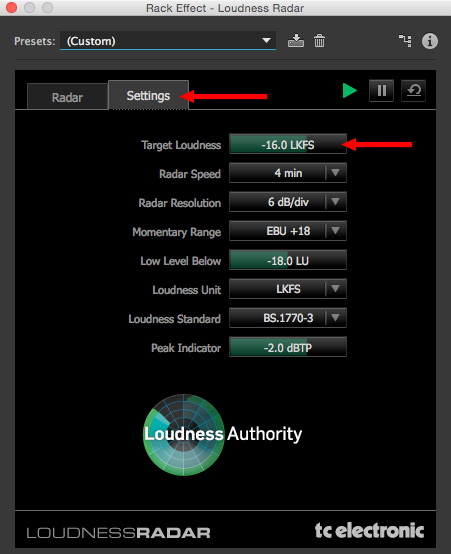 The Loudness Radar defaults to -24 LKFS; which assumes the audio output is for broadcast. For the web, we need to change this. Click the Settings tab and change the Target Loudness to -16 LKFS; this sets the second circle to match my web settings. This makes it much easier to see whether your audio is at the right level or not.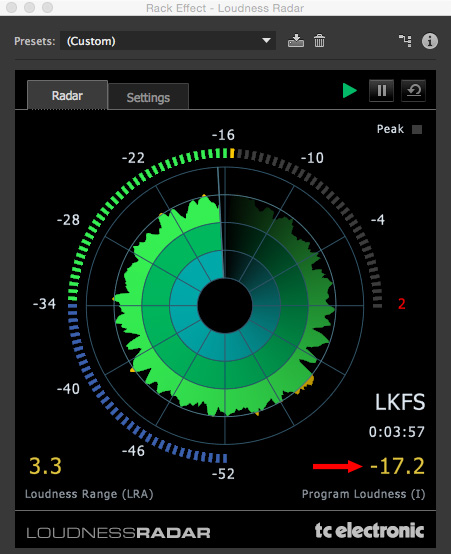 So now, after I'm done editing any project that has more than one audio source, I move that project – whether edited in Premiere or Final Cut – into Adobe Audition. There, I apply the Loudness Radar to the Master track so I can monitor my final mix. (The Loudness Radar is for monitoring only; it doesn't change the mix itself.)
For example, this screen shot shows a much more even mix where no single section or speaker stands out from the rest. (The LKFS level is -17, all audio levels are relatively consistent and hovering around the second ring. This is a shade softer than -16, but close enough that I'd post it.)
Again, what I'm looking for is consistent audio levels which are as close to the second circle as possible, with an LKFS reading of about -16.
SUMMARY
As I said a the beginning, my opinions on audio levels are evolving. Peaks are important, but no longer enough. We need to watch our average levels. As I pay more attention to average levels, my mixes sound more consistent while the volume is still loud enough to be heard on a computer or mobile device speaker; i.e. devices with relatively poor quality and limited power.
Premiere and Audition include the Loudness Radar with their software. Final Cut Pro X has a variety of free and paid plug-ins that will monitor loudness. However, given the broadcast and cable requirements in both the US and Europe, loudness monitoring should be included with the software itself.
I'll continue sharing my thoughts as I learn more and apply it to my work.
---
Bookmark the
permalink
.