Product Review: Vuze+ VR Camera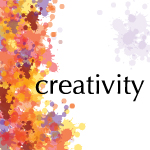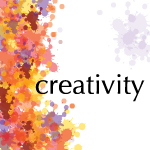 [ Read my product review disclosure statement here. ]
Recently, I've had the opportunity to experiment with 360° VR using a Vuze+ VR camera in developing a webinar "Introducing 360° VR". I borrowed the camera for the summer from the school where I to allow me to develop a new class enabling students to discover 360°VR.
NOTE: This format is also written as 360/VR. I've discovered I use both in this article.
The camera itself was purchased about six months ago, but this was the first chance I had to spend several days working with it.
EXECUTIVE SUMMARY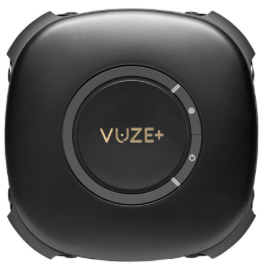 The Vuze+ VR Camera, developed and manufactured by HumanEyes, is an eight-camera, four-mic unit for recording stereoscopic (3D) or monoscopic (2D) 360° VR video images, accompanied by either stereo or surround audio.
This is a highly-portable, affordable and easy to use 360° VR camera, hampered by a somewhat flaky mobile app for controlling the camera and "stitching" software that has a virtually unreadable interface on a Mac. While the software has serious limitations, the quality and price of the camera make it worthy of consideration for filmmakers looking to experiment with this new medium.
Support is slow, but adequate, though no one responds to any messages sent via chat. The online support documents are very helpful in getting started. There are also a variety of video tutorials on how to use the camera and software.
Product: Vuze+ VR Camera
Manufacturer: HumanEyes
Website: https://vuze.camera
Price: $999.00 (US)
VuzeVRStudio software and Vuze mobile app are free.
DEFINING TERMS
What is 360° VR? 360° VR puts two or more cameras in the center of a sphere, then shoots in all directions at once – up, down and around all sides. The creates the illusion of the viewer standing in the middle of an event, able to watch everything happening around them, but not able to move.
There are three types of VR:
Interactive. This requires a massive amount of computer programming. Interactive VR allows us to move through space and walk around objects. The best example is video games, which are all computer generated.
Cinematic VR. This seeks to replicate traditional film using VR technology. This gets the most buzz, yet with the least traction.
360/VR (and its close cousin: 180/VR). This puts the viewer inside of a large sphere to experience the surrounding environment (up/down along with left/right). 360/VR has the most appeal to filmmakers because it builds on what we already know.
Within 360° VR, there are four additional terms you need to know:
Stereoscopic. Creates a video with depth (3D) by recording separate, slightly offset, videos for the left and right eye. Both images are then saved into a single video file. Stereo files require a head-mounted display (HMD) to view.
Monoscopic. Creates a video similar to standard video (2D) by recording a single, 360° panoramic view. This format can be viewed on an HMD, computer or mobile device.
360° VR. This is a stereo or mono image that covers a full sphere (360°) where the viewer is standing inside at the center of the sphere. This allows the viewer to feel they are in the middle of an environment.
180°/VR. A stereo or mono image that only covers one-half of a sphere (180°). This format saves on bandwidth and simplifies online playback. This format is supported by many social media outlets.
The Vuze+ camera records in 360° stereoscopic, but can output stereo, mono, 360° or 180° media files.
INSTALLATION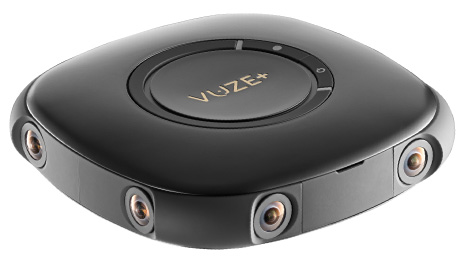 Vuze has an excellent Quick Start Guide explaining exactly how to get started with your camera. Here's the link. For those that need more detailed setup instructions, the Vuze User Guide is the place to turn.
Also in the box with the camera are:
Vuze Plus VR Camera
Small Handle
Mini VR Glasses
Hardshell Case
Charger with USB Input
USB Cable
Charger Adapter
Lens Cleaning Cloth
User Manual
CAMERA OPERATION

The most important thing you need, after the camera, is a tripod. Hand-holding a VR camera will cause motion sickness in most viewers. This tends to be counter-productive to our creative efforts.
While you can operate the camera directly from the camera, you have much more control using the free Vuze mobile app. This runs on both Android and iOS devices.
VUZE MOBILE APP
The Vuze Mobile app allows us to:
Assure that the camera is level
Preview the image before recording
Switch between recording video and panoramic stills
Monitor storage and battery levels as well as adjust the camera settings
Start and stop recording remotely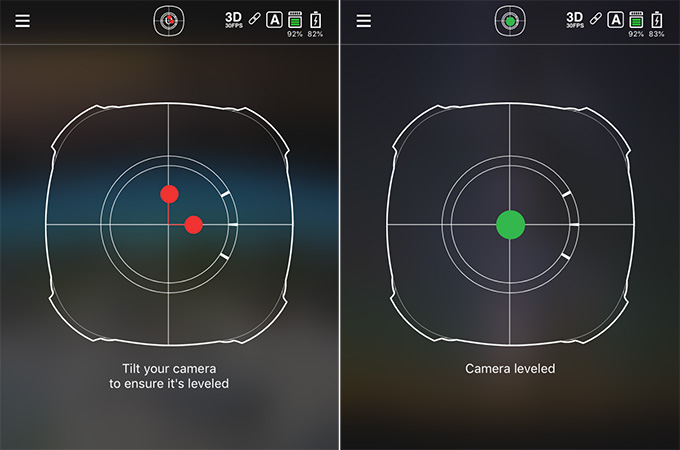 Leveling the camera is critical because the horizon line needs to match between all the cameras. When the camera is out of level, the red dots show how to tilt the tripod to make it level. A green dot indicates the camera is level.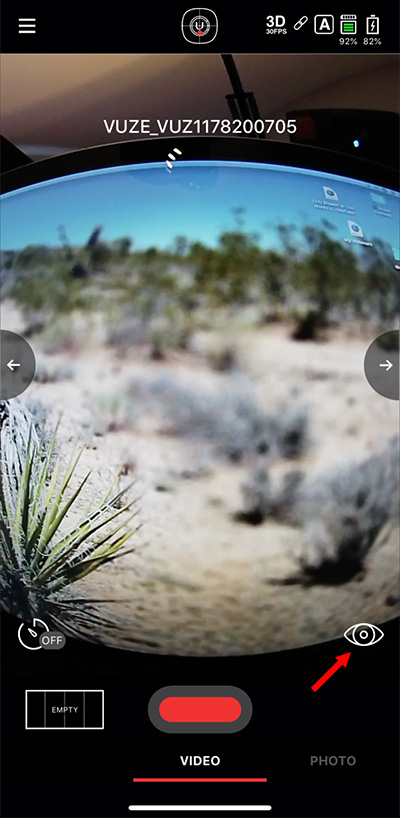 Click the Preview "eye" (red arrow) to preview the camera image before recording. Since you can't see the entire image at once, this is a help in assuring that you don't have "stitch lines" (where two cameras overlap) on an essential portion of the image.

Select either Video or Photo to switch between recording VR video or panoramic stills.

Unlike the three buttons on the camera, the mobile app allows access to a wide variety of camera settings, including battery level and remaining storage capacity (near the bottom).
While the design of the Vuze mobile app is well done, there are three significant limitations in the camera and mobile app:
It is impossible to see the record light or the power light on the camera in daylight. I wasted a lot of battery and storage space because I could not tell that the camera was still in record mode when carrying it from place to place during daytime. These lights need to be much brighter.
The WiFi connection between camera and iPhone is very flakey, only travels a short distance, and is limited to line of sight. Once I moved 15 feet away and behind a rock, I could not establish a reliable WiFi connection between my iPhone Xr and the camera. This prevented me from any operational control of the camera unless I was standing right next to it.
NOTE: In fact, it took two conversations with tech support to get WiFi working in the first place. This Wifi connection needs more attention from development.
VUZE VR STUDIO APPLICATION
To understand why we need the Vuze VR Studio application, which runs on Macs, you need to understand how 360° VR is shot. It doesn't use a single camera, it uses multiple cameras, then combines them into a single image. This process of combining cameras is called "stitching."
Different VR devices uses different numbers of cameras – anywhere from two to twenty. The Vuze+ uses eight, two on each size, four for each eye.
The Vuze VR Studio program is free and available from the Mac App store. It allows us to:
Review clips on the camera card
Import media into your computer
Adjust horizon lines
Hide the tripod by putting a logo or image on top of it
Adjust stitching and blending
Pick the best render settings for export
The problem – and it's a big one – is that the text in the interface is virtually unreadable, even if the text is enlarged and the monitor screen resolution is lowered. For this review, I enlarged the interface text 150%, and lowered the screen resolution to 1280 x 720; as you'll see in the screen shots the text is still barely legible.
This problem should have been caught and fixed before release.
Another big problem is that the default export settings don't default to the highest quality. Worse, the export settings are mis-labeled, which means that if you don't talk to support, you'll always pick settings which reduce image quality, when you think you are picking the best quality. The only way I found this out was through testing different export options.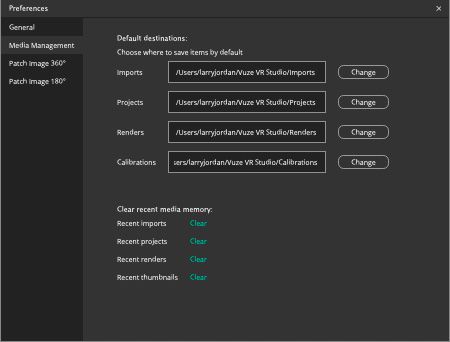 Here's an example of what I mean about unreadable text. This is the Preferences window at 100% size. I did not alter the image in Photoshop. You can work around this – which is necessary to use the camera – but the interface needs serious attention.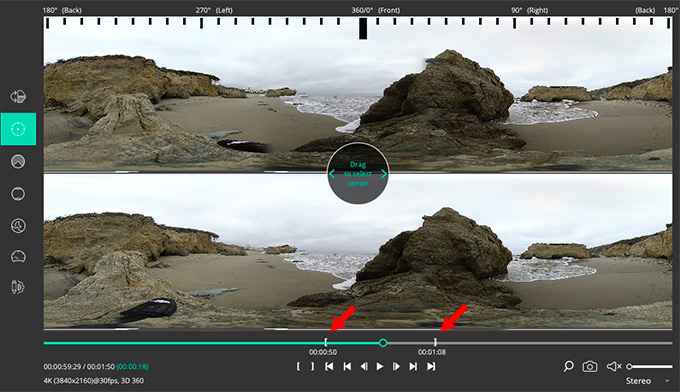 Vuze VR Studio allows us to change the location which the video displays when it opens; called the "Center," as well as trim to include only the portions of the clip we want to export using standard In and Out settings (indicated by the two red arrows).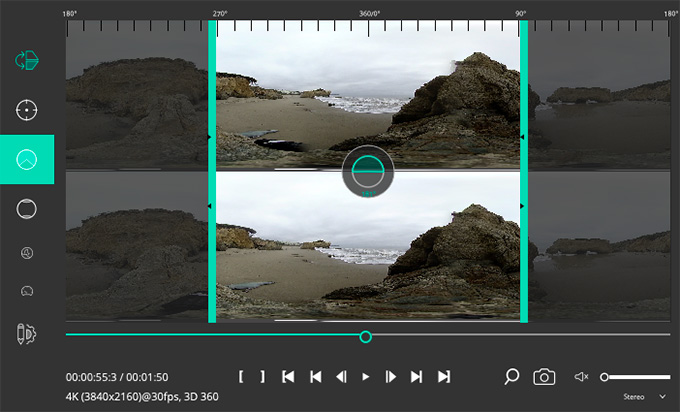 We can also adjust the angle of view. The default is 360°, here, I've reduced it to 180°.
As well, we can adjust stitching, which is the position where two cameras overlap and how much they blend during the overlap. Additionally, we can make simple color and gray-scale adjustments to make the shot look as seamless as possible.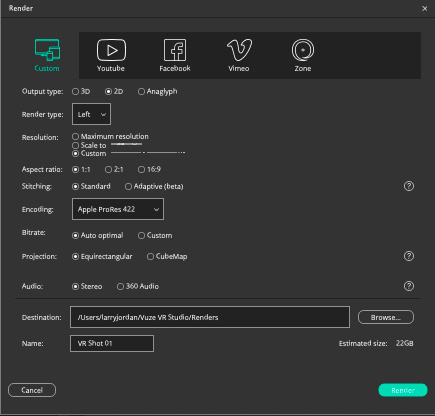 (Again, this screen shot is 100% size, without modification in Photoshop.)
Finally, once each clip is properly adjusted, we need to export a file for editing in Premiere or Final Cut. Here, as I mentioned above, the default settings are wrong. "Max resolution" cuts horizontal and vertical resolution in half. And "H.264" is the wrong encoding codec to use when you are ready to edit VR in Final Cut or Premiere.
After lots of experimentation and two conversations with HumanEyes support, here are the settings you need to use (they are reflected in the screen shot above):
Output size. Select 3D if you want to create a stereoscopic image, 2D if you only need mono.
Aspect ratio: 1:1. This outputs a full-resolution stereo or mono file at 3840 x 3840. "Max resolution" is mis-labeled, it actually cuts the output resolution in half.
ProRes 422. When the camera master is H.264, ProRes 422 offers the best choice for editing. It has the highest quality image at the smallest file size. There is no benefit to using ProRes 422 HQ, which this app also supports.
Audio. For most computer or mobile viewing, select Stereo audio.
Vuze VR Studio is essential to the operation of the camera, but it needs someone with Mac experience to make it actually useful for the non-professional market that HumanEyes is targeting.
ONE LAST NOTE
VR is not easy to edit, that's true for all versions of VR. It requires more storage that traditional media, and seriously taxes both the CPU and GPU. If you plan to edit a lot of VR, make sure you have a beefy system.
On my 2013 iMac, I could not edit 360/VR in high-quality. So, while both Premiere and Final Cut Pro X can edit VR, I shifted to proxies to make it easier for my older system to edit this material. This is NOT a Vuze issue, it is an issue with VR files in general.
Any computer will be fine for dabbling with VR. But, for serious work, download sample files from the camera manufacturer and test your system to make sure your computer can handle 360° VR before you commit to a deadline.
SUMMARY
I really like the Vuze+ VR Camera. It is affordable, portable, high-quality and fun to work with. Once its supporting software becomes more reliable and easy to use, I would recommend it whole-heartedly as a way to explore the potential of 360° VR video.
For now, though, using the Vuze+ VR Camera to learn 360° VR is still fun, but frustrating.
---
Bookmark the
permalink
.