Product Review: Unity Intercom

[ Read my disclosure statement on product reviews here. ]
Now that we are in our new studios, we have a much larger range of products that we can review. In this article, I asked Megan Paulos, our Production Supervisor, to try out a new, iPhone-based intercom system from Unity Intercom.
EXECUTIVE SUMMARY
Unity is a simple intercom system that allows you to use your mobile devices as intercom stations. A Unity Intercom system is made up of at least two parts: Unity Server and Unity Clients.
Connect over Wi-Fi or cellular to your Unity Server to talk and listen on up to six independent channels. Unity can also display camera Preview and Program Tally and integrates with existing hard-wired communication systems like Clear-Com or RTS, letting you use Unity as a wireless station.
Product: Unity Intercom
Pricing: iOS App is free
Unity Intercom Basic: $499.99
Company: Unity Intercom
Website: www.unityintercom.com
PRODUCT REVIEW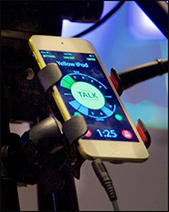 Megan writes:
Communication during production is key. The ability for the control room to talk to camera men, production assistants and the rest of the production team makes for a smoother production.
Since we have moved into our studio, improving communication has been something we have been trying to orchestrate.
Unity Intercom is a super-simple intercom system utilizing devices that we already own in order to communicate with people in the production.
There are two main parts of the Unity Intercom system, the server and the app.
First you install the Unity Server onto a computer. We downloaded it onto one of our Mac Mini's in the control room.
Within the interface for the server you can create and manage users, as well as manage channels. There are a variety of plans that included different numbers of users based on need. The base plan includes three users. You are able to have countless users entered into the system but you can only have the specified amount f users "enabled" at one time.
There are five channels to which you can assign users. Each user has the ability to be assigned "Talk/Listen," "Listen," or "Off" to each channel. This makes it really easy if you need to talk to one group of people separate from another group of people.
Each user downloads the "Unity Intercom" application onto their smartphone. The phone must be connected to Wifi in order to work. After launching the application you enter in the user name and password that has been assigned on the server.
From there, just push to talk. As simple as that, you have a highly functional intercom system.
The server is an essential key to the program, but after that initial expense and installation, the rest of the operation could not be easier.
---
Bookmark the
permalink
.