Product Review: Stellar Photo Recovery

[ Read my product review disclaimer here.]
I'm of two minds about Stellar Photo Recovery. It didn't work for me, it may work for you.
The folks at Stellar contacted me recently to see if I wanted to review "Stellar Repair for Photo" software. According to their website, this tool:
Repairs camera RAW image files and JPEGs.
Repairs corrupted photos recovered from corrupt media.
Repairs multiple images of different formats in one go.
Supports latest Windows 11 & macOS Monterey.
I told them I was interested, then went to their website and downloaded the free trial version of their software. The problem is that the trial won't help you decide whether to buy the program or not.
EXECUTIVE SUMMARY
The name, "Stellar Photo Recovery," is somewhat misleading. This program doesn't recover "photos," it recovers files on damaged hard disks with an emphasis on photos (and audio and video, depending upon the version you buy). There's a difference. My hard disk is fine, but about four dozen of the TIFF and JPEG images on it are corrupted. Stellar is not able to fix those.
According to the Stellar website: Stellar Repair for Photo repairs corrupt photos. The powerful DIY software can fix any kind of image corruption and makes them sharp and vivid.
Repairs distorted, blurry, pixelated, & greyed-out images
Supports all camera memory cards: SDXC, SDHC, memory stick, etc.
Repairs photos taken with DSLRs, Android phones, iPhone, action cameras, etc.
Repairs RAW files of popular camera brands — Nikon®, Canon®, Sony®, Olympus®, etc
Supports all camera memory cards: SDXC, SDHC, memory stick, etc.
Repairs RAW image formats — ARW, CR2, CR3, CRW, DNG, ERF, HEIC, MRW, NEF, NRW, ORF, PEF, RAF, RW2, SR2, SRF, and TIFF
Previews repaired photos before saving them
The interface is clean, easy to use, but limited in what it can do. If you need to recover images from a crashed hard disk, Stellar may be able to help. But, for me, it didn't bring any of my damaged TIFFs back to life.
Developer: Stellar
Website: https://www.stellarinfo.com/photo-repair-software.php
Price: Standard: $29.99, Professional: $49.99, Premium: $69.99
---
ABOUT STELLAR
Stellar was founded in 1993 and is based in India, with offices in the US and the Netherlands.
According to a Stellar marketing associate: "Stellar has established itself as "Data Care Expert" for its bestselling and award winning B2C and B2B software for Data Recovery, Data Erasure and Data Migration for both Windows and Mac. Our software and super friendly support has been recognized by the top media houses in the industry – CHIP, PC Mag, SoftPedia, PC Advisor, etc."
LIMITATIONS OF THE TRIAL VERSION
Part of the problem with this review is the trial version. My image collection, both professionally and personally, consists of high-quality, high-resolution digital images and scans. Most of my TIFF images are 50 – 100 MB. Many are larger.
The trial version does not allow previewing any files larger than 10 MB. And the paid version does not allow previewing files larger than 100 MB. So, out of the box, it is hard to tell if the software recovered anything or not.
NOTE: When previewing a file, the image only displays for a few seconds, then the software hides it.
The trial version does not export recovered files. As long as preview works, this isn't a problem. But, if preview is limited, there is no way to tell if a file was recovered or not.
The trial version, and, I suspect, the paid version, does not indicate if a file was recovered or not. It simply lists all of the files on your hard disk.
From what I can tell on the Stellar website, Stellar Photo Recovery is not optimized for Apple silicon. However, when running on an M1 MacBook Pro, the software seems fast enough for what it is doing.
INSTALLATION
The software supports both Windows and Mac systems. Downloaded from their website, installation took less than two minutes.
As a note, though, "to recover data from the system drive having Catalina, Mojave, High Sierra, or Big Sur, you need to allow macOS to load an extension signed by "Stellar Data Recovery." In macOS, an extension is a small piece of code that extended the system's functionality. For Stellar Photo Recovery, this extension is required to access files on the system drive in the new macOS. This extension is already authorized by Apple and does not harm your system or privacy." (Stellar website)
I ran this test using Monterey on an M1 MacBook Pro and was not told to download any additional software. The software operated with no problems. My guess is that it is using Rosetta, which is what the download was for.
HOW STELLAR WORKS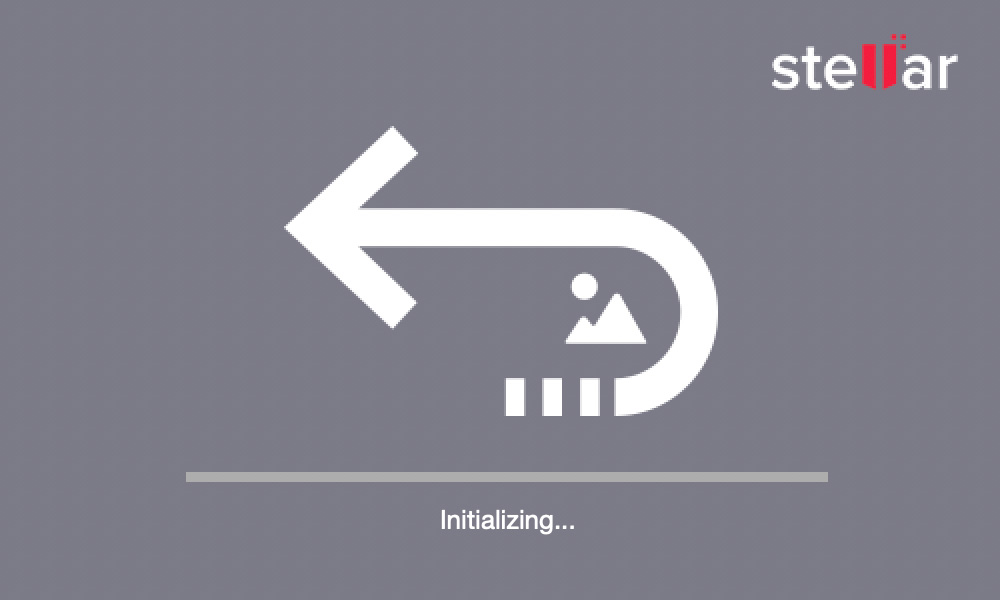 It took about 30 seconds, after launch, to initialize.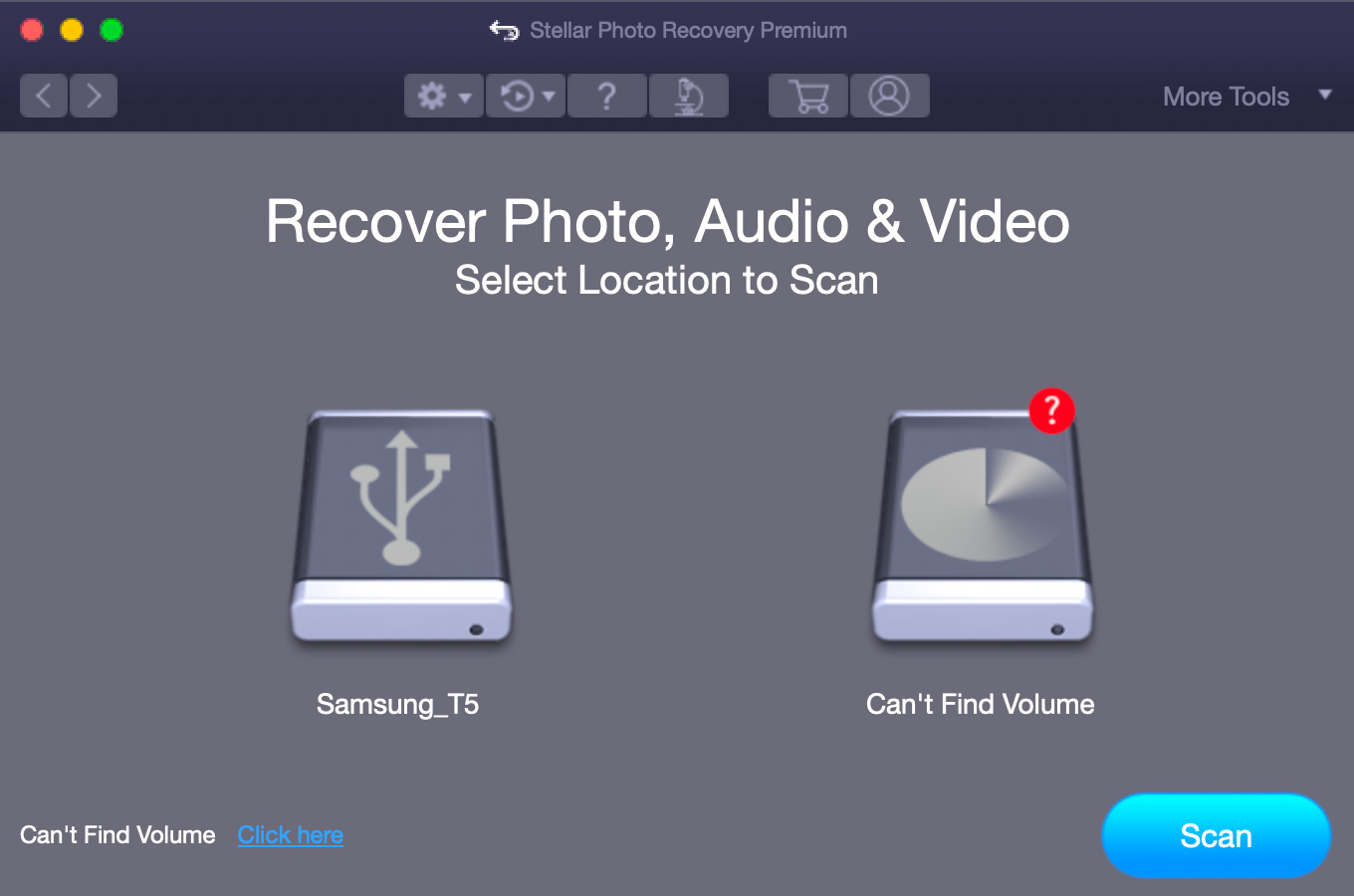 It then asks for a volume to recover. You can't specify individual photos that need help, you can only select entire volumes.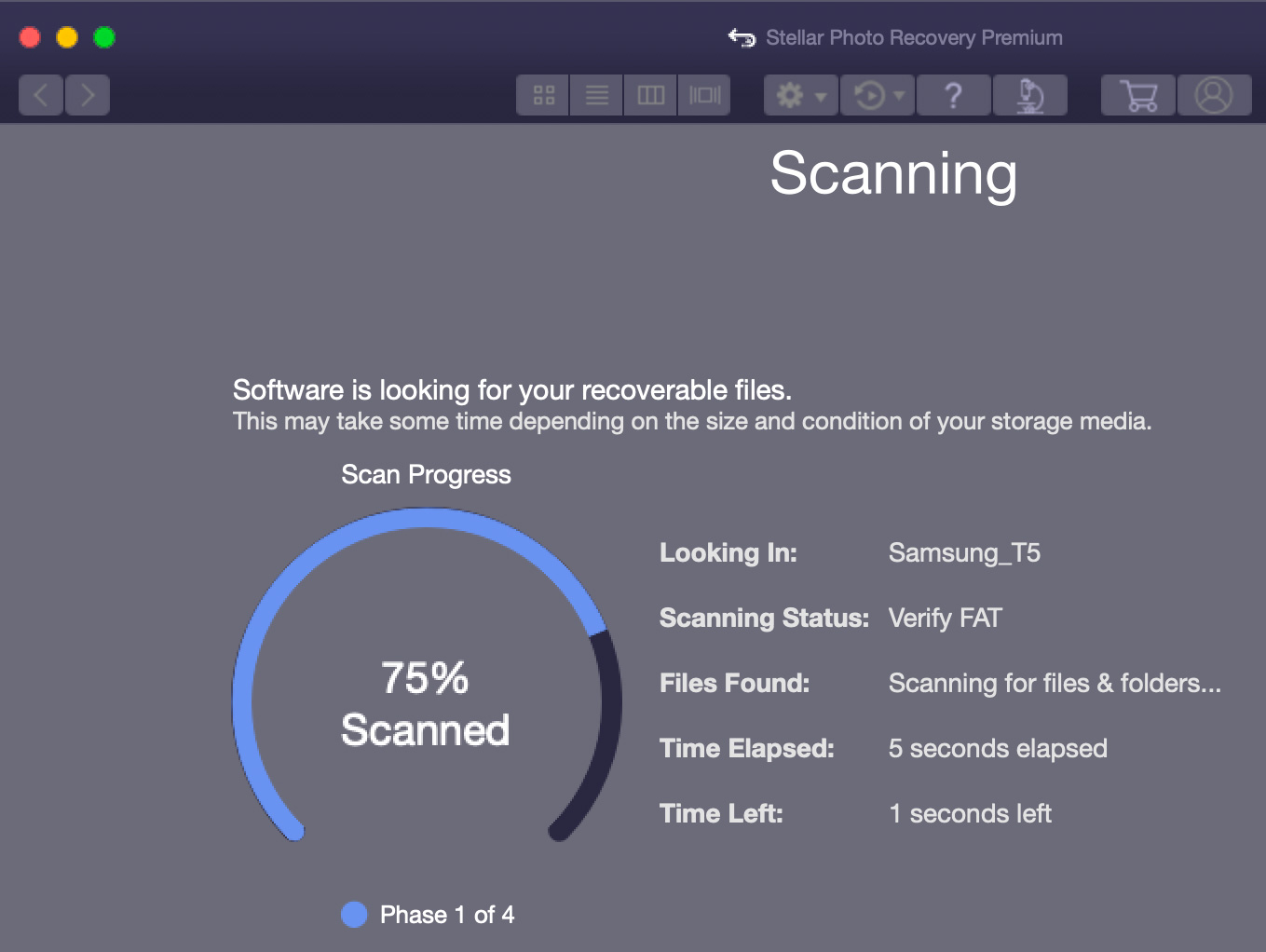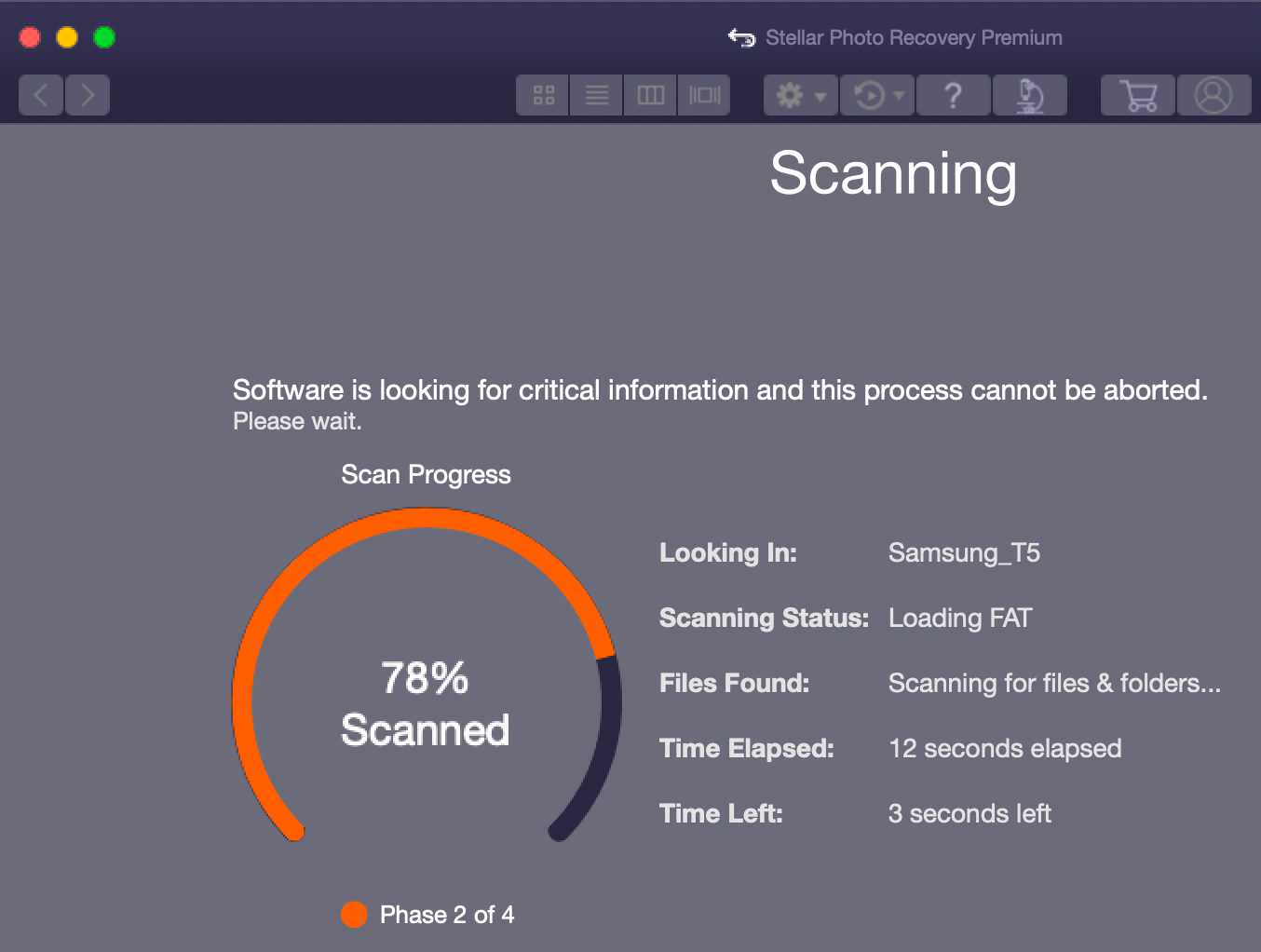 Scanning a 1 TB SSD took about 30 seconds.
Stellar scans the entire volume (hard disk) containing your images. It then lists all the image files it finds and allows you to preview them. If you like the preview, it's one-click to export the restored version.
The software supports image recovery of JPEG, JPG, TIFF, BMP, GIF, PNG, PSD, and Adobe EPS images, along with audio and video files, depending upon the version you purchase. The trial version supports everything.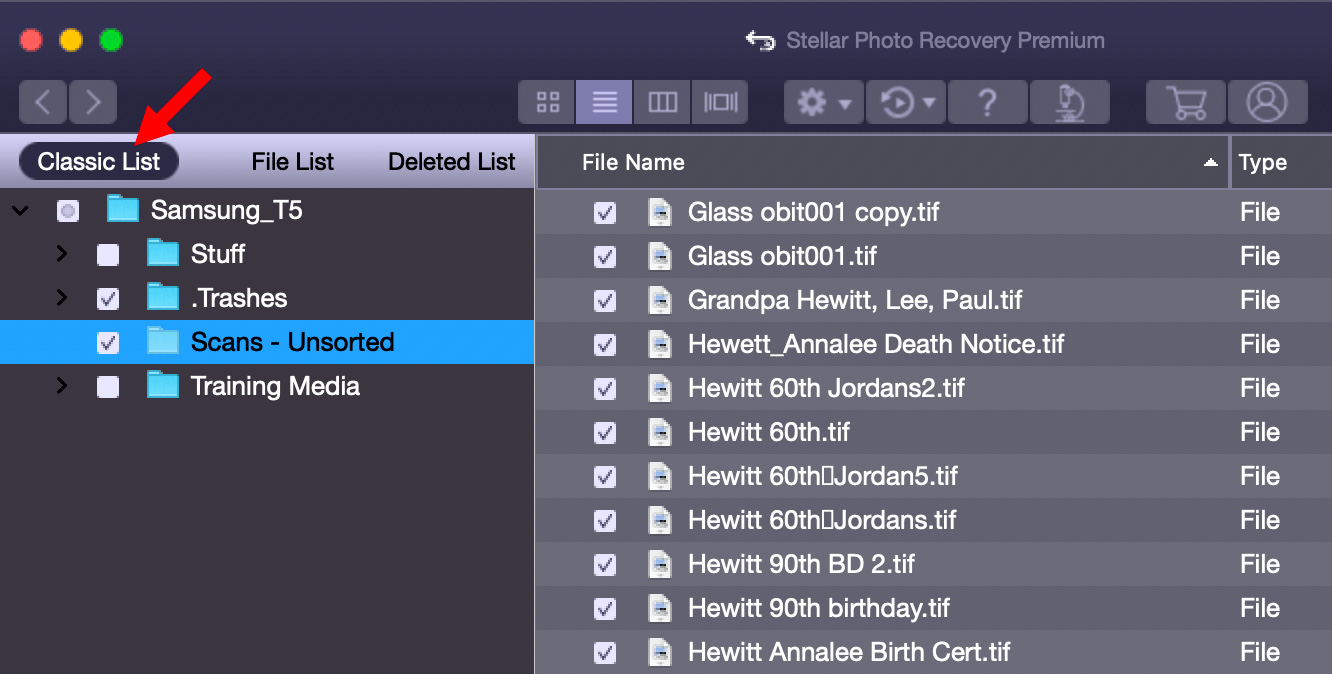 Stellar then displays a file list. This includes all hidden files (those that start with a period), deleted files and active files.
Only files smaller than 10 MB can be previewed by double-clicking the image icon. Previews only hold on screen for two – five seconds.
There is no indication, of the thousands of files found, which were recovered.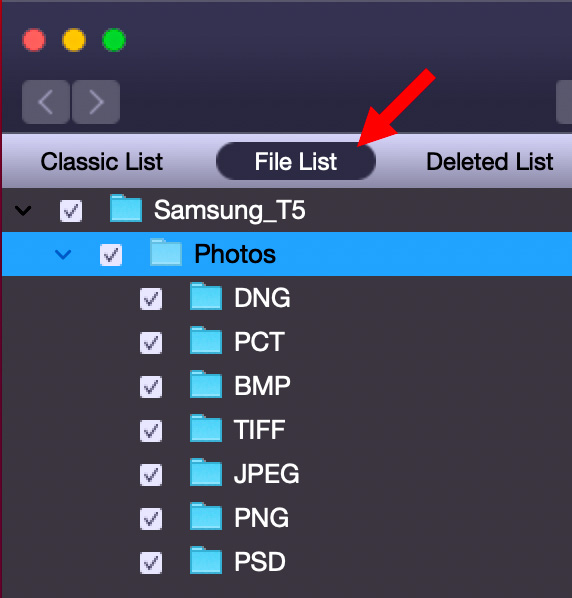 Stellar has a nice function which groups files by file type.
NOTE: Stellar has a "Deep Scan" function which examines individual sectors on your storage system. Even deep scanning did not bring any of these files back to life. Deep scanning a 1 TB SSD took about 10 minutes.
WHAT I WOULD LIKE TO SEE
According to their website, Stellar has millions of satisfied users, but from a professional point of view, I'm not impressed. Here's what I would like the see:
The ability to specify which photos are broken and need help.
An indication of which photos were repaired.
Removing the 10 MB preview limit for the Trial version
The program gives me the feeling that Stellar always wants to me buy the next version up, including their professional data repair services. This trial feels more like a sales pitch than a repair program.
NOTE: As I was writing this review, I realized that it would also be helpful to get a better understanding of what Stellar is doing. My GUESS is that it is not fixing "images" per se, but looking for corrupted directory information, which is why it is scanning the entire drive. Corrupted directories cause all digital data to fail, not just media files. Scanning directories is essential when recovering a crashed disk, but I wonder if there's another option to fix individual images?
SUMMARY
If you have a crashed hard disk and need to recover images, Stellar may be worth considering. But if you have specific images that used to open, but don't open now, Stellar makes the recovery process frustrating; especially for professional users with large files.
---
Bookmark the
permalink
.