Product Review: Sony Sound Forge Pro Mac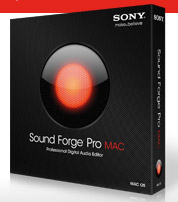 NOTE: I am a firm believer in ethical product reviews. For an explanation of how I review products, click here
In early October, Sony Creative Software released Sound Forge Pro Mac. While new to the Mac, it is well-established in Windows. (Sony Creative Software are the same folks behind Sony Vegas, Acid, and SpectraLayers.)
NOTE: Sony sent me serial numbers to use for my review. Twice. I lost them both. So, I'm reviewing the trial version. Specifically, version 1.0.21. (I have GOT to get more organized.)
THE WORKFLOW
This software only supports audio, so it is best suited for podcasters, musicians, or anyone that wants to record, edit, or output better sound.
NOTE: If you need to modify audio synced with video, Adobe Audition or Avid ProTools are better choices.
According to Sony's website: "Sound Forge Pro Mac is a waveform-based audio editor that supports multichannel audio recording and editing. It features "focused editing, high-fidelity recording, one-stop audio mastering, and professional signal and effects processing. Sound Forge Pro Mac includes a comprehensive suite of mastering, restoration, and repair tools for immediate results."
In Sound Forge, we can record a single audio file consisting of multiple channels, open multiple audio files at one time, view two clips side by side, edit individual clips and export clips to a wide range of audio formats.
CORE CONCEPTS
Sound Forge Pro doesn't actually change your file until you output it. What you are actually doing is creating a series of actions on how you want to process the file. These changes are stored in a project file. Only when the project file is saved into a new audio file are your changes made permanent. (For those that remember it, this is very similar to how Actions worked in Soundtrack Pro.)
This makes is easy to experiment with different ways of processing the sound, because you are not damaging the source file.
THE SPECS
Sound Forge Pro Mac requires a minimum of OS X 10.7, 2 GB of RAM, and 200 MB of hard disk space to install.
It supports 64-bit/192 kHz audio recordings (by comparison, audio recorded with video uses 16-bit, 48kHz files). So this software gives you plenty of room to grow; though you probably won't be able to hear a difference in audio quality if you record at the highest settings.
It supports both AU and VST plug-ins for additional effects, as well as the ability to time-stretch and pitch-shift clips to help you squeeze the sound to fit your projects.
GET STARTED
Sound Forge Mac is not available through the Mac App Store. You need to go to Sony Creative Software's website. It has an introductory retail price of $202.46, as a download, and $224.96 in a box.
Download and installation are easy and work just like every other application you've downloaded and installed.
THE INTERFACE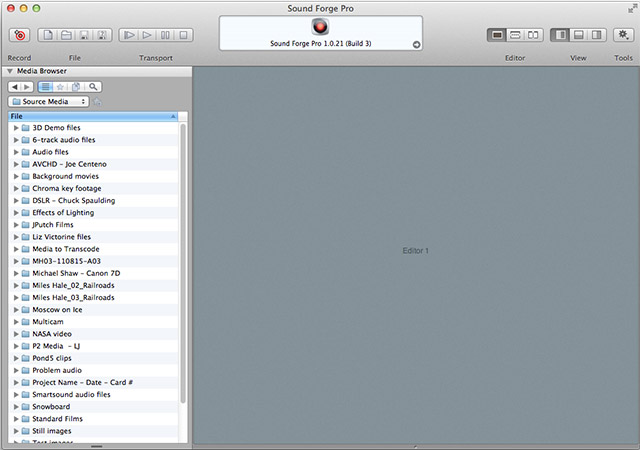 When you first open the program, the Media Browser is displayed on the left, along with an empty interface on the right. The Media Browser allows you to browse all the files on your system to find the clips you want to work with, without having to import them first.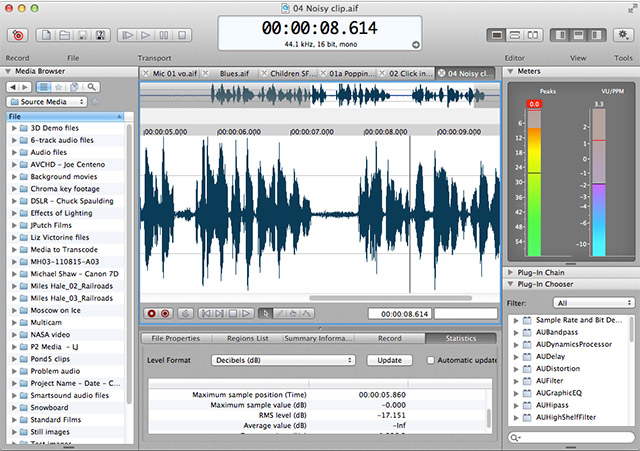 The interface can be easily customized and has five sections:
The Main Toolbar
The Left Pane, which, in this case, displays the Media Browser
The Editor, which is where sound files are edited
The Right Pane, which is where audio meters and plug-in controls are located
The Bottom Pane, which displays file properties and statistics.

You can toggle panes on or off via the buttons in the top right corner. You can also assign specific tool groups to specific panes using the Gear menu.
NOTE: One of the things I like about the Statistics tab is that it allows us to display the RMS and Average audio levels for a clip, in addition to peak levels.


Control panel – Top



Control panel – Bottom
Something I found confusing was that transport controls are located at both the top of the interface and the bottom. The top buttons also include file controls, while the bottom set of buttons includes audio editing controls.
There are extensive keyboard shortcuts, but keyboard shortcuts can not be customized. And, for some reason, I could not get the space bar to consistently play a clip. Sometimes it would, other times it wouldn't. I couldn't figure what what made the difference. Clicking the Play button always worked.
OPENING SOUND FILES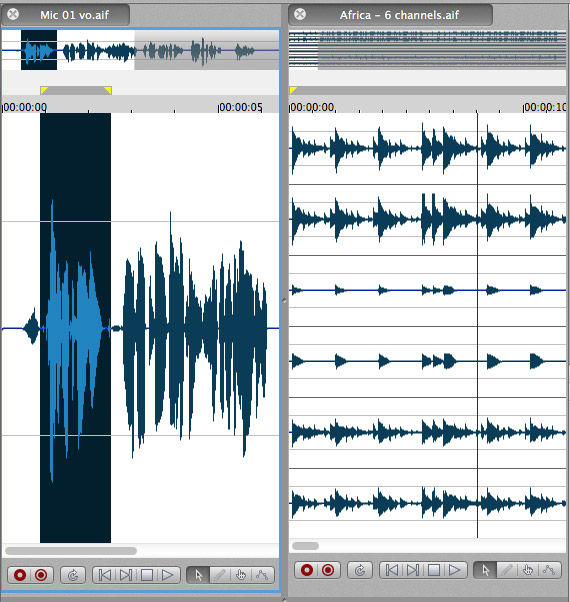 Open sound files by double-clicking them in the Media Browser or dragging them into the Editor. Here, for example, we are comparing a mono file on the left with a 6-channel surround file on the right.
Notice that there are separate transport and editing controls under each file, as well as a global view at the top of each file.
Zoom in or out on each file using the Up/Down arrow keys, the scroll wheel on your mouse, or a two-finger gesture on a trackpad.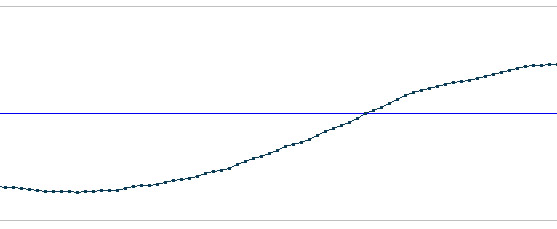 We can zoom in to edit at the actual sample level, which is 1/48,00th of a second. (This can be even smaller, if you record at higher sample rates.)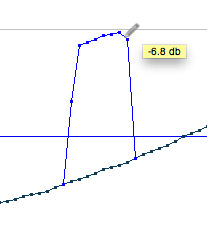 Using the Pencil tool, we can also repaint samples to take out pops or clicks. (This is a level of precision far in excess of what any video editing software provides.)
EDITING SOUND FILES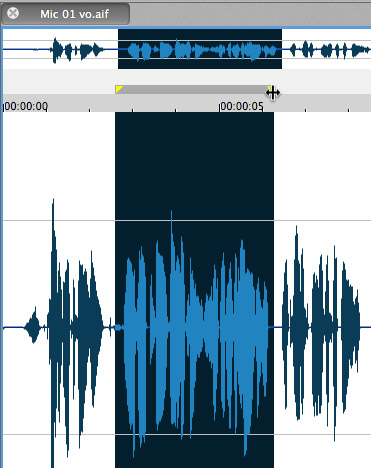 When working with audio files, we can do all the standard audio editing that we would expect:
Create and modify selections
Cut / Copy / Paste
Trim selections
Insert silence
Edit individual samples (using the pencil tool)
Adjust settings, such as levels, using keyframes or normalization
Add fades at the beginning and end of a clip
You would not generally set the level for a clip in Sound Forge, that would be done during mixing. However, Sound Forge makes is very fast and easy to normalize a clip, either to a peak or RMS level. Normalization is a fast way to make the levels of all your clips sound the same.
The tools here are similar to the audio editing tools in the waveform sections of Adobe Audition or Apple Soundtrack Pro.
NOTE: The big benefit of Sound Forge Pro Mac compared to Soundtrack Pro, is that Sound Forge is 64-bit, multiprocessor aware, and fully supported in all current Mac operating systems.
METERING SOUND FILES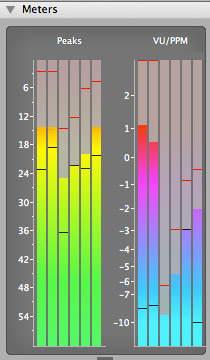 I really like the audio level metering. Sound Forge provides both standard peak meters and VU meters.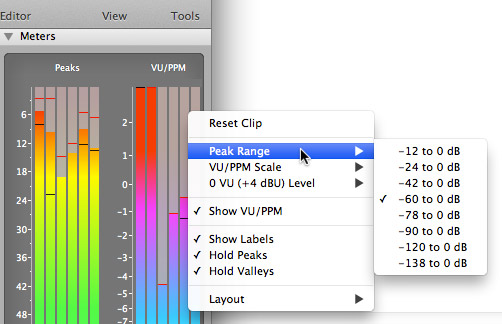 Plus we have the ability to change the range of levels displayed, hold peaks (the maximum level) and valleys (minimum level), and toggle the display of the VU meter. You can also make the meters as tall as the Left pane.
REPAIRING AUDIO

Sound Forge Pro Mac includes basic audio repair tools from iZotope (another well-established audio plug-in developer) to remove clicks, pops, and noise from the clip. These plug-ins are faster and, generally, better than trying to remove these artifacts manually. However, they don't function in trial mode, so you need to buy the software to see if they will work for you.
NOTE: If you need serious audio repair, look into SpectraLayers Pro, also from Sony Creative Software.
EXPORTING AUDIO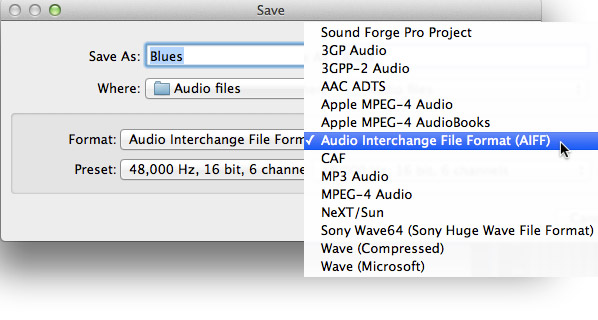 One of the real strengths of Sound Forge is its ability to quickly convert audio files from one format to another.
Simply open the file into the Timeline, then select File > Save As. Sony also provides the ability to adjust individual settings within each format.
RECOMMENDATIONS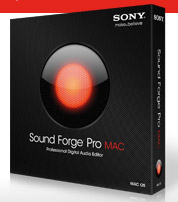 Every video editor needs an audio editing tool in their tool kit. If you already have ProTools or Adobe Audition installed on your system, you probably don't need Sound Forge Pro Mac. Also, if you are looking for a tool that supports modifying audio inside video clips, Sound Forge isn't for you.
However, if you don't currently have any audio editing software, or are looking for something to take the place of Soundtrack Pro, Sound Forge Pro Mac is state-of-the-art audio software, with a clean, easy to understand interface, sophisticated editing functions and basic audio repair technology. It is also very competitively priced.
Sony Creative Software's Sound Forge Pro Mac should be on your short list of audio tools to consider adding to your system.
Sony offers a 15-day free trial, along with extensive on-line help and a 90-page manual. Keep in mind that the iZotope plug-ins don't work in demo mode.
---
Bookmark the
permalink
.